Can you get a decent cheap weight bench online?
A good weights bench is the corner stone of any home gym. It opens up a whole range of exercises you can do with your dumbbell set, and even a lot of cool body strength exercises you can do without them. This guide will look at the best budget weight benches, and we're on the hunt for something special for under a hundred quid. Like anything, you can pay a fortune for a bench, with some reaching into the thousand pound plus mark. But let's stick to a budget, ideal for home use. You might be pleasantly surprised at what you can get in the sub £100 price range.
You might be pleasantly surprised at what you can get in the sub £100 price range.
Cheap weights bench – NOT
 cheap and nasty!
The last thing you want with a cheap weights bench is a load of wobbly, cheap junk. The kind you trained on when you were 15. One of the main criteria we're going to look here is build quality. Yes, we want a solid, sturdy bench, capable of taking some pounding and one that will last a long time. With such a big chunky bit of gym equipment for your home, you don't want to be buying it again every year. Hopefully our cheap bench guide will save you some time and money..

#1 Choice: York Fitness 5 Seat Position Bench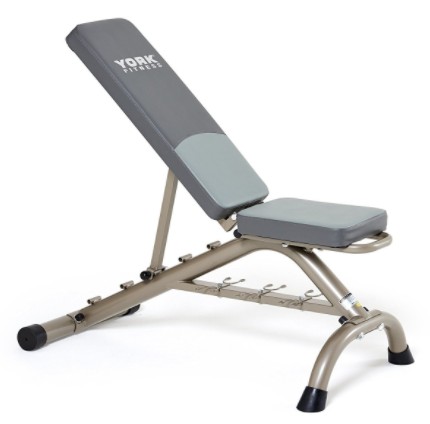 There's some really solid entries in the in the battle to find a weight bench for under a hundred quid. The one that we felt beat the competition was this bit of kit from York Fitness. It's an attractive-looking, solidly-made bench which can be  adjusted into 5 positions. (Adjusting the backrest is unusually easy and there's no messing around with pins).
When you're researching which weights bench to buy, one of the things that's hard to tell from pictures, is how good the quality of the padding is. Despite the price, the York bench has the best quality pads in this category. They offer plenty of support and return to their previous size after use.
As you'd expect with York Fitness, build quality is top notch here and the robust circular tubing is tough and sturdy. This bench is ideal for bench press, shoulder press, one-armed rows and body weight training. About the only downside is that the backrest does not decline (leaning right back over), which might be an issue for some buyers.
We think you'll be very pleased with this cheap weights bench in your home gym!
Strong and very well made
With solid tubular construction
Swanky design
Easy to use
A bench that's easy to assemble (no, really)
Quick to adjust
High quality padding
Max weight 200kg
No decline position
---
This is a great weight bench from Hardcastle. It was a hard choice between this and the York Fitness one. Indeed, this might be a better choice for you if you want to go up to 260kg of weight. A fairly cheap weights bench that's packed with cool features. It looks and feels like a 'proper' weights bench you'd find in a commercial gym. Not technically the cheapest weights bench in our budget selection, but  worth it as it's solid and built to last.
This bench has 6 backrest positions, and 4 seat adjustments. Both seat and back can be inclined. and the back can be declined, offering some exercises that other benches miss out on. And the maximum load is 260kg.
Not that looks are a huge thing when choosing a weights bench for your home gym, but the Hardcastle is a good looking entry. With a durable white powder coated finish, it gives off a glossy  professional appearance. Weight benches don't have to look fancy but it looks pretty good.
Assembly isn't complicated and you can start using this bench quickly.
Solid frame
Backrest can decline
Commercial qulaity
Professional look
Instructions not the clearest
Bolts all in one bag
£229.99 at Amazon
Price last checked: Friday 30th October 2020 – 01:04 am
---
The next cheap weights bench we definitely recommend you take a look at is the Bodymax CF325. So what makes this bench so good, and why has it got 4.5 stars on amazon at the moment?
The CF325 is a classic incline bench, with 5 positions on the back rest – from 90 degrees to flat. If you're sick of trying flimsy, wobbly benches, you'll be pleased to know the Bodymax is very stable and doesn't rattle or move around during your sets.
Another cool feature with this bench is it's quick and easy to adjust – there's only one pin you need to move to change the angle of the backrest. The padding is comfortable and doesn't feel cheap. It supports your back well.
One caveat is that the seat on this budget bench is not adjustable. Personally, not a huge problem but worth mentioning if this is something you need!
Feels very comfortable
Sturdy, made from thick tubes
Very good quality
The seat is not adjustable
---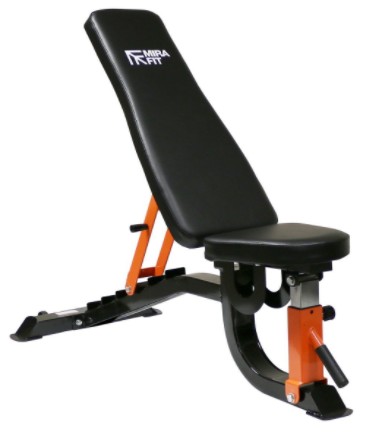 One of the better cheap weights benches around at the minute is Mirafit's Heavy Duty bench. You don't want something flimsy that's going to wobble around and this one feels like a sturdy bench. It has a mean sort of 'industrial' look to it that says "lets do this!"
Both the back rest and the seat are fully adjustable, offering 6 possible back positions and 4 for the seat. It has the feel of a solid work or commercial gym bench and the padding is comfortable.
The max load on this bench is 260kg. And, despite it's chunky appearance, it won't put your back out to move it around your home gym either.
Simple assembly *
Good value for money
Chunky steel tubing
lots of positions for back and seat
Feels like a sturdy gym bench
* Instructions could be better
---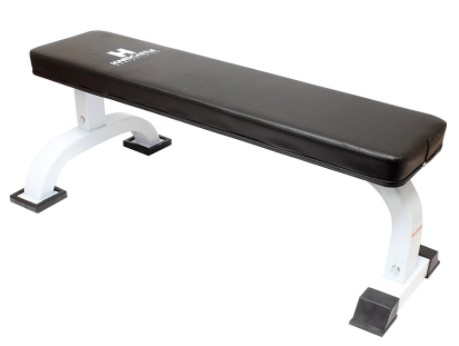 I always like to compare home gym equipment to the hard wearing gear you find in a commercial gym. And this weights bench could happily sit in any modern gym, despite it's budget price tag. We're pretty impressed with Hard Castle's gym gear and this bench is another hit.
You're getting a 'flat bench' here (it ain't adjustable) and is dedicated to presses, rows and other exercises in this fixed position. Some buyers prefer the simplicity and added stability of this style of bench, so I thought I'd throw it in here.
Don't let the low price put you off here either. This bench is a burly workman of a fitness bench, with a solid construction. It's forged from steel and it's finished with gym-style white powder coating. Stick it in your home gym and left to do it's job. If only everything was as straight forward…
Strong, sturdy, affordable. This bench is a great buy for anyone looking to go super-cheap and who is not worried about an adjustable bench.
Solid construction
Easy to assemble *
Quality feel that belies it's budget price
5 star reviews on Amazon
Some bolts arrived painted over
* Rubber feet take some whacking on
£99.99 at Amazon
Price last checked: Friday 30th October 2020 – 01:04 am
---
As always, thank you for reading our guide on the best budget weights benches for under £100. I hope it shows that you don't have to spend a lot of cash to get a decent weights bench for home use. Let me know in the comments if you like any of these benches or you have a favorite you want to let people know about. You might also like our Ultimate Bench Press Guide.
Wishing you good training!