Sick of sit-ups? Looking to tone your abs? Hmm this sounds a bit like a cheesy ad from youtube. Lets cut to the chase: getting perfect, or even acceptable abs, isn't exactly easy. It takes a lot of persistence, correct dieting and a great deal of hard work. There's no magic gym equipment that's going to take all the hard work out of your ab training, despite what the ads say.
But all is not lost. There are some interesting bits of kit you can use to tone up your abs and get significantly more out of your daily workouts. In this ab equipment guide, I'm going to delve into some new, and some proven, ancient tools you can get for your home gym to help achieve that coveted 6 pack.
There are some interesting bits of kit you can use to tone up your abs and get significantly more out of your daily workouts.

#1 Wonder Core 2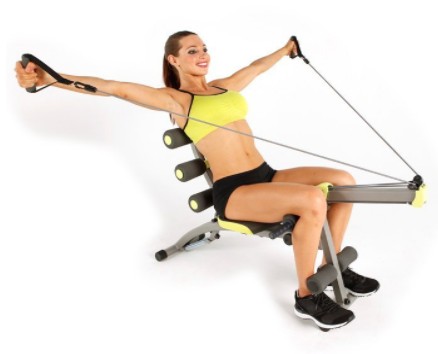 This is an interesting bit of gym gear to get your abs in shape. Offering a greater than 180 degree motion, thanks to it's nifty twisting seat design, the Wonder Core 2 (Amazon UK) aims to reach the parts of your abs other benches miss.
For extra cruelty, this ab equipment focuses on the 'down' part of your movement, not just the crunch upwards. Ouch. It's really easy to put together, and equally as easy to use. And if you're short on space, it also folds up.
There's a decent, albeit slightly cheesy video on Youtube that shows the bench in action. One of the other cool things about this bench is the number of things you can do with it. Stick this in the corner of your home gym and you'll never be short of a way to torture your abs.
---
#2 Ab Rocket Twister Ab Chair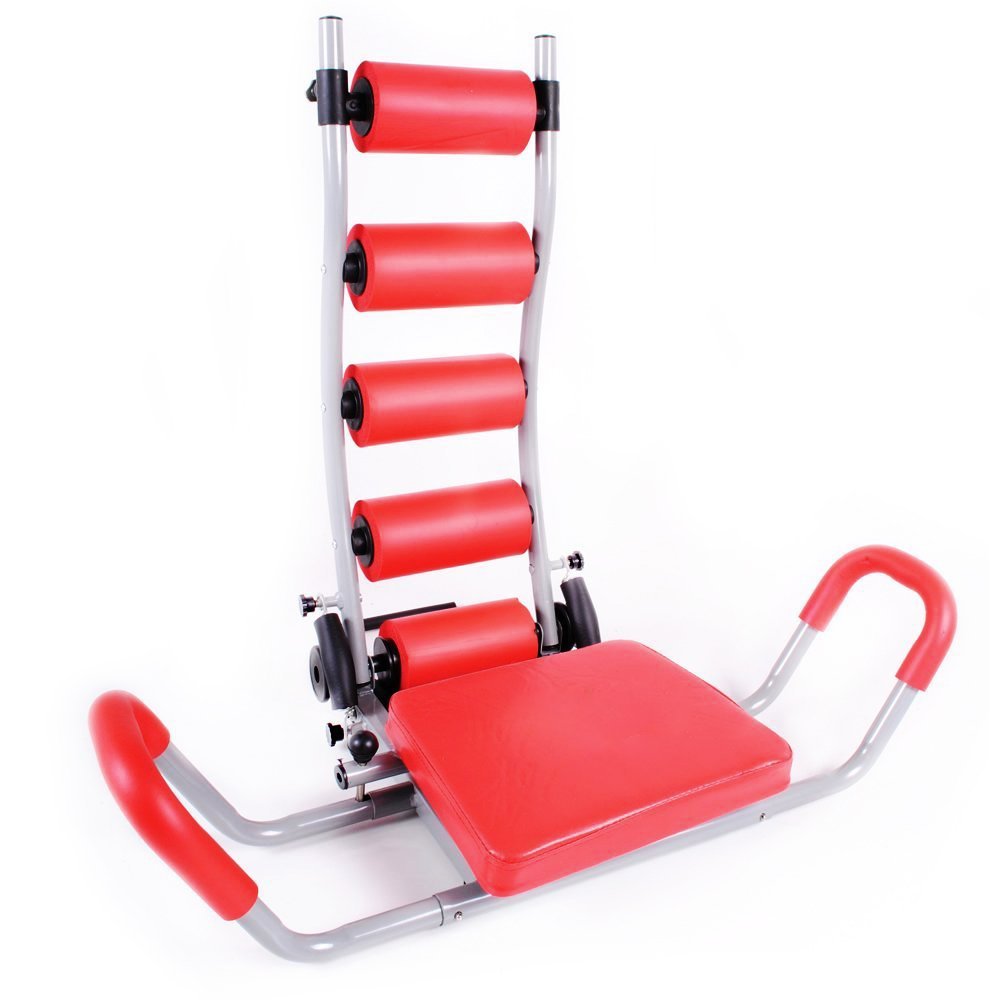 No, this isn't a starship chair from a bad 70's sci-fi movie. The Ab Rocket Twister – Amazon (quite a mouthful) is an ab chair that targets all areas of your abdominal muscles from top to bottom. Basically, sit on it, grab the side handles and extend backwards. You'll be strengthening your abs and core at the same time.
As with the Wonder Core 2, the chair twists to offer a greater freedom of movement and hit your abs. There's also 3 levels of resistance to help you build up or you can man (or girl) up and go straight for RED! Really good bit of kit for the price, and it also includes 4 workouts on the DVD and a meal plan.
Again, apologies for the cheese on this one, but a video shows what this ab machine does better than trying to explain it here.
---
#3 HOMCOM Back Hyperextension Bench Roman Chair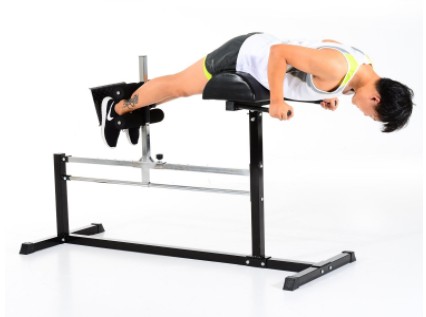 Okay, lets look at something more easily recognizable. Classic Roman Chairs like this HomCom Back Hyperextension Bench have been around forever. I've used these back extension stations in my training for years. They're a force to be reckoned with when it comes to getting your abs (and core / back strength) toned up. Adjust the sliders, jump on and perform your back extensions. I've also added weight to my workout with this ab equipment before for an extra workout. But take care as this uses your back a lot.
As awkward as this might look, it actually only 'hurts' the parts it's meant to. There's a decent cushion at the front and this machine can take 200kg. 
---
#4 Body Sculpture Official Ab Trimmer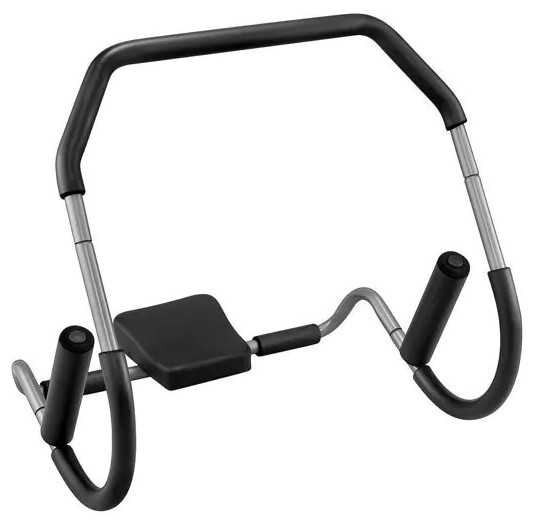 Another gym classic, and a simple ab toner than you'll want in your arsenal is a good old ab rocker. A bit of ab equipment found in just about every gym, ab trainers like this one from Body Sculpture (Amazon UK) they're still used today because they work very well at flattening and toning your stomach.
Also proving that you don't need to spend an absolute fortune and that sometimes the best ab trainers can also be the cheapest. It's quick to put together, robust and gets the job done.  Obviously you don't need one of these to crunch your abs, but the cushion at the rear is important as it keeps your neck protected and safe.
---
#5 Zizz Fit Home Gym Equipment Ab Kit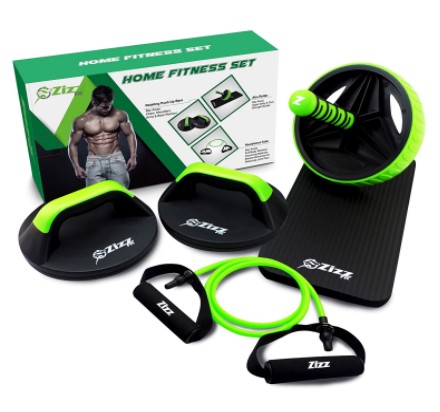 Another fairly cheap bit of ab equipment here. The Zizz Fit Kit (Amazon UK) contains three pieces of nicely colour coordinated ab toning equipment.  And this is meaty, gym-quality gear at that.
So what's in the kit? You're getting some rotating push up bars, some resistance tubing with anti-slip handles and, most importantly, an 'evil wheel'. I call it the evil wheel because ab wheels are wicked inventions and you'll feel their effects for days to come. Joking aside, a simple ab wheel is vital if you're serious about your abs. There's a zillion videos on youtube about this simple ab equipment because they're so powerful at sculpting your abs. And the Zizz Fit home kit has a really good one included.
There's also a 30 day money back guarantee – one of those 'no questions asked ones' and great Amazon reviews, if you're still on the fence.
---
#6 TechFit Abdominal Trainer Foldable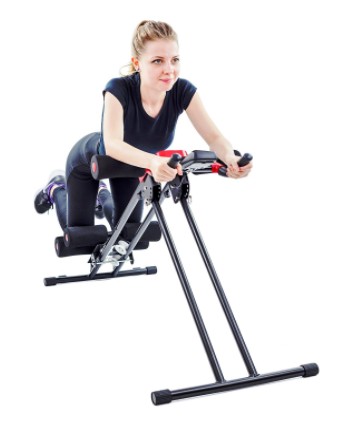 The final bit of ab training equipment I wanted to talk about is the TechFit Ab Trainer (Amazon UK). While it looks like a training tool for those bikes off Tron, this is actually an innovative way to get your abs in shape.
Choose your position (this ab machine has 6 possible configurations – 1 being the easiest, 6 being 'OMG I can't do many of these…') Once you're in position, it's your knees that slide up the slope, creating a unique sort of crunching motion.
Another nice addition is the LCD display that keeps track of your progress, similar to how a rowing machine does. It will track reps, time and even calories.
Worth noting that there's an impressive and all too scarce 24 month warranty with this ab machine too.
That's it for our ab training machine / gadget guide. If you've got a bit  of ab training gear you've found works better, or if you've tried any of the above ab toners, please let me know in the comments.
Train safe, train hard and stay on target!