Welcome our SportsTech CX2 Review (Available Amazon UK). Considering SportsTech came out of nowhere just a few years ago they've created some incredible training gear.
In this review we're looking at one of their elliptical machines: the CX2 cross trainer. Whether you're looking to buy this machine, or just looking to see what it's got to offer, this guide will cover everything you need to know about it.
We'll cover the best stuff about this elliptical, and the things it could have done better.
Let's get started!
---
What is the Sportstech CX2 Cross Trainer
The Sportstech CX2 Cross Trainer is a mid-priced elliptical cross trainer. If you've not used an elliptical before, you stand up, making strides while pulling and pushing alternate arms.
This particular trainer has some intriguing features that set it apart from competing machines. And, boy is there some competition in the cross trainer market in 2023!
One thing that stands out straight away with the CX2 are it's clever self-generating drive system. Unlike a lot of higher-end exercise machines, this doesn't need to draw power from the mains. Instead, it can be powered entirely from the kinetic energy you put into it as you work out.
That's backed up by a heavy flywheel that can put out a lot of resistance, a decent amount of built-in exercise programs, and a fantastic suite of motivational apps and online training options that can be streamed directly to any tablet, phone or television.
---
What do you get from training with ellipticals like Sportstech CX2?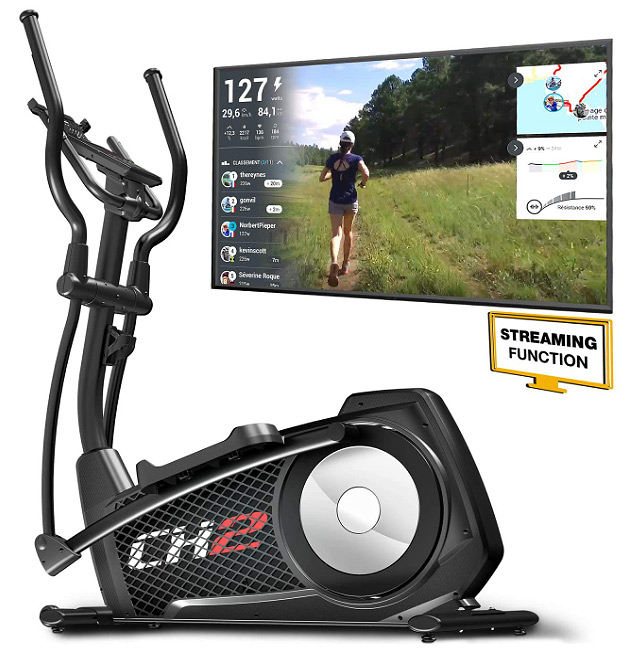 Cross trainers, (sometimes called ellipticals) are a low-impact but highly effective form of cardio exercise.
Other cardio options, especially treadmills, can be surprisingly high-impact on the joints, and long term training can lead to joint pain or other issues. Cross trainers, on the other hand, don't put anywhere near as much stress on your body, because you're supported through the entire movement.
Another bonus of elliptical training is the fact that it hits the majority of your body. Cross trainers target up to 85% of your body's muscles, meaning that they're also a decent workout for your back, arms and chest.
Some benefits to machines like the CX2 are:
They're one of the easiest machines to jump on and get started with.
You'll burn off loads of calories (more on that in a bit).
There's no impact to speak of.
You work your upper, lower and core muscles (85% of your muscles are activated).
Check Current Amazon UK Price
---
Who is the CX2 machine best suited for?
Though the CX2 is priced at the higher end of the market, you're getting a lot of features for the money.
Here's a super-quick run down of who might get the most out of the Sportstech cross trainer.
Is it good for multiple users?
Yes. The CX2 has a reasonable upper weight limit (around the 120kg mark) and an extremely hefty flywheel. It's easy for new users but has a fair bit of push-back for more experienced cross trainer folks too. That's not always the case with cross trainers.
If you're looking for something a bit better than a 'budget' machine
There's nothing wrong with a bargain! But, despite the sales blurb, a lot of the cross trainers we've seen don't stand up to cross examination. Too light, too flimsy, too squeaky. All very common problems with the cheaper, sub £400 range. The CX2 can normally be found at under £800, so it's not the cheapest cross trainer in the UK. But it has the quality. More on that in our review section.
Though the CX2 is priced at the higher end of the market, you're getting a lot of features for the money.
If you're short on space… or motivation
On top of this, the multimedia systems are excellent, and link into anything Wi-Fi enabled. And the fact that it can run on its own power means that this is a great choice for people who don't have much space or an electric supply in their workout space.
Is this a good machine to lose weight?
Yes! Cross trainers are one of your favourite machines to lose weight. You can burn up to 770 calories per hour (depending on the level of intensity), which is very similar to what you can achieve on a treadmill.
They're easy on your joints but can also provide a seriously tough workout for those seeking one. Whatever your level of fitness, machines like the CX2 are ideal for burning off calories, which in turn leads to weight loss. See the video below for more on this:
---
CX2 Trainer Key Features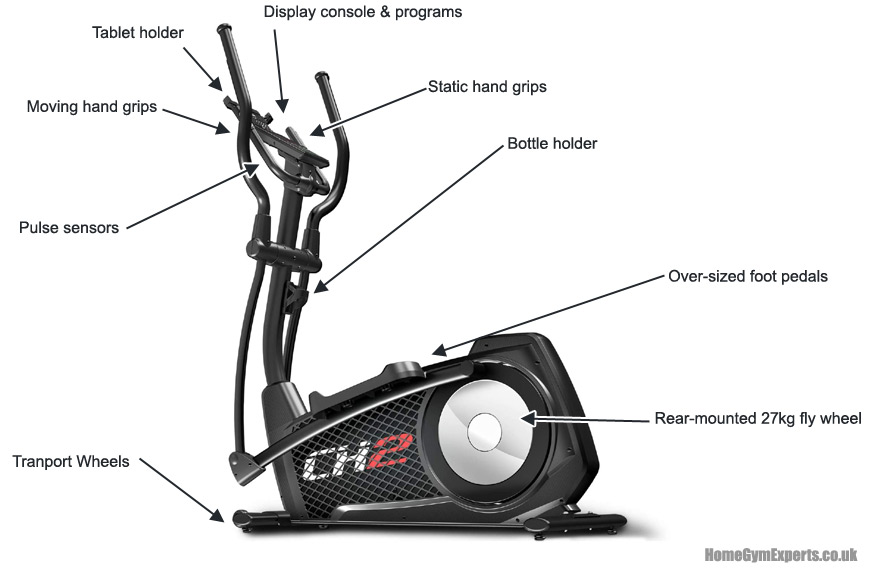 Self generating drive
24 resistance levels
27kg flywheel
12 preset workout plans
120kg max user weight
40cm stride length
Chest strap heart monitor
Transport wheels
Optional floor protection mat
Tablet holder
Cup holder
5 year warranty, with 2 year repair coverage
Check Current Amazon UK Price
---
Using this cross trainer with Kinomap & other apps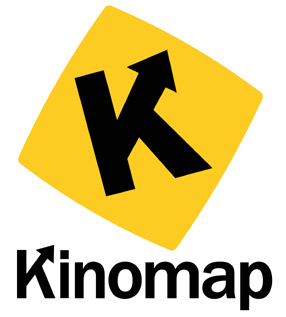 Is the Studio compatible with online racing and apps like Kinomap?
If you've never heard of this before, you use your tablet's or phone's screen along with a running machine (although it also works with things like rowing machines and, more commonly, cycles).
Once connected you do some of these cool things:
Race along famous cycling routes
Compare times and speeds with others
Do LIVE online races and events
Get trained by a proper instructor
Unlike some machines, the Sprint treadmill can be used with Kinomap without the need of a third party gadget to send data to an app. There's also a respectable tablet holder built into the CX2 that's way better than the bog-standard shelf we've seen other runners opt for. (Or just no tablet holder at all – which is also common!)
Here's a quick video showing some of the things you can get up to:
---
What we like about the Sportstech CX2 Cross Trainer
Flywheel and power system
One of the best things about the CX2 is the flywheel. It's a relatively heavy 27kg, which offers a lot of resistance, especially at the top end of the 24 resistance levels. This is comparable with other high-end fitness and gym quality fitness products. It's going to be able to give you a solid workout, no matter how fit you are, and it's a real reason to recommend this.
The CX2 is quiet
One thing to note with this machine is it's a lot quieter than many of the budget ellipticals you can get online. That's due in part to the magnetic resistance (the braking system) which uses the wonder of magnets, rather than friction, to fight back against your strides. There's 24 levels of resistance with the CX2 machine and no matter how far you increase it, it's the same quiet output.
Self-generating power
It's a mystery why more cross trainers, exercise bikes and rowing machines don't do this more often. The CX2 has a really smart self creating power system, which we haven't seen on many other exercise machines. It works like a generator, taking a portion of the power you create while you work out, and using that to power the cross trainer itself.
There's two huge benefits to this. First off, it means you save electricity. While a cross trainer isn't going to bump up your power bill that much, every little helps!
Second, and more importantly, it means that you don't have to plug this into the mains, which is a huge help when it comes to finding somewhere to seat it. Doesn't matter if your garage doesn't have power points now. Just set it up and you're good to go.
We have heard concerns that the self powering system won't work if you're exercising very slowly. But in out opinion this isn't an issue because you'd have to be moving so slowly it wouldn't be worth working out in the first place. So don't worry about that.
The multimedia system
The CX2 comes with a built-in LCD Bluetooth smart console that displays literally everything you need when you're working out. From heart rate, distance covered, calories burnt, to full exercise time, it's all covered.
Like other high-quality exercise systems, the CX2 also has massive multimedia app support for fitness and health. While it doesn't have its own touchscreen, the CX2 is Bluetooth and Wi-Fi enabled, making it compatible with any phone, tablet or smart TV. Phones and tablets sit in the handy tablet holder, giving you full access to all the apps you need.
Kinomap and other apps work brilliantly well with the CX2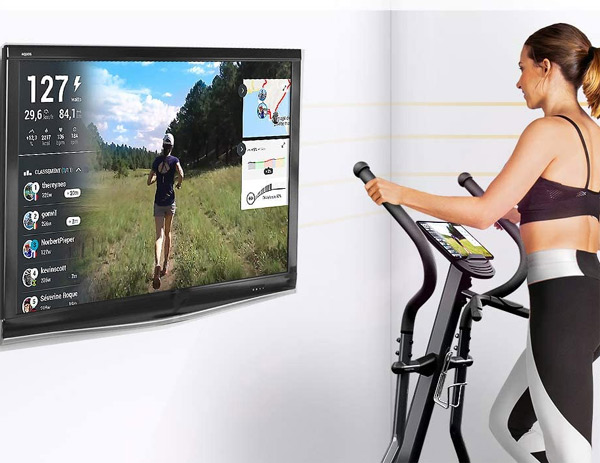 The kinomap app connects to Google street view, letting you set up real world training plans and follow the route as you sweat. There's a video training mode that links in to live coaching, letting you follow along with classes, the same as if you were at the gym. Plus, there's a multiplayer mode, letting you set up against other people, great if you're the competitive type.
Everything also syncs up with the E-Health mobile app. This tracks all of your stats, recording workout data, steps, heart rate and more, so you can keep track of it on a day to day basis. It automatically updates, and lets you share it on all the relevant socials, perfect if you've got a fitness group or a bunch of followers that want to know your every move.
Solid build quality
Reasonably sized and not too heavy for a cross trainer of this class, the CX2 is a well built little machine. Its max user weight is a decent 120kg (265lbs) which should be sufficient for most users.
As we've already mentioned, the whole machine is built around a powerful 27kg flywheel which offers excellent resistance. It's also worth pointing out that the machine is really quiet, both because of the precision grooved belt, and because of the motor controlled magnetic brakes.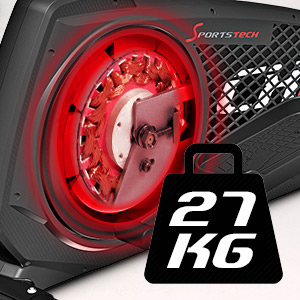 Magnetic braking systems are found in all decent exercise machines, because they're just so much better than traditional friction based brakes.
One, they're near silent, meaning that no matter how hard you're going, there's not going to be any awful screeches or other noise.
Two, the resistance on magnetic brakes is constant, because it's generated by magnetic field interactions, rather than pads clamping onto the flywheel.
Three, because there's no physical contact, brakes don't wear out, which saves you money and means that resistance and braking are going to be consistent throughout the entire life of the machine.
The CX2 also has the optional purchase of a floor protection mat. It's a reasonably heavy piece of kit, and for hardwood or tile floors, this is a great purchase, as it's cheap but effective.
Good value for money
Overall, in our opinion the CX2 is very well priced. It's well made, simple to put together, and compared with more expensive models has a lot of good options. However, there is one thing that's obviously missing, which we'll move on to now.
Check Current Amazon UK Price
---
What we don't like about the Sportstech CX2 Cross Trainer
No incline
A lot of models at this price point feature an incline system, with the best that we've seen also featuring a motorised decline. The CX2 doesn't have a manual incline option.
Honestly, for most people this won't be an issue. The high levels of resistance it offers, as well as the rest of the options, are enough, but it would have been nice to see, and put a little cherry on top of the options available here.
Assembly and maintenance
Like a lot of exercise equipment, the CX2 can be annoying to assemble solo, because of the weight and bulk. We'd recommend having a second person around when you build this, and to follow the manufacturer's instructions, or their handy YouTube videos.
It also needs needs occasional maintenance. Usually just tightening up bolts to stop the frame from wobbling a little. This isn't a major deal, as you'll only have to do it every few months, but it's worth keeping on top.
---
Final thoughts: Is The CX2 Worth a Buy?
the multimedia options are great, especially the fact that you can stream directly to your Smart TV
SportsTech's elliptical is a fantastic cross trainer that's built like a battle ship and is packed with handy features such as self-generating power. While it's missing an incline feature, there's almost nothing else here that's bad.
The flywheel is powerful enough for high-level training, the multimedia options are great, especially the fact that you can stream directly to your Smart TV, which we love, and the whole thing is well put together and simple to use.
Bottom line, if you don't think you need an incline on your home cross trainer, and are looking for something in this price range, the CX2 is well worth it.
Highly Recommended
Check Current Amazon UK Price
---
SportsTech CX2 Full Specs
Brand
SportsTech
Flywheel weight
27kg
Resistance type:
Computer controlled
Adjustable resistance?
Yes
Folding
Yes
Padding
Water resistant EVA
Resistance levels
24
Resistance type
Magnetic brake system
Bottle holder
Yes
Muscles trained
Arms
Legs
Core
Back
Chest
Drive
Quiet belt drive
App compatible?
Yes
Dimensions
1420 x 620 x 1710 mm
Weight
55kg
Max user weight
120kg
Assembly
Self assembly required
Tools included?
Yes
Batteries required?
No
Transport wheels
Yes
Bluetooth
Yes (2.4G 7mA)
Manual pulse sensors
Yes
Kinomap compatible?
Yes
Tablet holder included?
Yes
Chest strap compatible?
Yes, bluetooth
Model number
CX2
References and Further Reading