Welcome to this review of the Niceday Elliptical machine (For sale on Amazon). In the next few scrolls we'll cover everything you need to know about this cross trainer including who it's best for, what it does differently and where it fails to deliver. Grab a coffee and let's take a stride with Niceday's entry into this crowded market.
What is the Niceday Elliptical Cross Trainer and what does it do?
This is a mid-priced elliptical cross trainer. You step up onto two large (or 'over-sized') pedals and push down with your feet. It's a bit like stamping into soft sand over and over. It has a smooth elliptical motion. Meanwhile there's two long, moving bars you can grab and workout your upper body too.
A rear-mounted flywheel adds in resistance to the mix and you have a choice with this machine to pedal forwards, or backwards. Going back-over means you'll work more on the rear part of your legs and, while most of your time will be striding forwards on the Niceday, it breaks up the exercise and makes for better overall leg strength.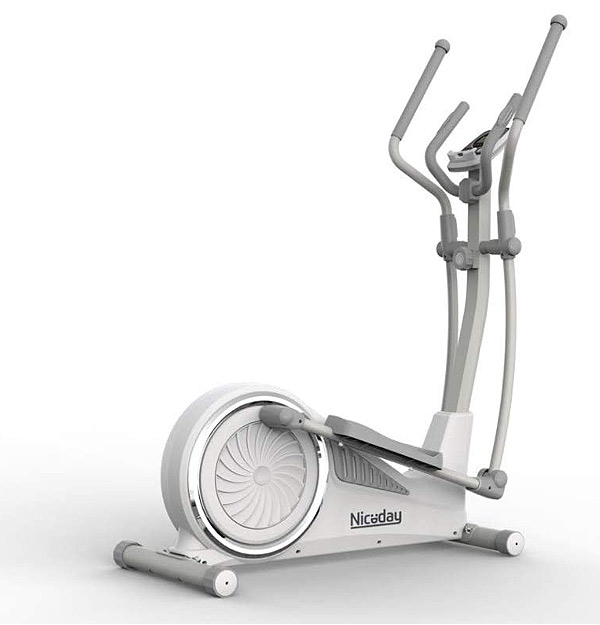 This machine is designed for home use and, priced in the mid-range level, the construction and working parts of the Niceday elliptical are all impressive. It offers a serious jump in quality from the cheaper machines we've seen and has a lot to offer for people looking for something reliable that will last.
It's not the perfect elliptical and we'll get into this particular machine's short comings later in the review. But overall there's a lot to love here.
Lets dive in and find out more.
Check Current Amazon UK Price
---
Who are Niceday and are they reliable?
If you're wondering who makes this elliptical trainer, Niceday is a Chinese manufacturing company with a line of around 10 different pieces of fitness equipment. They are an Amazon exclusive exercise manufacturer. You won't find their gym gear anywhere other than the big A, and they don't have their own website.
They seem quick to answer comments and have an overall good reputation and high user reviews.
---
At-a-glance features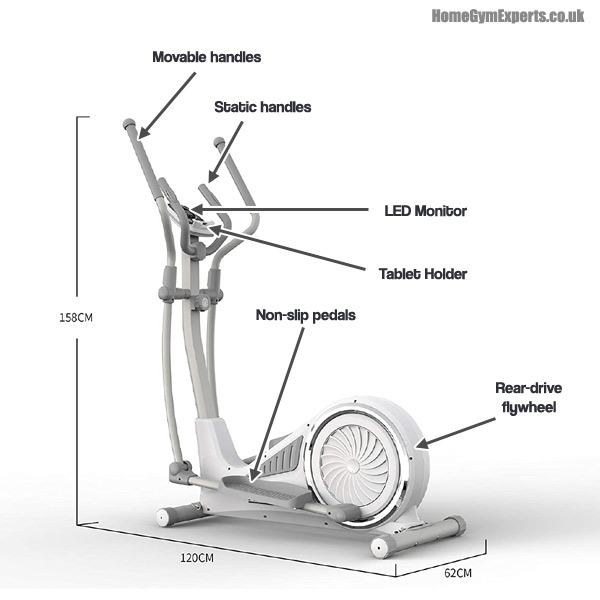 Magnetic resistance flywheel
16 levels of resistance
Two-way handlebars
Large, non-slip pedals
LCD display
Tablet holder
Built-in heart rate sensors
100kg max user weight
Transport wheels
Check Current Amazon UK Price
---
What will you get from training with the Niceday Elliptical?
Ellipticals are becoming one of the most popular exercise machines in gyms across the country and at home. This is because they offer a massive host of benefits, with very few actual downsides.
Out of all the available cardio options, an elliptical is probably the lowest impact of them all. That means the force your body experiences when you're exercising is basically nothing, no matter how hard you're pushing yourself.
On top of that, unlike some options (cough, treadmills,) an elliptical can give you a total body workout, including your arms and core, as well as the lower half.
Finally, ellipticals are really easy to use and require almost no long term maintenance, so they're a great choice for people who might be getting into exercising after a long break, or for the first time.
---
Who is this best suited for?
The Niceday elliptical is suited for almost everyone. That's the great thing about ellipticals and cross trainers because they're so low impact and easy to use, almost anyone can use one without issue.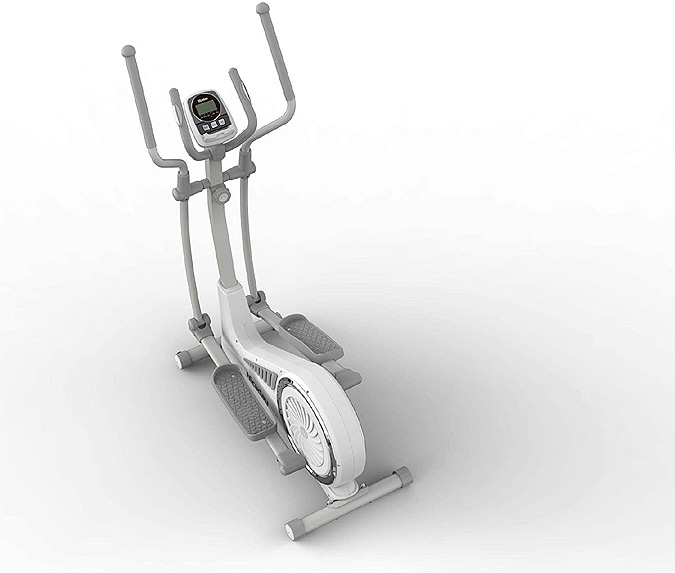 Personally, I find ellipticals 'easier' than running machines but they're definitely no slouch when it comes to burning calories and getting a good workout. You'll get a sweat on with this machine, no doubt about that.
Who might want to avoid this machine?
One curious thing with this elliptical is it's lighter-than-most 100kg user weight limit. Obviously not a problem if you're on the lighter side. Anyone else will, sadly, have to look elsewhere.
---
Review: What does Niceday's Cross-Trainer get right?
It doesn't wobble and is well made
Overall design throughout the Niceday elliptical is solid, with real thought put into how everything fits together.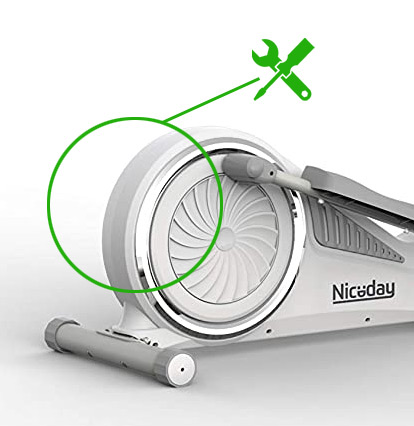 Construction is solid across the board, with large foot pedals that are comfortable, move easily and have a long stride, so they're suitable for taller people.
The dual handlebars are smartly placed and comfortable, with the external set moving alongside the pedals to give you an arm workout, and the internal, static set having built-in heart rate sensors.
The controls are very simple, with a small LCD display that gives you all your important stats, and a tablet or phone holder so you can keep your smartphone safe.
The magnetic resistance has a good feel
The Niceday machine uses a combined rear-mounted flywheel and magnets as brakes to provide resistance when you're working out.
Almost every high-quality exercise machine has made the jump to this frictionless form of braking, and it requires a lighter flywheel, which in turn makes for a compact machine.
Compared to conventional, friction-based mechanical resistance, magnetic resistance is leagues apart.
For one, it's far smoother, so every single workout is going to feel a lot better, and that smoothness remains as you move up through all 16 levels of resistance, no matter how hard you're going.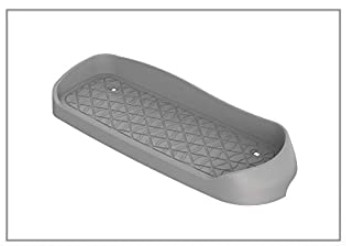 Two, magnetic resistance puts a lot less strain on the machine because there's no direct contact between the resistance bearing parts. That means no having to replace drive bands or gears, and a much longer lifespan.
Lastly, magnetic resistance is much better for you and your joints, because of how smooth and low-impact it is. Considering ellipticals are already very low impact exercise machines, an elliptical using magnetic resistance puts almost no force on your body, making them the perfect choice if you have issues that could prevent you from exercising using other methods.
Hey, good-looking
It's fair to say that most ellipticals look a bit well, functional and clunky, to say the least. So, when you get something like the Niceday across your desk, it really stands out.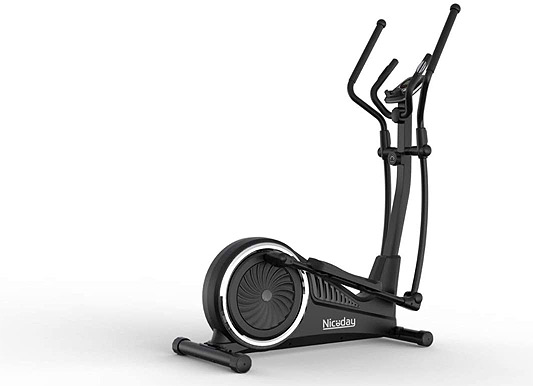 Sleek and futuristic, it opts for an attractive, low profile design that's going to look at home against any backdrop, and no matter your décor. Available in white or Batman black, you can pick a colour that will fit in with the rest of your exercise gear or home gym.
The care and attention extends to the rest of the design, including all of the working parts, the flywheel casing, which looks futuristic, and the layout.
No mains reliance
A lot of modern exercise machines need to be plugged in before they'll work. The Niceday doesn't need any of that. It only needs two AA batteries to power the console in order to get your stats, and everything else is mechanically driven.
This gives you a lot of flexibility in where you use this. If you struggle with power sockets in your home gym, if you're just setting up a garage and don't have power options, or even if you're planning on moving out into a log cabin in the middle of nowhere, the Niceday still works.
Check Current Amazon UK Price
---
Where does this elliptical fall short?
The display monitor is as basic as they come
For a machine that's definitely not a budget price level, the display on offer here is not what we'd expect. While you get a simple view of the usual suspects, such as time, distance and pulse, it's not presented as well as many competing products monitors. It's a plain, grey LCD affair that's not in keeping with the rest of the design and quality here.
No multimedia training options
It's no secret that we love multimedia fitness options. They're literally the future of home fitness, because they bring gym-quality classes and other workouts straight into your home, whenever and however you need them.
The Niceday elliptical has no options for this. It does have a phone holder, but there's no option to link it to the machine, and at this price point, it's almost expected. You can't connect your phone via Bluetooth or use something like Kinomap, or other third-party apps.
---
Final thoughts: Is Niceday's elliptical one you want in your home gym?
Overall, there's nothing bad about the Niceday cross trainer by itself. It only tends to fall down when you compare it against equivalent products on the market.
For roughly the same price, you could get something like the JTX Tri-Fit Cross Trainer, which boasts similar performance, but has a whole range of multimedia training options, including streaming fitness programs, that are a fantastic aid to health and fitness.
If the Niceday elliptical had those built-in, we'd feel a lot better about recommending it. As is, it's a perfectly fine piece of exercise equipment, but there are superior options out there right now.
Check Current Amazon UK Price
---
Niceday Elliptical Full Specs
Brand
Niceday Fitness
Resistance
Magnetic
Resistance levels
16
Pulse sensors
Yes
Flywheel weight
8kg
Heart rate training
Yes
Self assembly?
Yes
Colour
White & Silver or Black & Silver
Pedals
Anti-slip pedals
Bluetooth
No
Kinomap compatible?
No
Monitor
Heart Rate
Calories
Time
Distance
Transport wheels
Yes
Stride length
33cm
Weight
42.5kg
Dimensions
120xm x 62cm x 158cm
Max user weight
100kg
---
References and Further Reading