In this guide we're checking out a rowing machine called the JTX Zenith. It's made by JTX Fitness and uses air for resistance. We'll be digging deep into what's this machine has to offer, and whether or not it's worth your money.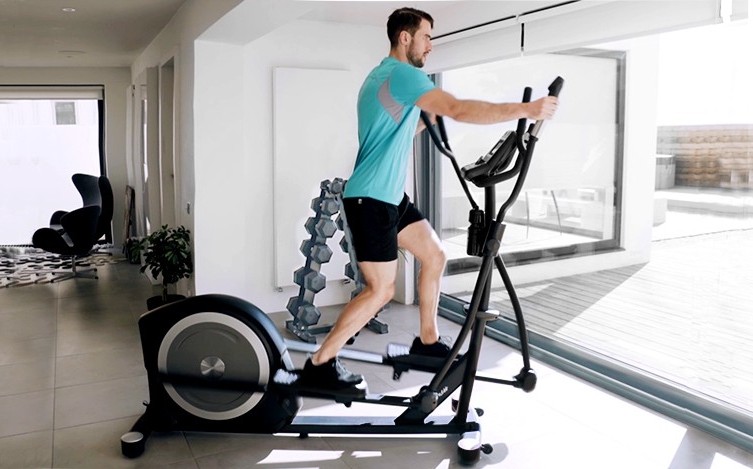 JTX Zenith Best price & full guide
The JTX Zenith at a glance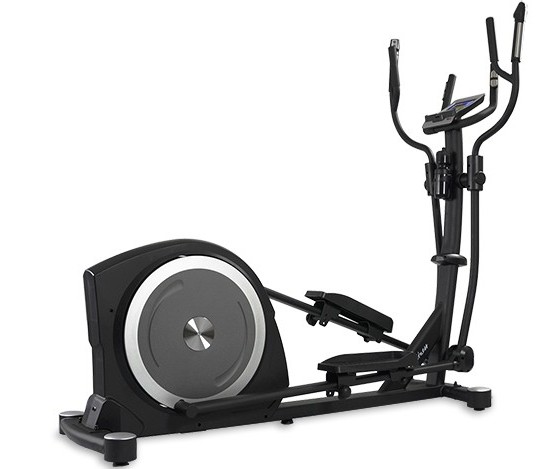 A quick overview of what this elliptical machine's features
Home cross trainer
Gym-grade elliptical for home use
5 star rating on Trust Pilot
Large width and length for stability
Over-sized foot pedals
Suitable for any user height
18 built-in workout programs
Sturdy design
Smooth, quiet motion
17kg elliptical flywheel
21″ stride
Advanced computer with Bluetooth
---
A good elliptical machine to improve health, strength and fitness
Here's the quick run down on the JTX Zenith: It's a home-based cross-trainer that has the same quality you'd expect on a gym machine. The combined large foot print of this machine, combined with a fair bit of weight makes for a sturdy training session.
The rest of this guide will dive into some more depth about JTX's Zenith machine and help you decide if it's for you… or not!
What is the Zenith?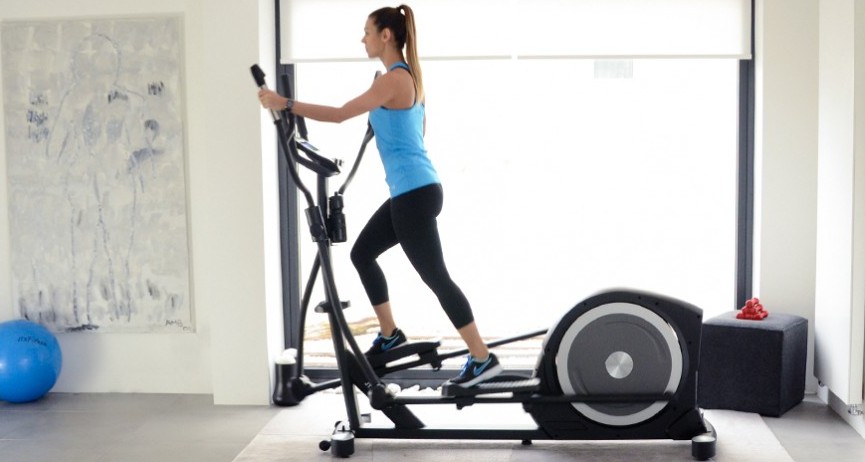 The JTX Zenith is an elliptical machine that you stand on and pedal forwards, or backwards, in a smooth motion. The flywheel at the rear provides resistance and, if you've never tried this kind of machine before, it's somewhere between walking, cycling and climbing up a hill. Meanwhile, your upper body has the option of pulling and pushing the vertical handlebars at the same time.
Cross trainers like the Zenith can offer the most gentle form of exercise up to some seriously intense training. They're suitable for users of all levels too.
---
Who are JTX Fitness?

The JTX Zenith is a machine from fitness company JTX Fitness. Not familiar with JTX? They design and build high quality commercial standard fitness equipment such as rowers, running machines and cross-trainers. They're known for their customer service and machines with high-quality components, build quality and aesthetics.
Their machines are typically more expensive that budget offerings you might have seen, but the price is definitely reflected in the quality. If you have any problems with your Zenith, or any of their machines, they send engineers out to your home to fix it quickly, which is very rare and something we love.
You can find out more about the JTX Zenith, and different rowers on the JTX website.
One thing that you'll read a lot about, if you research into JTX, is how good their support is.
---
5 things you might just love about this cross trainer
It's smooth and quiet – If you want a machine that won't disturb anyone in your house hold (or just want to be able to hear your music) the Zenith offers a super-smooth and noticeably quiet motion. While it's not the cheapest machine you'll find, the extra cost means you're getting the best components.
It's sturdy and heavy – A word of caution: this isn't a machine you use and then fold away, or move to another room. It's a large, weighty machine and it's meant to be. This offers users of all heights and weights and sturdy wobble-free experience. Train as hard as you want. The Zenith can take it.
The onboard computer is brilliant – When used in conjunction with the chest pulse strap, or the pulse sensors on the handlebars, the console can do clever things like dynamically adjust the resistance so that you're always in your ideal heart rate for your fitness goals. You can also connect a tablet via Bluetooth and use apps like Kinomap to see videos of the track your're 'running' on.
It's suitable for pros or rowing newbies – One thing that's really good with this machine is it's easy to recommend the JTX Zenith to trainers of any level. I like to think I'm fit but I can get an incredible workout from a cross trainer. They're also great if you've got a leg or foot injury and running or other sports are a problem.
The 3 year in-home warranty – Even the best products can have problems, either when you get them, or as time goes by. One thing we love about JTX is their customer support. You get a 3 year warranty with your Zenith cross trainer that includes parts and labour, with no sneaky clauses. If something goes wrong or doesn't work,. they'll send someone out quickly to fix it.
---
Benefits to training with a cross trainer like the Zenith
Build cardio vascular strength
Suitable for any age
Works everything from core strength, legs, arms and upper body
3 year warranty
No impact on your joints
Easy to assemble
Gym quality elliptical without going to the gym
Ideal machine to use with foot and other injuries
Good variation in programs to keep you motivated
Watch the video below for a good overview of the Zenith machine and all the features.
---
Reception of this elliptical
What are the reviews like for the JTX Zenith?
One of the 3rd party independent sources for reviews on the Zenith elliptical is Trust Pilot. The Zenith currently sits at 5 stars. At the time of writing, there's not a ton of reviews as this rower is still new to market. You can read more reviews of the Zenith machine here.
Here's some opinions from users of this cross trainer:
"Brilliant piece of kit . Well worth the money" 
Alan Robson
---
"We've only had this a few weeks, but so far there haven't been any issues, and the three year guarantee leaves us assured of the quality build." 
M Nizami
---
"This cross trainer was bought to keep my cardiovascular fitness up whilst not being able to run due to a foot injury. I feel it is working and is just as good as any I've used in the gym. Good quality and nice and heavy. Easy to put together if you follow the steps carefully." 
Linda L
---
Why is this machine a higher price than say a budget rowing machine?
If you're wondering why this elliptical trainer is around the £900 mark, and you can get some budget cross trainers online, the main difference between the Zenith and cheaper machines is:
Build quality – It's hard to get a sense of quality from pics, and some cheaper machines might look similar. JTX's machine is as robust as you can get, and the components are professional quality.
Console – One thing that cheaper cross trainers fall short on is the quality of the console. The Zenith has a good display which will show a lot of your info on screen at a time.
Programs and dynamic resistance – Another thing I find on the machines I review is that you have to pay more to get proper dynamic resistance. The Zenith has 18 programs (and you can also build your own). The machine also connects to any other app you might like using to expand even more.
---
What are the programs on the JTX Zenith?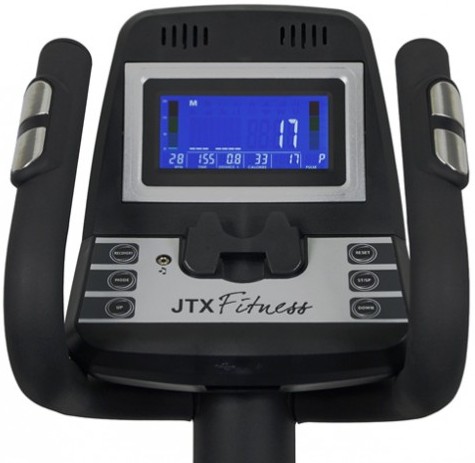 If you want to hop on the JTX Zenith once you've assembled it, that's no problem. Cross training is one of the simplest machines to exercise with and get started. However this trainer has a fab computer that can do a wide range of things to benefit your training. It's well worth learning what it can do.
Varying your workout intensity and intervals
If you want to get the most from this machine, or any cross trainer, the best thing to do is to take advantage of the dynamic resistance and to vary the intensity you train at. The Zenith does this automatically on it's 18 preset programs. They'll become harder at certain points and you can set the overall difficulty depending on your level.
The Zenith's programs are easy-to-use and have a lot of depth
Using either the included chest strap, or simply gripping the vertical bars on this machine will
---
Where can you get the best price for the JTX Zenith?
This product is available online at a number of different retailers. To be honest, the best bet is to head over to the company website and buy direct. They actually have a better price than anywhere else and the Zenith is frequently on sale.
What kind of warranty do you get when you buy the JTX Zenith?
Spending a lot of money on a new rowing machine is a daunting prospect. They're not exactly easy to send back once you've assembled them!
The good news is that JTX offer a 3 year in-home servicing and repair warranty with this machine. They'll actually send out an engineer to fix any problems you have and that includes parts and labor too.
As for returns, there's a 28 day money back guarantee so you can send it back if you find it's not what you need.
Full JTX Zenith Specs
| | |
| --- | --- |
| Resistance | Elliptical fly wheel |
| Programs | 19 programs |
| Control display | LCD, backlit |
| Custom programs? | Yes, can make your own |
| Programs control | Distance, calories, time and intervals |
| Heart rate training | Yes, uses included heart rate monitor strap |
| Self assembly? | Partial, mostly assembled |
| Dimensions | 190cm x 87 cm |
| Handlebars | Multi-grip - fixed and moving |
| Bluetooth? | Yes |
| Folding? | No |
| Stroke length | 21" |
| Max user height? | No upper limit |
| Heart rate monitor? | Yes, on bars and free strap |
| Kinomap compatible? | Yes |
| Cup holder? | Yes |
References and sources
The official JTX Youtube channel is packed with high quality videos of their products, if you'd like to check out other rowing and fitness machines.
Contact JTX on their website, or using the email info@jtxfitness.com
You can also contact them for help or any other queries on the Zenith on 01273 453855
How good is JTX's customer service? Check out their Trust Pilot company reviews here. Spoiler alert: 4.5 / 5 stars.
Are you up to it? Check out the Live well website on NHS before you dive into your new elliptical