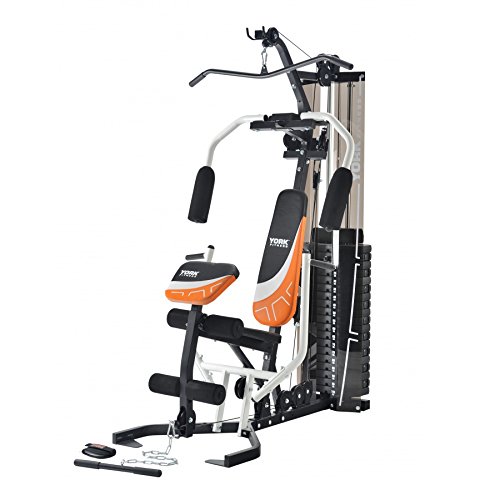 Welcome!
This guide will take you through everything you need to know before you buy your York Perform Multi-Gym. We'll be looking at what it does, how it can improve your fitness and also looking at the best places to buy this home gym.
What can the Perform Multi-Gym Do?
York Fitness produce everything from kettlebells to full blown home gyms. Their products are used in both commercial and home gyms. The York Perform Multi-Gym (Amazon) is a free standing home gym that combines many different exercise machines into one station. The idea is simple – have one bit of equipment that does many different jobs.
By using the various exercises, you'll get a full body workout, just as you would a commercial gym. The weight stack has separate plates that can be added or removed from each exercise quickly and offers a maximum weight of 100kg. This is ideal for new users up to mid-level weight training.
There's separate bars for each exercise so you don't need to alter any parts to be able to do each exercise. Pulleys and cables are used to lift the weight up and down and a 1:1 weight ratio is used. This means if you set it to 50kg for a pull-down, that's what you'll be lifting.
Exercises possible with the York Perform
Upper Body
Chest press
Peck Deck
Bicep curl
Low rowing position
Lateral pull-down (wide lat bar)
Preacher curls
Legs and lower body
Some things we like with the York Perform Gym
Here's the key benefits to the York Perform Multi-gym
One of the smallest footprints of any home gym
Solid, rugged construction
Safe way to train, even on your own
'Y-Frame' frame for extra stability
Smooth movement, using sealed bearings
Large 100kg weight stack
Separate bars for each exercise mean you don't have to adjust anything
Comfortable padded upholstery
Two year warranty
 About Self-assembly
There aren't many of us who like stuff that you have to put together, so what's the Perform home gym like to assemble? You're looking at around the 6 hour mark for complete assembly of this multi-gym. The instructions are nice and clear, with the bolts being on laminated card and even separated into stages. Take your time, stay organized and you'll be fine.
Current Best Price on the York Perform Mult-Gym
There isn't that much of a huge jump in the best prices for this home fitness gym, but here's a price comparison for the York Perform. We'll update this if we find any better prices.
Prices Last Updated Tuesday 25th February 2020 – 06:22:43 am
Video and overview
York perform Multigym full specs
| Weight stack | 100kg |
| --- | --- |
| Dimensions | Height=196cm (77.2"), Width=115cm (45.3"), Depth=141cm (55.5"); |
| Weight | 162kg |
| Max user weight | 125kg |
| Warranty | 2 years |