A decent utility bench can take center stage in your home gym, opening up an almost endless number of exercise you can take on. Whether you use it with a cage or just on it's own, the trusty bench is a must-have in our books. Today we're looking at the new budget weight bench from Body Power.
The body power benches look like they belong in the toughest gyms. They have a chunky look and feel to them and you can often find them quite cheap online, usually under £150 if you look around.
But what are you getting for your cash and is this a good bench for proper weight training?
The Body Power weight bench is one of the more sturdy adjustable utilities out there. A combination of good welds on the joints, tough steel construction and secure stops.
A bench that can take some serious punishment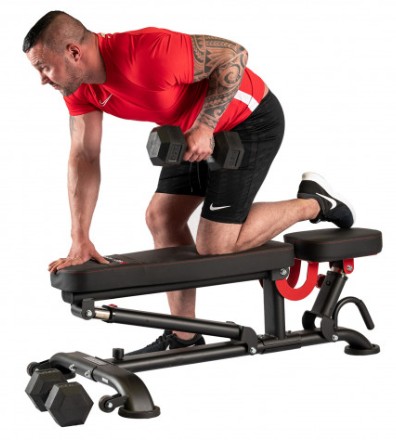 If you're going to be doing some heavy weights – either with dumbbells, or using something like a power rack, then some of the benches on the market just aren't up to the job. The Body Power bench has been built from the ground up with heavy duty users in mind.
It's a decent weighty bench, at 35kg and everything from the steel to the sliding adjustments make for a very sturdy bench.
The fixed seat is safe and sturdy
One thing that's a huge problem in a lot of multi-position benches is not having a secure seat that you can fix to a set position. The way the Body Power bench works gets around any awkward slipping with a simple pull out and twist to fix pin.
It's quick to use and means the bench will never move out of place when you sit up with some heavy weights.
---
Full Features of this utility bench
Adjusts from upright, incline, decline and flat
Easy-grab handles to adjust positions
Super-thick heavy-duty pads
Made to withstand very heavy training
Pair with power rack, or use on its own
Transport wheels save your back when moving around
---
Awesome Weight Benches For Sale Today
Weights Bench Deals For Thursday 30th Nov 2023
Prices last updated: Monday 20th Mar 2023 - 02:02
Save £20.86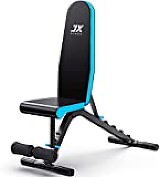 leikefitness Multifunctional Aerobic Deck with Cord Workout Platform Adjustable Dumbbell Bench Weight Bench Professional Fitness Equipment for Home Gym… (Black)
Save £10.99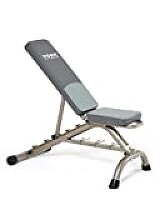 York Fitness 5 Seat Positions Bench Press - Adjustable Foldable Weight Bench Home Training Gym Weight Lifting Exercise Workout Bench - 90 Degree Incline Bench for Dumbbell Exercise
Save £4.13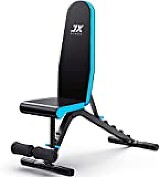 SteelBody Unisex - Adult STB-10101 Weight Bench - Brown/Black
---
Quick tip when you're picking a weight bench
Always check the total weight it can take
Unlike some other bits of gym gear, you're going to be taking not only your weight but your dumbbells and barbell weight into account too. Add some extra weight on too – with luck (or we should say hard work) you'll be increasing that weight over time too.
Thankfully, this bench has a pretty obscene weight limit of 250kg – That leaves your average guy with around 150kg of weights to play with. That'll do it.
---
One of the better-looking benches
Who care's how a weight bench looks, right? I'll be the first to put things like stability before looks when it comes to gym gear but Body Power have done a good job styling this bench.
The read and black and silver look good together and this bench will look awesome in any home gym. There's even red stitching (that you can't see in the pics). It all goes together to make for a bench that's a bit above the rest in terms of design.
Further reading and resources