At Home Gym experts we love a bargain. But we also HATE cheap, wobbly gym gear. Before thinking of heading to eBay, or hunting down some used gym equipment, you might want to take a look at some of the cheap multi-gyms you get new around the UK. This guide will take an in-depth look at some of the better low-cost all-in-one machines out there in the interwebs, weighing up their pros and cons.
Inm this guide we're also on the hunt for a multi-gym that will go easy on the wallet too. If you're shopping for your new home gym on a shoe-string, this guide is for you.
Top Budget-Price Home Gym's 2021
"Marcy's home gym is compact and as tough as they come. It's one of the more sturdy gyms out there and has a ton of possible different exercises."

Sportstech
Premium 50-in-1

"This compact multi-gym has tens of exercises you can do and is extremely well-made."

3 stations including dips

TecTake Fitness
Power Station

V-fit CUG2
Herculean Compact
What do we mean by multi-gym?
For the purposes of this training gear round-up, we'll be looking for some home gym equipment that fits the categories below:
Has it's own adjustable weight stack
Does an all-over body workout
Works both upper body and legs
Uses pulleys rather than having to apply 'plate' style weights
Preferably doesn't hog loads of room
So let's get started!

#1 Choice: Marcy Eclipse HG3000 Compact Home Gym
Marcy have proved to be one of our favourite companies when it comes to making high quality home gym gear without breaking your bank. The HG3000 is a cheap multi-gym for the home that highlights what they do best. You're getting a really solid bit of kit here that provides a safe, easy way to get a full-body workout in. It's also extremely compact.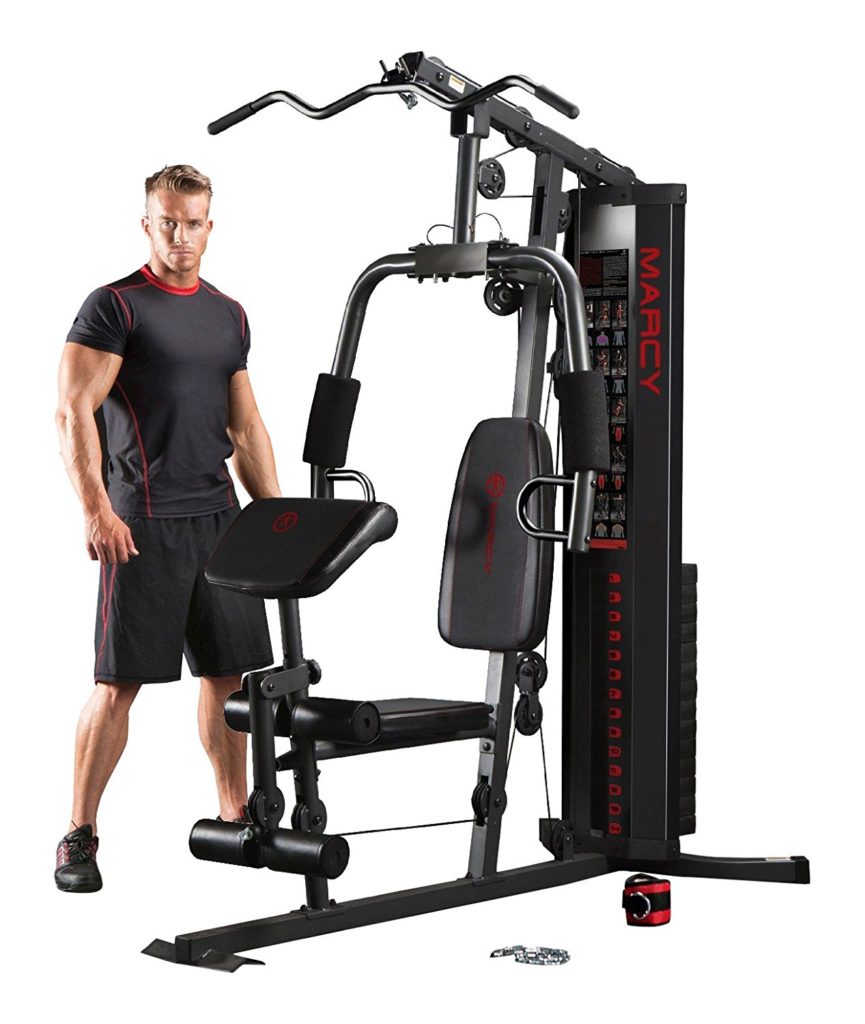 Excellent build quality and range of exercises
The stack here is 68kg and you've got both high and low pulleys. There's a proper bench press, pec dec, pull down, leg extension and more. The 5 x 5 cm heavy gauge steel frame is extremely robust and after around a 5-6 hour build, you'll be very pleased with the quality of this multi-gym.
TIP: Layout all the pieces on the floor and get acquainted with them prior to assembly. Might save you some trouble!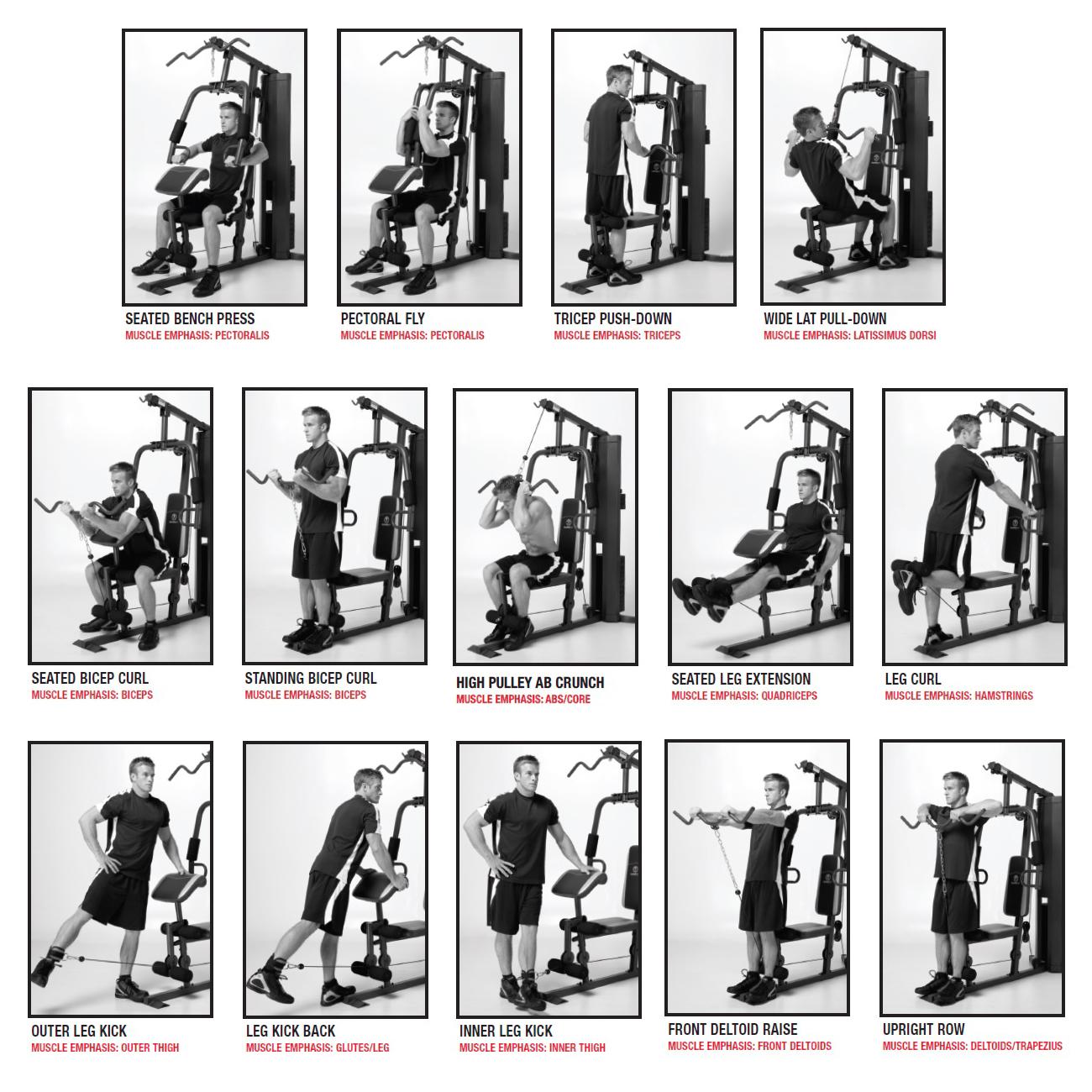 This Marcy gym offers 14 main exercises you can use to get in shape. One cool feature is the full colour photos on the front of the gym, showing exactly what each exercise does and how to perform it safely. A nice little feature.
A lot of gyms claim to be compact but the Marcy HG3000 is definitely one of the better ones if you're short on space. It's ideal for your spare 'box room' or half a garage.
Verdict: Definitely the best gym for this price range in terms of build quality and the sheer number of exercises you can do. It feels great to use and is extremely sturdy. We can't recommend this gym from Marcy enough!
Superb build quality
Huge range of exercises
Full instructions on each one
Weight stack goes up in beginner-friendly 4.5kg
Sturdy bit of kit
Compact enough for pretty much any home
Lengthy 6 hour build time
---
We love Sportstech gear. Everything they make is consistently near or at the top of the pack when it comes to performance, and this power tower multigym is no exception.
Covers all the main stations a gym needs
The clear illustrations on the rear of this gym make it super-easy to see what you're meant to be doing. And it's something we wish more gyms included. As for the stations themselves, the major ones: pec deck, pull downs, preacher curl and leg extensions are all implemented beautifully here.
Excellent quality throughout
Incredibly sturdy and well built, it's a solid piece of kit that's built around a 55kg weight stack, which is a decent mid-range figure. It's not in the same league as our top pick, the York Perform, but it's still more than enough.
Everything on the machine is high quality, with particular attention paid to the cables and pulleys. These are the parts that tend to give first, especially on cheaper systems, so the care and extra value spent here will pay itself back one hundred times.
In use, it's very comfortable, with all working parts heavily padded using thick EVA foam, and the station variety is impressive, with over 30 different exercise variations, including the usual lat pulls, chest station, leg station, but also a whole bunch of different cable stations that you don't see on cheaper multigyms.
Compact, narrow form
In terms of space, it's very long, but also very narrow. This gives it a profile that's surprisingly easy to fit into a home, as it can sit next to a wall without extending out into the room as far as other options might.
Finally, it's simple to put together, and Sportstech offers a whole bunch of online videos and a training booklet to give you ideas about how to use your new piece of kit, so you'll never get bored or run out of ideas.
Verdict: The quality of this home gym is up there with the best. Everything from the seat padding to the frame itself is rock-solid. A brilliant home gym.
Well built and strong
Large variety of exercise options
Long, thin shape fits into a lot of spaces
Very comfortable
Weight stack could be heavier
£729.00 at Amazon
Price last checked: Saturday 25th September 2021 - 19:05 pm
---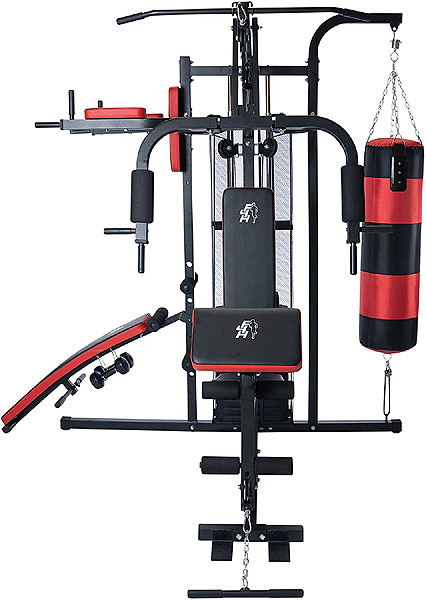 One of the most important things to look for in a gym is that it's not going to wobble all over the place when you're using it. This low cost multi-gym has the quality the brand is known for. It's a sound compact gym that will be right at home in a spare room or single garage, without taking up too much room.
The weight stack is 68kg which is ideal for anyone looking to build muscle at home. Having said that, if you're a power lifter you might find the top weight available isn't enough for your needs. For new to intermediate users looking to build strength, this cheap multi should be perfect.
Let's talk about what this gym can do. All the major ones are covered here – pec-fly, bench press, leg extension, lat pull-downs and a decent preacher bench is built into the front. You've also got a curvy ab bench to work on your six pack. It's good having separate stations to break things up and add some variation in.
You've also got a good quality (if high-up) dip station. It also does knee raises although you'll not thank us when you've done a few inclined sit-ups. You'll be feeling your abs for days.
One of the real 'pros' to this one is the built in boxing station. Fancy yourself as a bit of a Rocky? Or just want to get a sweat on fast? This multi-gym has you covered. In all seriousness, if you've not discovered the joys of hitting a big bag, then we can't recommend it enough for fitness and self defense. Grab a pair of bag mitts though – skinned knuckles aren't a great look.
Verdict: Fit4Home's 7005 budget-priced entry into the home multi-gym market is well worth a look. Excellent quality and a range of great exercises should put it on your shortlist.

Good choice of exercises
Good choice for family use
Great 20kg punch bag
Dip, knee raise and abs station
Good value for money
Instructions could be more clear
Preacher curls won't fit every body shape – especially taller people
£549.99 at Amazon
Price last checked: Saturday 25th September 2021 - 19:04 pm
---
Related Guides
---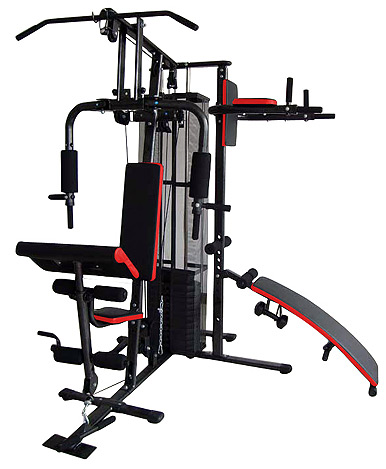 Coming in under £500, the IronMan IM-409 is one of the cheaper multi-gyms out today and offers several separate places to workout:
Forward station (pec-dec, preacher curls, pull-downs etc…)
Dip station (with knee raise)
Curved ab board
Press-up station
All the major exercises are included here including seated pec dec, lat pull-downs, preacher curls and bench press. It's worth noting that the pec-flys and bench press use the same bar and require a bit of tweaking to change over. Not a great hassle and expected at this cheaper price point.
There's leg extensions but the padding here could have been a little thicker, still they're perfectly workable. And the 65kg weight stack will likely be more than enough for anyone looking to get in shape at home.
The IronMan has a wide base and is relatively stable to use. On the downside, this comes at a cost of floor space. And to use the push-up station opposite the ad bench, you'll need extra room there too.
The ab board actually folds up, freeing up the space for other exercises, but there's no reason not to leave it out. And the inclined (and curved) ab bench is way better than doing hours of the flat variety. You'll see faster gains (and sore abs) faster using it.
Verdict: Considering the price, there's a good selection of stuff you can use to build your body with the IronMan gym. The ab board makes for some intense ab workouts and having a proper dip station is fantastic.
Three completely different stations
All the important exercises covered
Decent 65kg weight stack
Good design
Good budget price
You'll need plenty of room, especially for the press-up station
It's easier to do press-ups with dumbbells
Included dumbbells are only 1.5kg
---
Another cheap home multi-gym that's worth your attention is the TecTake Fitness Power Station. With an 40kg stack, it's ideal for beginners up to intermediate users. This is a compact gym with a footprint of around 160cm long by a metre wide. Pretty impressive.
You've got a good selection of exercise here including the lateral pull-down, a good pec dec and bench press, and leg and bicep too – although there's sadly no preacher curl bar. The weight stack goes up in increments of 4.5 kg, which is a small enough increment to get used to upping your weight.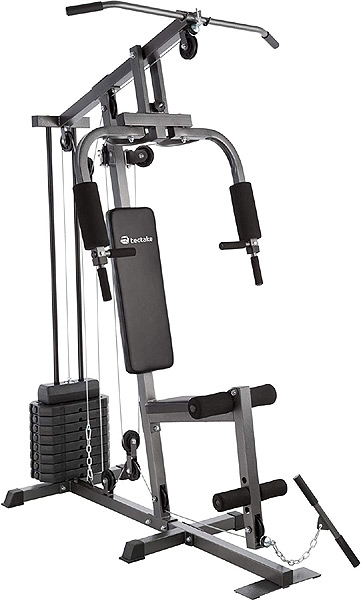 Verdict: While you might not be familiar with the brand name, don't overlook this spiffy compact gym from TekTake. It's got a compact size and enough space and enough weight for anyone looking to get in shape at home.
Train your quadriceps, biceps, chest & shoulders
Super-cheap
Compact size
Good quality parts and finish
Two hour assembly
Thin padding on leg extension
Only 40kg stack
£245.99 at Amazon
Price last checked: Saturday 25th September 2021 - 19:15 pm
---
Sticking out proudly at the budget end of our cheap multi-gym guide is the Compact Herculean gym. You can usually find this bit of kit at a good budget price and it has some pretty cool features at for the cost.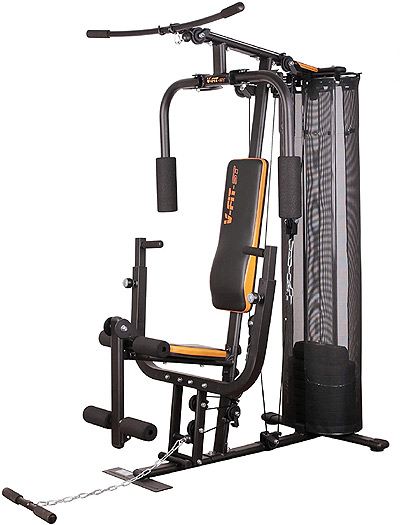 Aside from being a decent looking home gym, especially with the mesh style stack cover at rear, you can get a fairly sound range of exercises in your workout. You can perform Bench Press, Chest Press, Lat Pulldown (Front and Back), Pec Dec, Leg Extension, Back Leg Curls, Upright Rows.
The only downside being the leg extension shares the same mechanism as the rows, so you'll have to swap this yourself.
The construction is the normal tubular steel affair we've come to expect from home gyms, but it's solid enough and comes with a fixed 72kg weight stack. It's worth noting that the stack goes up in increments of a full 10kg at a time, which is pretty hefty jumps and might be too much for some users.
Size-wise there's both good and bad news here. This budget home gym is compact enough to fit into a small spare room or garage, with a footprint of 140cm x 95cm. However it's not quite big enough for users pushing up to 6 foot and taller. It's ideal for females though, or men under that height.
Verdict: This is a good quality home gym that offers a wide range of exercises and a true all-over-body workout.