At Home Gym experts we love a bargain. But we also HATE cheap, wobbly gym gear. Before thinking of heading to eBay, or hunting down some used gym equipment, you might want to take a look at some of the cheap multi-gyms you get new around the UK. This guide will take an in-depth look at some of the better low-cost all-in-one machines out there in the interwebs, weighing up their pros and cons.
We set a budget friendly £400 for this guide and set out on a hunt of the web to find the best possible home gyms for that price range. If you're shopping for your new home gym on a shoe-string, this guide is for you.
What do we mean by multi-gym
In this guide we'll be looking for some home gym equipment that fits the categories below…
Has it's own adjustable weight stack
Does an all-over body workout
Works both upper body and legs
Uses pulleys rather than having to apply 'plate' style weights
Preferably doesn't hog loads of room
So let's get started!

#1 Choice: Marcy Eclipse HG3000 Compact Home Gym
Marcy have proved to be one of out favorite companies when it comes to making high quality home gym gear without breaking your bank. The HG3000 is a cheap multi-gym for the home that highlights what they do best. You're getting a really solid bit of kit here that provides a safe, easy way to get a full-body workout in. It's also extremely compact.
Excellent build quality and range of exercises
The stack here is 68kg and you've got both high and low pulleys. There's a proper bench press, pec dec, pull down, leg extension and more. The 5 x 5 cm heavy gauge steel frame is extremely robust and after around a 5-6 hour build, you'll be very pleased with the quality of this multi-gym.
TIP: Layout all the pieces on the floor and get acquainted with them prior to assembly. Might save you some trouble!
This Marcy gym offers 14 main exercises you can use to get in shape. One cool feature is the full colour photos on the front of the gym, showing exactly what each exercise does and how to perform it safely. A nice little feature.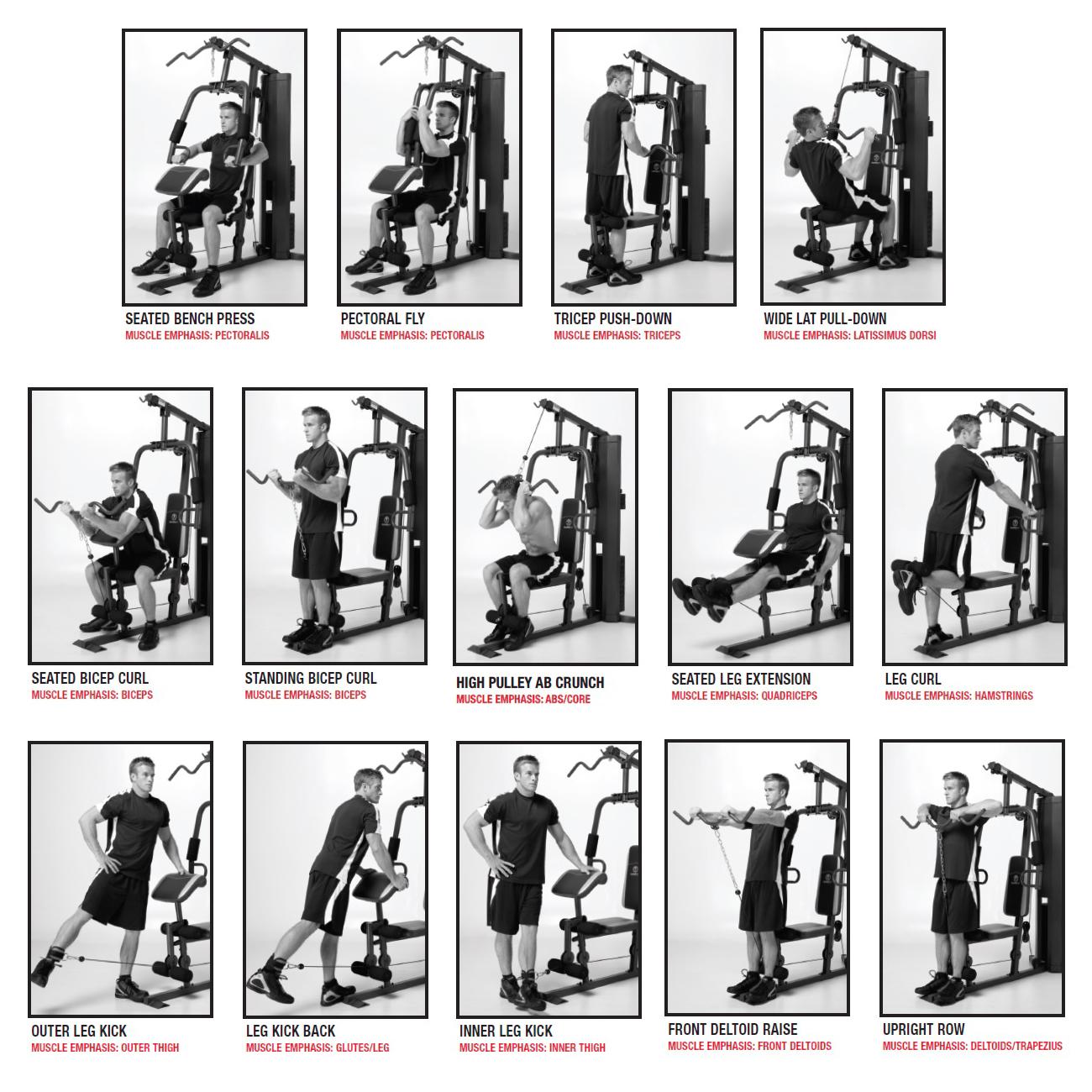 A lot of gyms claim to be compact but the Marcy HG3000 is definitely one of the better ones if you're short on space. It's ideal for your spare 'box room' or half a garage.
Verdict: Definitely the best gym for this price range in terms of build quality and the sheer number of exercises you can do. It feels great to use and is extremely sturdy. We can't recommend this gym from Marcy enough!
Superb build quality
Huge range of exercises
Full instructions on each one
Weight stack goes up in beginner-friendly 4.5kg
Sturdy bit of kit
Compact enough for pretty much any home
Lengthy 6 hour build time
---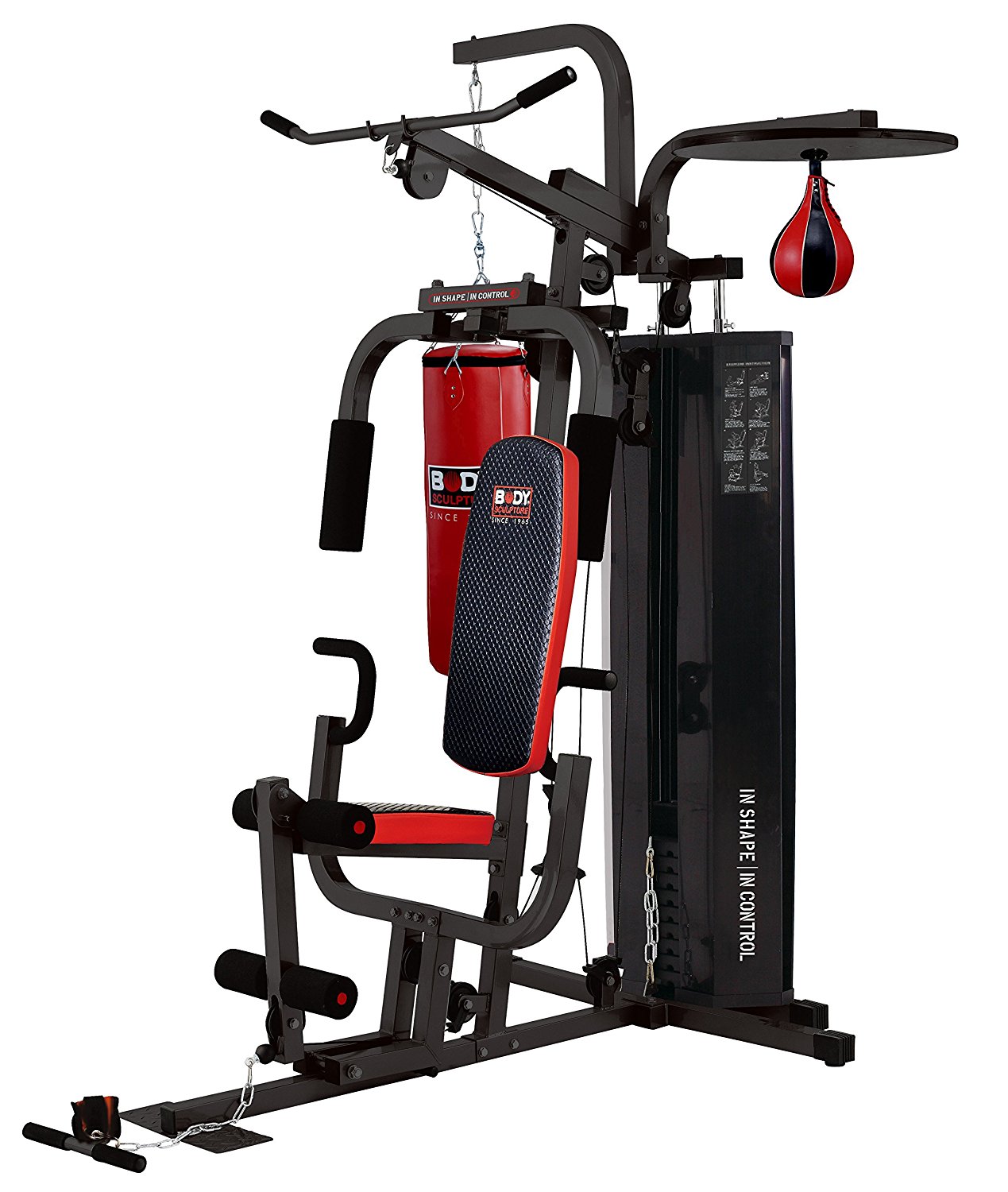 Here's an interesting (and reasonably cheap) multi-gym that has some obvious unique features. The Body Sculpture BMG-4410 has 3 separate exercise stations. It's a home multi-gym like the others in this guide, but also has a punch bag and speed ball.
This makes this product ideal for anyone looking to get some cardio in as well as tone up their muscles. I've spend years on punch bags and they're one of the best ways to get a sweat on really quickjly and can increase your fitness no end. The speed ball is tricky to master but a great inclusion as an extra station.
But what of the multi-gym part? This performs well offering Bench press and Butterfly for the chest, Leg Curl/Thigh Extension, Lateral Pull Down and a seated Row Station. There's plenty of weight here for most users, with a 66kg stack to get stuck into.
Is it durable? Well my local gym used to have one of these machines and it's still standing the test of daily use but multiple people years later. I'd say that's pretty good! The only downside to this excellent gym is that the seat isn't adjustable.
Verdict: Body Sculpture have a real winner on their hands here. As well as offering a great budget multi-gym, there's also an ideal way to lose fat and get into some bag work. Highly recommended if you like the sound of the boxing bits!
3 excellent stations in one
The multi-gym is packed with exercises
Good value for money
Sturdy and the weight keeps it from moving when punching
Built to last
Handy reference for how to do each exercise printed on the gym
The seat isn't adjustable
Some won't want or need the boxing stations
---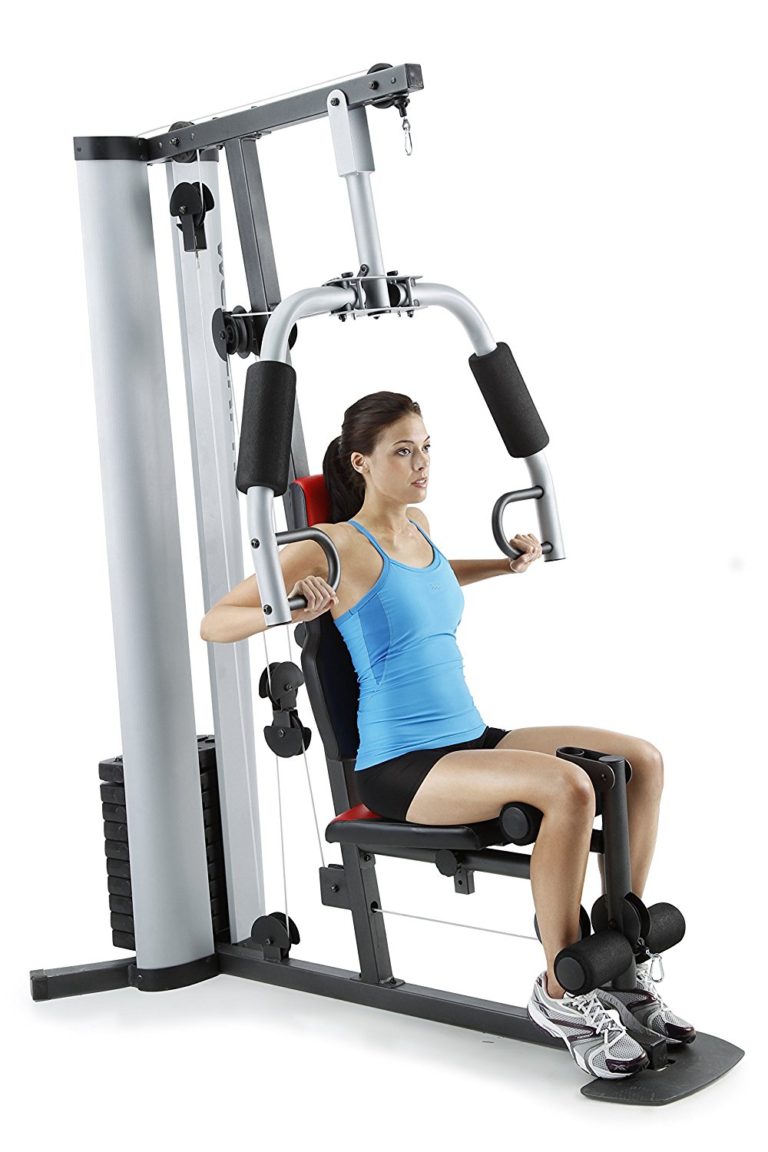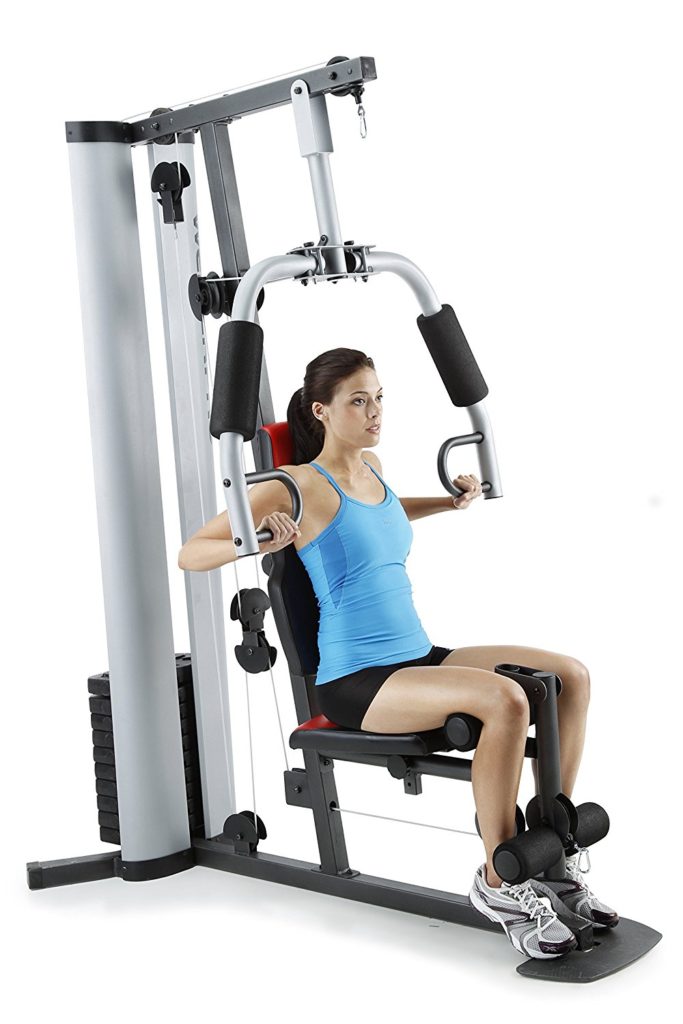 One of the most important things to look for in a gym is that it's not going to wobble all over the place when you're using it. As you'd expect with Weider, this low cost multi-gym has the quality the brand is known for. It's a sound compact gym that will be right at home in a spare room or single garage, without taking up too much room.
The weight stack is 57kg here but thanks to the way the cables work, some exercises can go up to 150kg. Having said that, if you're a power lifter you might find the top weight available isn't enough for your needs. For new to intermediate users looking to build strength, this cheap multi should be perfect.
Speaking of quality, as well as being super-sturdy, it's also worth mentioning the 8700's padding. It's thick and comfy. There's no reason to get sore anywhere other than the muscles you're training. Everything about this Wieder multi feels smooth and just great to use.
Exercises you can do here include Leg Press, Leg Extension, Lat Back, Butterfly, Triceps Pull Down. However we couldn't find a way to do ab crunches, as advertised. This small oversight doesn't compromise an otherwise top notch workout.
Oh and this gym's also a looker!
Verdict: Weider's budget price entry into the home multi-gym market is well worth a look. Excellent quality and a range of great exercises should put it on your shortlist.

Great quality parts (with a 2 year warranty)
Sturdy and fine for tall or heavy users
Compact enough for a single garage
Nice and comfy!
Weights are marked in pounds, not kgs
Perrhaps not enough resistance for power lifters
---
Another cheap home multi-gym that's worth your attention is the DKN Studio 7400. With an 80kg stack, it's ideal for both beginners or anyone looking to lift some serious weight. As you'd expect, there's a whole number of different exercises on offer here.
A separate high and low cable means there's no faffing around swapping cables to do your exercise. You can train all muscle groups using everything from a chest press to the leg curl. Face towards the gym and you can perform your lat pull down easily.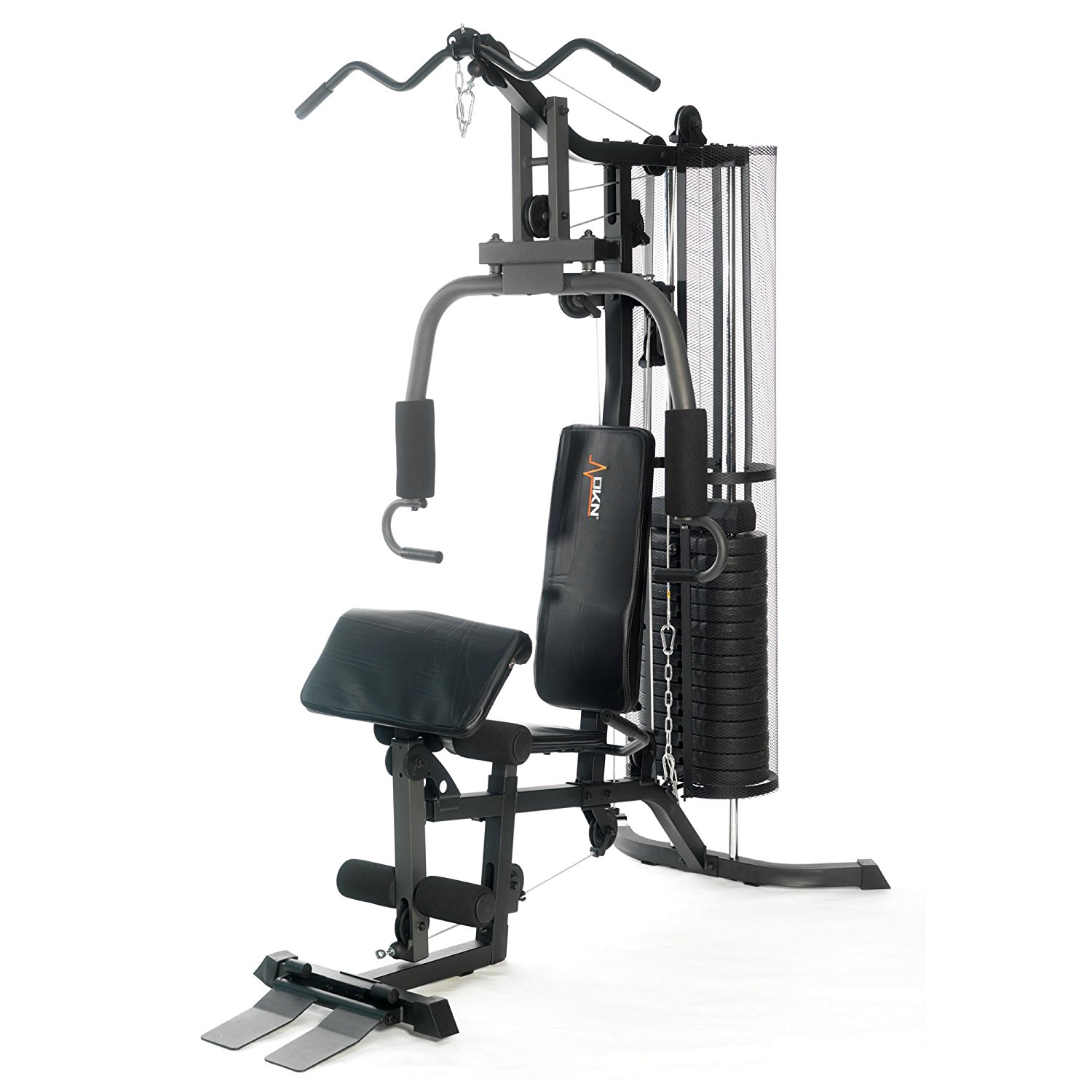 As with pretty much every other all-in-one home gym, the 7400 is time consuming to put together. Set aside a good 5 hours or so to put it together. The good news is once it's assembled,  the gym feels sturdy and reliable.
Verdict: While you might not be familiar with the brand name, don't overlook this spiffy compact gym from DKN. It's got a compact size and enough space and weight for the most advanced user.
High and low cable makes for simple workout
Solid construction and wobble free
good sized 80kg stack
Takes a while to put together!
---
On a super-tight budget? Then step over here! There's a cheap multi-gym that might just do the trick. Coming in at the lowest price we were able to find for a decent multi-function gym was the 7080 from Fit4Home.
You're looking at an all-in-one station that will workout all the major muscle groups and comes with pec-dec, chest press, lat pull-down, curl deck and leg curler. Some good news is you can do any of these exercises without any nuisance swapping over of cables.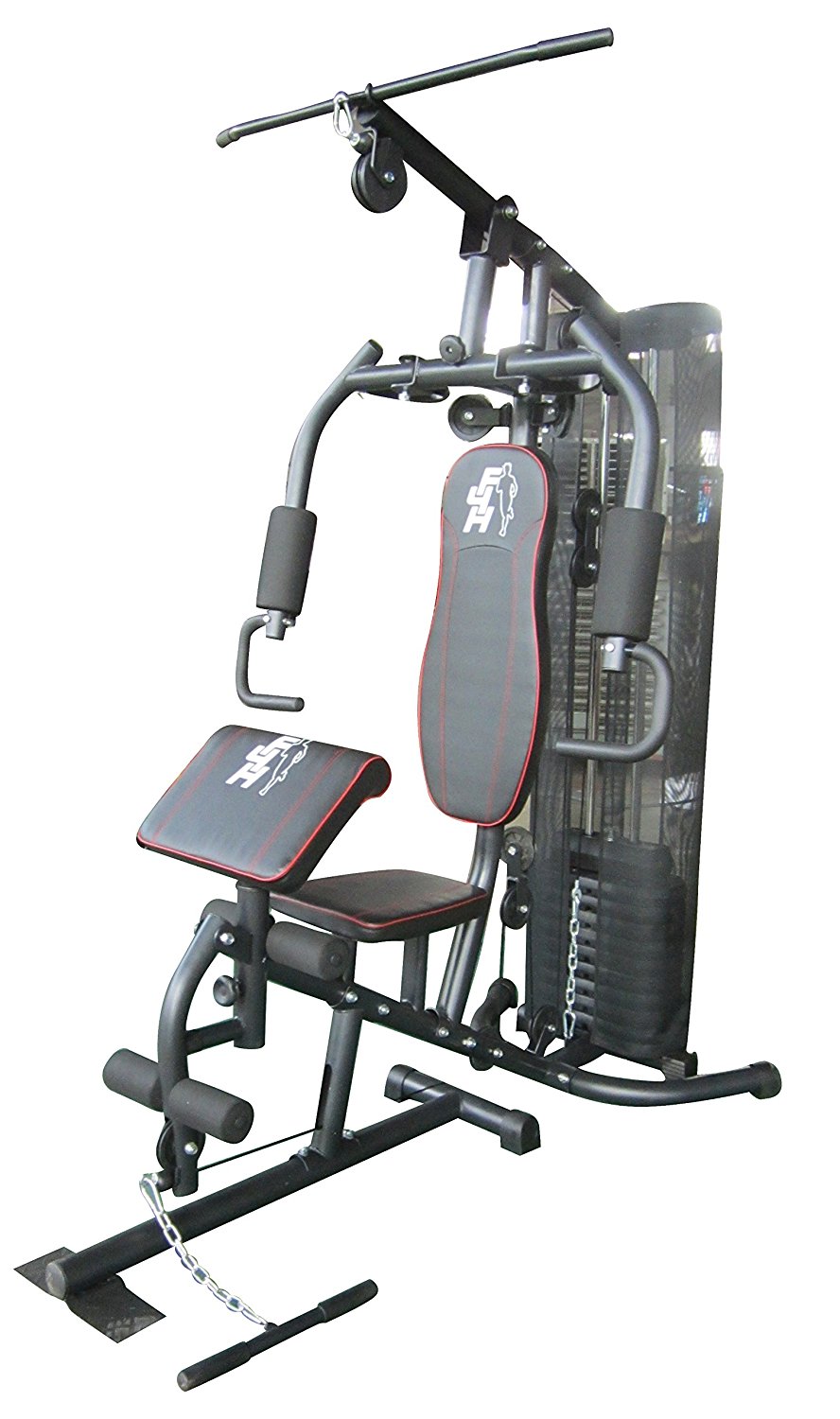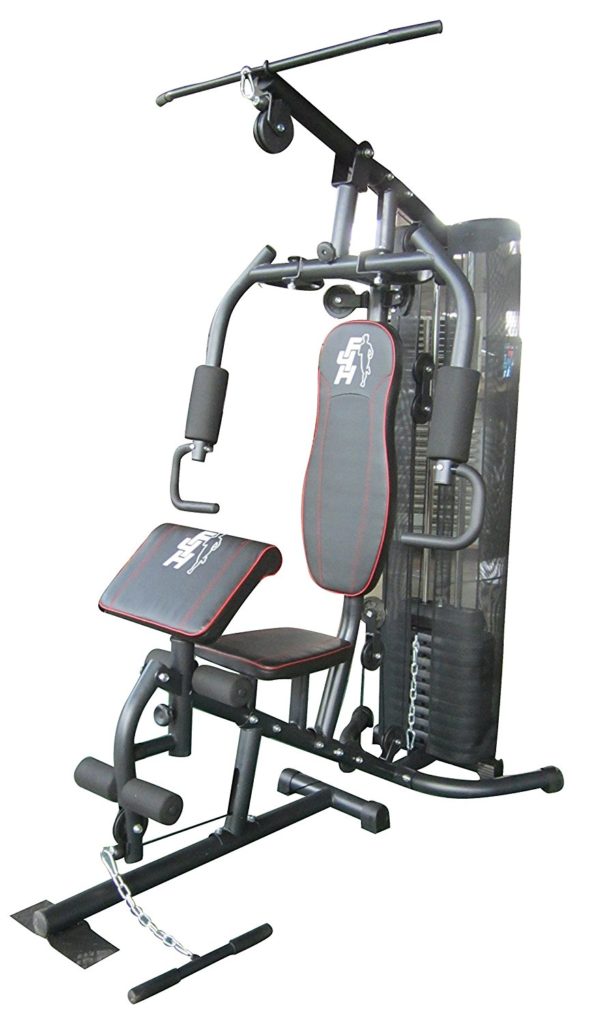 Once assembled – which is no mean feat – you're good to go and the machine itself is surprisingly sturdy for the price. It's compact enough without feeling cramped for taller users. The stack itself is 45kg so you'll have to decide of this is enough of a challenge for you. For most home users this will be more than enough.
There's firm but comfy padding on the seat, backrest and bicep curl parts and cushion on the pec dec too.
Verdict: Yep, we definitely like this budget home gym from Fit4Home. Bit of a pain to assemble but once it's up, you'll be surprised at the value for money on offer here. Ideal for sticking in the garage or spare room and building your strength.
Ultra-low price tag
Chunky and solid enough
No swapping cables
Wide range of exercises
Nice looking home gym
Takes a while to put together
45kg weight stack might be too light for hardcore gym goers
---
Sticking out proudly at the budget end of our cheap multi-gym guide is the Compact Herculean gym. You can usually find this bit of kit at under or around the £250 mark and it has some pretty cool features at that price point. There's also a few things to be aware of.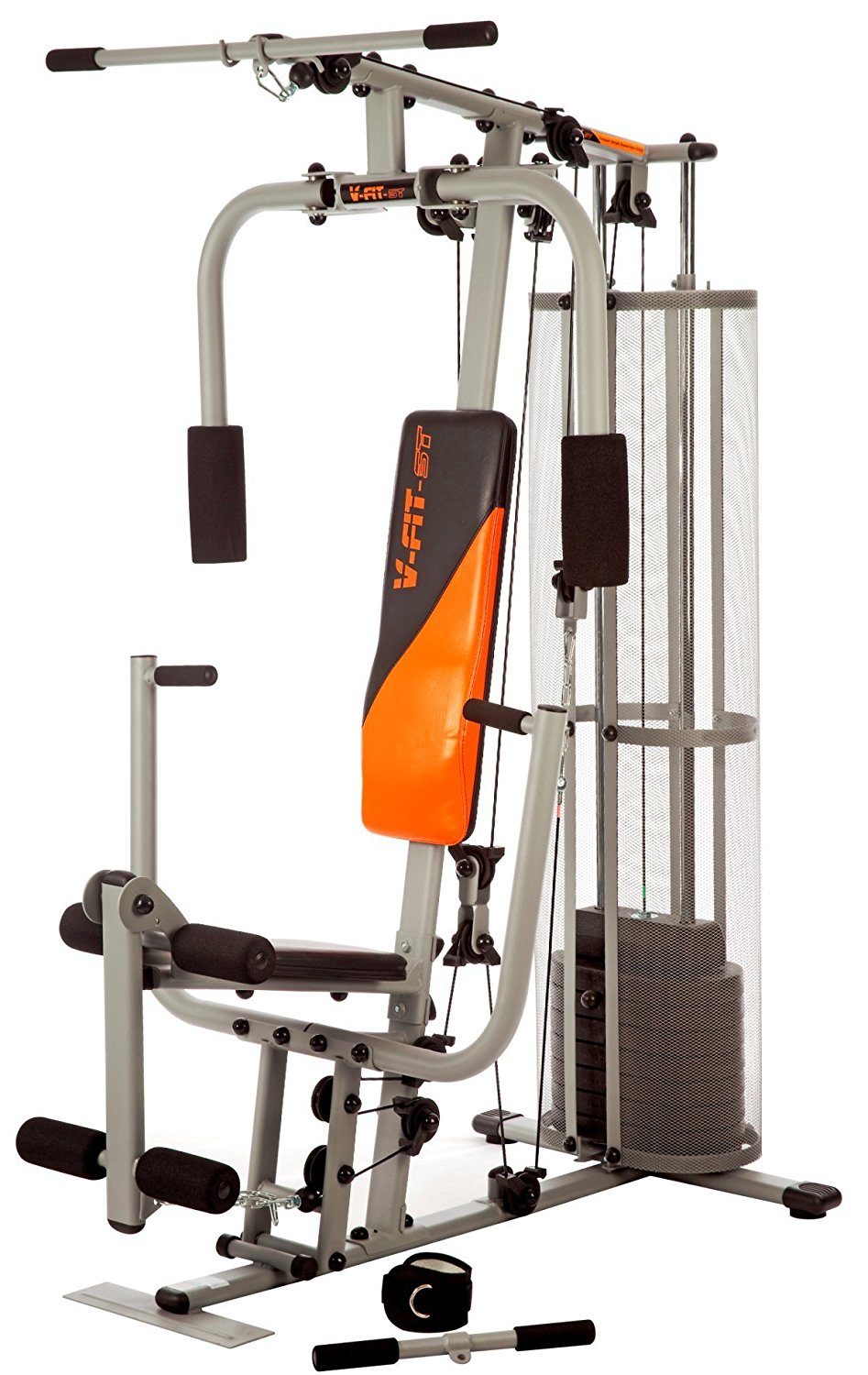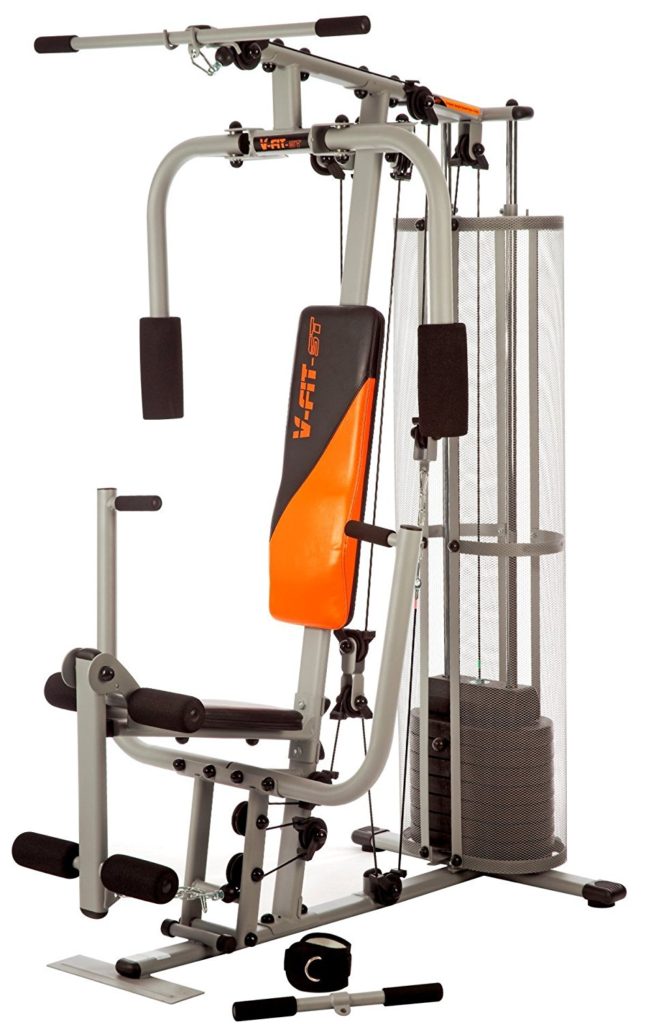 Aside from being a decent looking home gym, especially with the mesh style stack cover at rear, you can get a fairly sound range of exercises in your workout. You can perform Bench Press, Chest Press, Lat Pulldown (Front and Back), Pec Dec, Leg Extension, Back Leg Curls, Upright Rows. The only downside being the leg extension shares the same mechanism as the rows, so you'll have to swap this yourself.
The construction is the normal tubular steel affair we've come to expect from home gyms, but it's solid enough and comes with a fixed 72kg weight stack. It's worth noting that the stack goes up in increments of a full 10kg at a time, which is pretty hefty jumps and might be too much for some users.
Size-wise there's both good and bad news here. This budget home gym is compact enough to fit into a small spare room or garage, with a footprint of  140cm x  95cm. However it's not quite big enough for users pushing up to 6 foot and taller. It's ideal for females though, or men under that height.
Verdict: This is a good quality home gym that offers a wide range of exercises and a true all-over-body workout.