In this review, I'm taking a look at one of the most popular exercise mats on Amazon – the Reehut Exercise mat. (Or Yoga mat, if you prefer!) This is a super-comfy rollout that's ideal for yoga, sit-ups and a host of other stuff. In this review, I'll cover everything you need to know about this mat.
What is the Reehut mat?
The Reehut mat is a roll-up, portable exercise mat. Primarily for yoga, it's also ideal for exercising at home, especially if you're going to be training on a hardwood floor, or similar.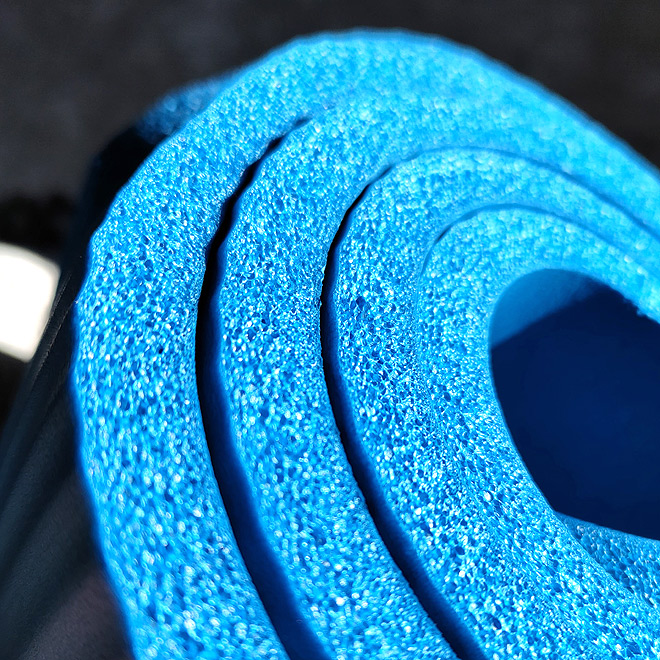 It's made from thick, dense foam and if you look at it close up you can see a network of what I'd call bubbles that I'm guessing give it the bouncy suspension feel it has.
It's also waterproof which is great. My other mats have all been fabric-coated and a single splash from your water bottle means you're going to be working out in the wet patch. Here, you can simply wipe it dry.
It's also double-sided; one is smooth and the other has bumpy rows running across it, which has a bit more grip – either on your feet or the floor. Both feel very comfortable to work out on.
Reehut mat quick stats
Colours: Purple, black, red, pink, green, blue, grey
Size: 71″x24″ (180x61cm)
Material: High-density foam
Thickness: 1/2" thickness

Non-toxic, Eco-friendly and approved by RoHS, PAHs, 6P and REACH
Check Current Amazon UK Price
What can you use it for?
While most people will refer to the Reehut as a Yoga mat, you can use this for any kind of fitness work in your home gym. It's main uses are:
Sit-ups and ab work
Ab wheel work (to rest on for your knees) *
Weight training
Meditation (it's really comfy to sit on)
Jumping!
Pilates
Stretching
Toning
Oh, and Yoga
* The soft nature of the mat means it's not ideal for rolling an ab wheel on. But it's great for your lower legs to rest on while you use your wheel.
this thing is just incredibly comfortable to work out on and protects your hard bits from hard surfaces
What's it like for Yoga?
I'm a bit of a Yoga newbie, having recently started to work it into my training so I was keen to try out some of my (slightly shaky) poses on the Reehut. I've got to say it felt really good.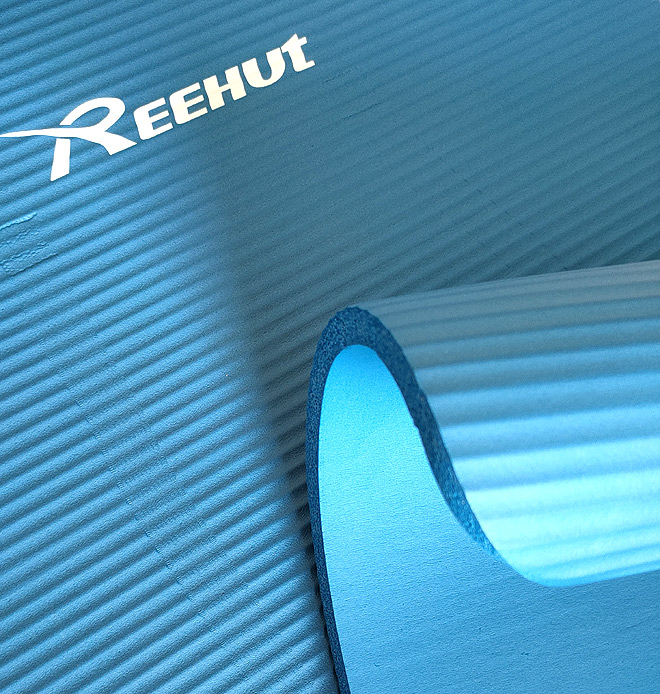 There's a bumpy texture that gives you a bit of grip (with bare feet – you'll slip about in socks). The real benefit is that your body sinks into the matt so, for any of the positions were your knees, elbows or hips come in contact, it feels soft, supportive and really nice to train on.
Who knows, your plank might be slightly less painful? Maybe not.
What's it like compared to other fitness mats?
It's not over-the-top to say that this mat will ruin you for all other training mats. Hey – they could put that quote on the box! But, seriously this thing is so comfy. I've had a regular sort of yoga matt for… I can't even remember how many years now. But this thing is just incredibly comfortable to work out on and protects your hard bits from hard surfaces.
I actually can't believe I struggled with that thin, hard, curly mat for so long. Sorry 'old blue' but you've got a date with the wheelie bin. I've got a new flame.
It feels totally different to other gym mats
What you absolutely can't see from the pics is how this thing feels. It looks like the kind of foam matt I've seen before but when you get it in your hands, it's completely different. It's very heavy, very thick and very bouncy.
---
What does the Reehut mat get right?
It feels amazing
The first thing you'll notice when you unpack your matt is how it just unfurls and flops pleasantly down in the shape it should. The problem with most roll-up mats is, like a rolled-up drawing, they tend to keep that curvy shape. That's frustrating when you're trying to work out and they keep rolling back up!
The Reehut does curve up a tiny bit at the ends, but its weight and squishy nature keep it flat to the ground. Once it's settled down a bit, it lies perfectly flat while you train.
Check Current Amazon UK Price
It's super-soft
One of the best things about Reehuts yoga and exercise mat is how soft it feels. It also has a good bounce-back factor too (made up term!)
Thick and supportive on your body
The Reehut is made from high-quality foam and it unrolls beautifully and stays completely flat. The first thing you'll notice with this mat is how THICK it is. It has a dense, bouncy even luxurious feel to it if that's not getting too over-enthusiastic about a yoga mat. But seriously, this thing is comfier than some mattresses I've had.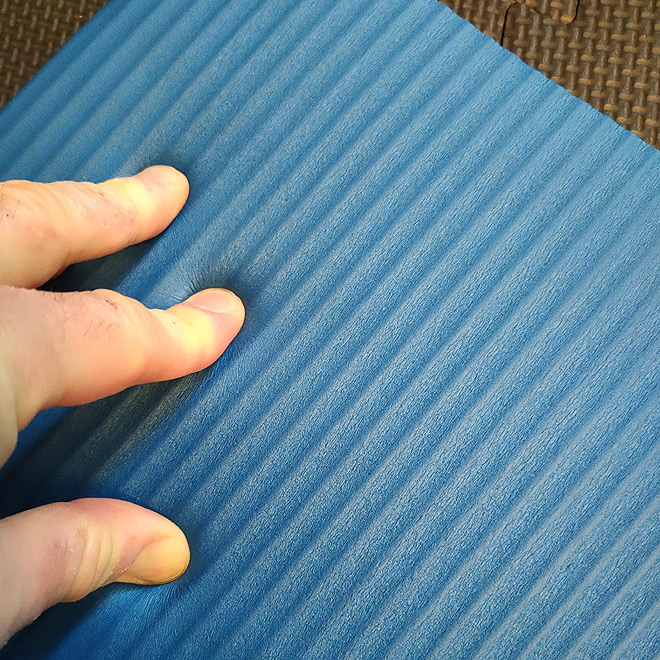 Whether it's going on hard floors or softer surfaces like carpet, it's really nice to lie on and work out in general. Doing sit-ups really shows what the matt can do as it provides loads of cushioning to your bottom, back, shoulders and any other bits that normally get ache.
Bargain price
I buy a fair bit of gym gear to review or to use in my own home gym and there's not much of it costs under £16. I got my mat on Amazon when it was on sale at a super-nifty price.
Check the latest price on Amazon here
What don't I like about this mat?
Overall, Reehut's mat is extremely good but there are a few things I don't like about it.
It's really soft!
No, you're not seeing double. This one was also listed in the 'pros' above too. The luxurious, kind-to-your body feel of Reehut's mat comes at the expense of it's durability. If the mat comes into contact with anything sharp, like a nail or a ring, it can leave a scar that won't pop back out after time. My daughter raked her nails down it by accident and I've now got a lovely reminder of her on my mat.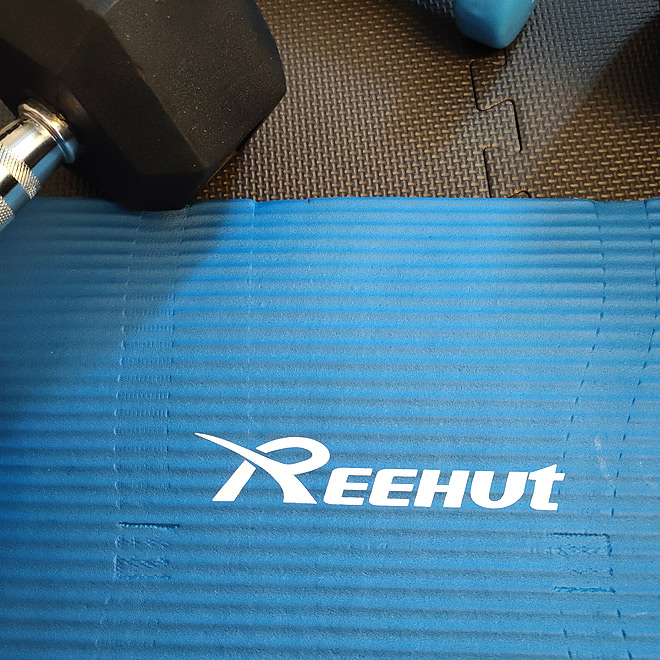 Dumbbells and flat, heavy stuff fair better. After a time, I found the imprint from my hex dumbbells faded away fine. It's just the sharper, deeper pointy stuff that is an issue. If you're getting this mat and want to keep it pristine, treat it with a bit of respect, and watch your rings.
The carrying strap could be much better
Like any good matt, this one is portable and comes with its own little springy strap. You're meant to loop it around the rolled-up mat and then carry it over your shoulder or back. It's not the best and the problem is that luxurious thickness adds a fair bit of weight to the matt. The strap could use being thicker.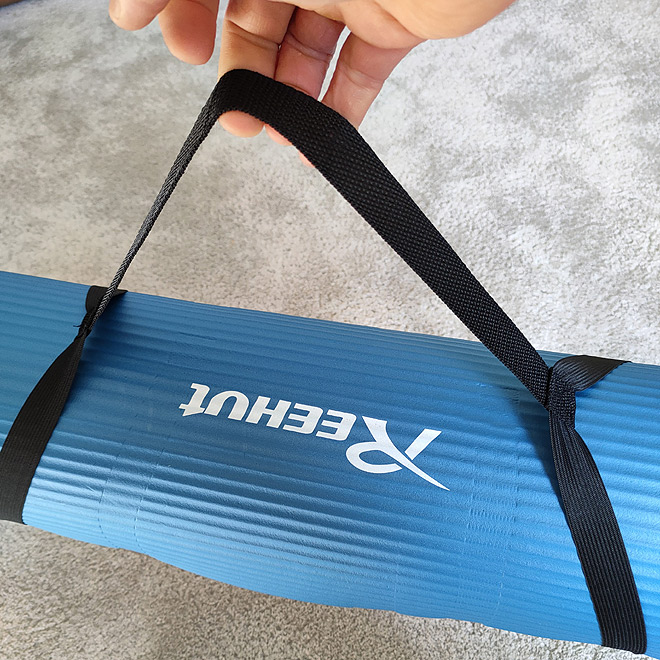 It's not as portable as some other mats
When you pick it up by the strap, it kind of struggles to keep the matt in place and the two loops bend out of shape and the whole thing feels a bit limp and floppy.
Slinging it over your shoulder is awkward and it feels too heavy to carry about. If you're carrying it from the car, a short distance to a training hall, it's maybe not much of an issue. If you're lugging it around the park, it might be.
Different colours cost different amounts
I'm guessing this is an issue of supply and demand (although I haven't got a clue really!) But, for example, at the time I'm writing this, the snazzy blue Reehut mat costs a fiver more than the grey Reehut mat.
It's technically the same product at a different price. You're in luck if grey is your favourite colour. If your Reehut in a slightly brighter colour, you're going to have to stump up more cash.
Verdict: Is the Reehut Mat worth it?
If you're looking for a really good quality yoga mat that you could literally sleep on it's so comfy, you need a Reehut in your life.
If you're struggling with a flat, basic mat that's always curling upon itself, you'll likely adore this mat as I do.
It's thick, spongy and an absolute pleasure to workout on.
On the downside, the surface is buttery soft and can easily be damaged with anything sharp. So you'll need to give it some love and take care of it. The strap could also be a bit beefier but not a huge issue.
This is a really good mat, especially if you can get it on sale.
Check Current Amazon UK Price
Verdict for the Reehut Exercise Mat
Quality -

85%

Comfort -

75%

Durability -

65%

Portability -

80%

Value for money -

90%
Summary
The Reehut mat is an absolute joy to work out on. It feels as comfy under-foot as it does under-back… or any other part of your body. It's supportive and has stacks of grip on any surface. It stays flat. Although it could be tougher, this is a great multi-use mat.