Review Summary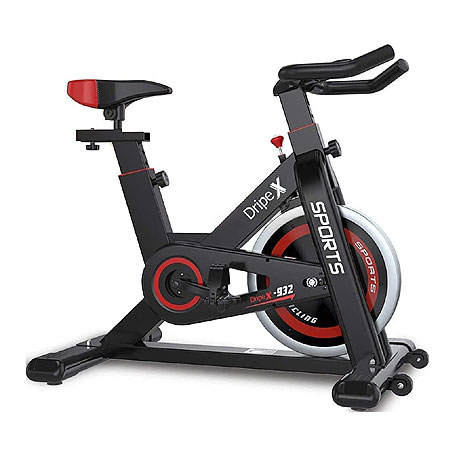 Dripex 932
Really cheap
Thick frame
Sturdy
Good resistance
Basic LCD and no online integration
"A surprisingly decent all-round spin bike for the price. The frame beats many of the more expensive uprights we've seen. A lack of online features lets it down but we can't complain at this price."
On the surface, Dripex's ultra-cheap home spin bike looks the part, but what are we missing out on with one of the lowest-priced upright bikes on Amazon? In this review, I'll cover everything you need to know about this budget spin bike: what it does, who it's aimed at and where it falls short. Welcome to our Dripex 932 review!
What is the Dripex 932?
What you're looking at is a standard home 'spin' bike that's designed to emulate the more expensive ones you'll find at gyms. It's one of the cheaper bikes you can find on places like Amazon and is a basic entry-level bike.
It's a compact, steel-framed stationary bike that uses a belt-driven 6kg flywheel for resistance. You're getting a bi-directional flywheel that uses a felt resistance brake. There are no steps or resistance levels here. Just a manually altered dial which is typical of a spin bike.
See our list of places with exercise bikes in-stock here.
You'll find the standard adjustments you'd expect on any decent cycle, with chunky knobs that let you set the height of the handlebars, and the height and horizontal seat position. You can also adjust the anti-slip cage pedals to fit a variety of shoe sizes. It looks like you can swap these pedals for another set as it's a standard thread.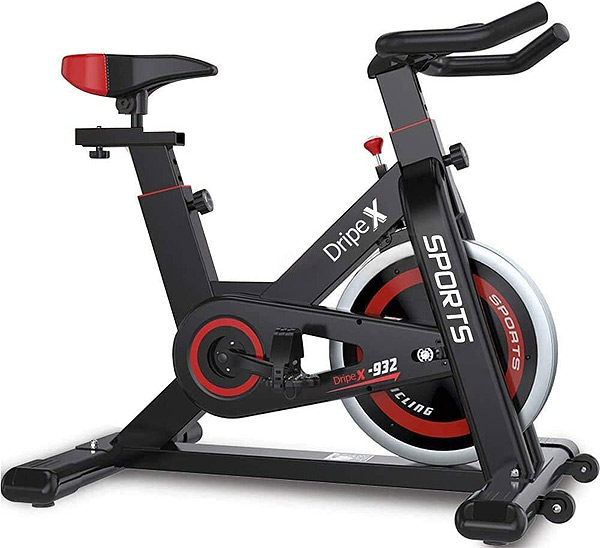 It's always nice to know when you can grab a break so the Dripex comes with a basic LCD monitor showing time, distance, speed, calories burned, and heart rate. The Dripex has a tidy footprint that will likely keep anyone short on space happy, with dimensions of 102cm x 52.5 cm.
The bike weighs 28kg so you don't have to be Superman to up-end it and wheel it to another room.
The triangular design makes the Dripex extra stable, and the quality steel frame ensures that the Dripex will last. The lengthened frame supports and prevents the bike from shaking during workouts for heightened comfort and noise reduction.
Props need to be given to the sheer 'chunkiness' of the bike too – with super-sturdy steel tubing that feels like it should be on a more costly bike.
Need help choosing a spin bike? You might like this guide.
Check Current Amazon UK Price
---
Dripex Indoor Cycle Features at a Glance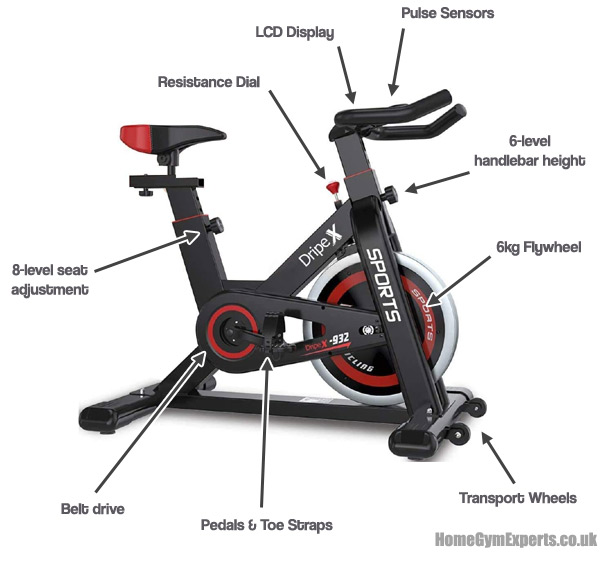 Quiet, direct belt-driven action
'Infinite' resistance dial
Heart rate monitor
Dimensions: 102 x 52.5 x 102 cm
Weight: 28kg
User weight limit: 330lbs (149.7kgs)
Can accommodate users up to 6ft
6-way adjustable seat and handlebars
Durable steel frame
Heavy bi-directional flywheel
Muti-directional handlebars
Inbuilt wheels for portability
Protective double-layer casing
Multifunction LCD display tracks time, distance, speed, calories burned, and heart rate.
---
Benefits to training with the Dripex Indoor Cycle
Lose Weight and Burn Fat
Indoor bikes such as the Diplex cycle are an excellent means to stay in shape and lose weight from your home. Harvard Health estimates that indoor cycling burns up to 932 calories an hour, making it one of the best calorie burners in home-exercise equipment.
You can use the limitless resistance to train at your chosen intensity and increase your stamina to ensure consistent weight loss. Indoor cycling in conjunction with a low-calorie diet can quickly burn off your extra kilograms and improve your overall health.
Improve Your Cardiovascular Health
Indoor cycling provides excellent aerobic exercise and produces similar health effects to jogging without the stress on your knees and joints. Cardiovascular training improves your circulation and heart health and lowers bad cholesterol in your blood.
Improved heart health boosts your body's immunity, improves sleep, and protects you from heart disease.
The 932 bike comes equipped with an inbuilt heart monitor to ensure that you exercise safely and ensure that you reach peak intensity in your training sessions.
Build Muscles and Tone Your Body
Stationary bike exercise shapes and tones your body and increases your strength, and increases endurance. Although cycling is primarily lower-body focused, it also strengthens users' core, upper body, and back muscles. The cycling action also primarily targets your:
Glutes
Calves
Quads
Calves
Hamstrings
Read more about spin bike benefits in this guide.
---
Who is the Dripex Indoor Cycle Aimed at?
If you're looking for a compact, lightweight bike
The Dripex indoor cycle will please any looking for an upright that won't hog the whole room. It's highly portable and weighs around 28kg. There are dinky wheels at the front for easy transport.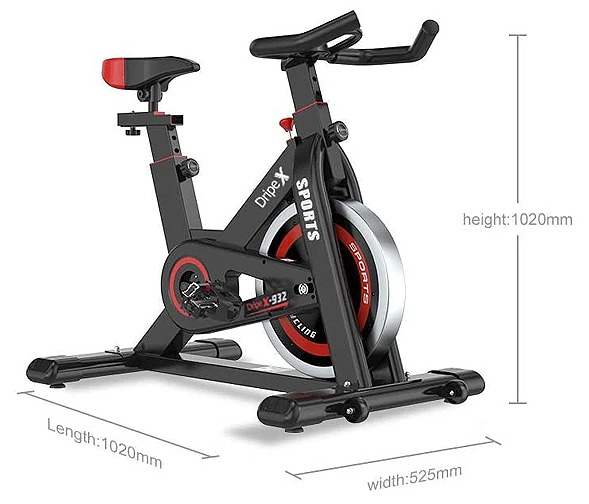 If you need something quiet
The belt drive and smooth felt braking pad make this bike a quiet training partner. You won't wake everyone up and you'll be able to hear your Airpods perfectly without cranking the volume up. The squeak factor is non-existent here, which is a nice surprise to find on a cheaper spin bike.
If there's more than just you using it
Most spin bikes are a good choice for multi-users as they're built to be fast to swap between users at spin classes. This one follows suit with the Dripex having simple dials to quickly get the handlebars and set up for any users.
The limitless resistance means that the Dripex can accommodate various exercise needs, from low-intensity training to more rigorous moderate-intensity training requirements. Because cycling is low impact, users can work out safely without worrying about the joint and knee pains associated with high-impact sport such as running and treadmills.
If you want to do spin classes
While there's no Peloton-style online interaction, there's no reason not to get any one of the zillion spin classes up on youtube and get stuck into a spin workout. You can stand on the pedals, and do everything you can on a full-fat gym bike with the Dripex 932.
Who is this bike not a good idea for?
The Dripex is not suitable for users over 330lbs (149.7kgs) due to the manufacturer's specifications. Users with a weight heavier than the restrictions are advised to seek other cycling apparatus.
---
What we Liked about the Dripex Indoor Cycle
Easy to Assemble
The Dripex is super easy to assemble and only consists of 4 bolts for the handlebars, 4 bolts for the pearls, and 4 bolts for the base. Just be aware when assembling that the left pedal screws in with a counter-clockwise motion. It takes less than 25 minutes to get the Dripex running, which is shorter than most bikes' assemblies in its class.
The pedals are a bit of a pain in the rear to get in, and you'll need to tighten them properly as they will come lose while you're riding otherwise.
Sturdy and Safe
Considering this is a budget bike, it looks great.
Let's talk about the design of this bike and a bit about the construction. You're getting the regular setup on one of these budget machines, with a tubular steel frame. One thing to note here is the lovely wide base the bike has, giving Dripex's bike a reliable, sturdy sort of feel: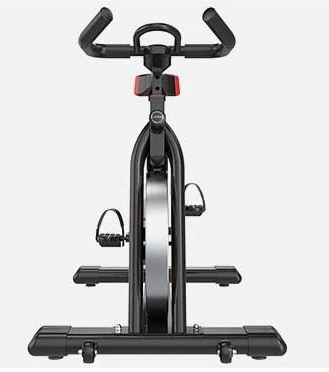 On the superficial front, I definitely like the overall look of the Dripex with its red and black accents. It also uses a protective double casing, which protects those annoying snags on machine parts when climbing on and off your bike. The proactive case also makes the cycle look more sleek and attractive. Considering this is a budget bike, it looks great.
The resistance dial works perfectly
The Dripex has great adjustability arranged in a system much like gym weights adjustment.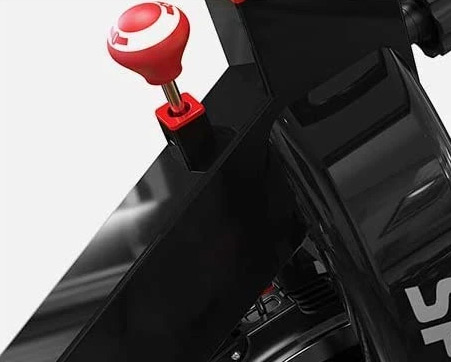 You have the option of choosing your preferred cycling position, whether you want to push your intensity by moving forward on your bike or take a lower intensity ride sitting back on your seat.
Silence is golden: belt-driven bliss
If you're specifically seeking a chain-driven indoor bike, you're likely not still reading this. For anyone else, the belt-drive in place here has some key benefits. For one, there's no getting around the fact that the belt is way quieter than a chain. And there's no maintenance with a belt either.
The Dripex adjusts well between tension levels and delivers a good burn on its higher intensities. The flywheel weight is moderate and would suit those seeking low to moderate training intensity.
Compact and Portable
The Dripex is one of the lightest stationary bikes that we have tested, and I could easily transport the bike on my own for a change. This bike would suit us smaller ladies who hate asking someone to help move their bicycle when they want to exercise.
Check Current Amazon UK Price
---
What Could Have Been Better
A higher flywheel weight would have been appreciated
This is a budget-priced bike and you're getting a flywheel that's as much as a third the weight of similar machines. You'll definitely feel less inertia when you start pedalling and it's obviously going to feel 'light' with zero resistance. But this is offset by the fact this bike uses braking to provide pretty much an unlimited amount of resistance.
The LCD is basic
If there's often an area where cheaper gym gear falls short, it's this. And the Dripex bike has a less-than-stellar LCD display. It's not backlit and the display is simple and a little cramped. I guess you've got to temper this with the budget price here (sub £300 folks!) And it does tell you the simple info you need.
No Bluetooth (or any app) integration
This is pushing it for a budget machine but don't expect to connect your phone up and download a fitness app. There's none of that here and this bike is not compatible with things like Kinomap. But as I mentioned above, there's no reason not to use this machine with a spin class. And if you're not bothered by all this app stuff, and just want to spin, you're set.
No Pre Programmed Exercise
The Dripex has no custom exercises, and the console is very basic. The LCD only reflects km/hr and cant be changed to miles, and the LCD is small and looks a bit cheap. For the unit's price, though, this is not a deal-breaker, and the display is easy to read and functions well.
So, is the Dripex 932 worth a buy?
what you're getting for the price tag here is pretty impressive
Getting down to the nitty-gritty, the Dripex 932 Indoor cycle is a good quality indoor cycle for the price. There's no fancy performance monitor here and the resistance is a simple felt pad and dial setup. That being said, what you're getting for the price tag here is pretty impressive: a solid frame and a reliable bike you can use to spin at home.
The Dripex bike is highly portable, easy to move and won't make you want to throw spanners at it during assembly. The flywheel, although on the light side, is adequate to provide moderate-intensity training, and the action is smooth, quiet and streamlined.
The Dripex 932 is a solid choice for an entry-level indoor cycle and a bargain at it's current price.
Check Current Amazon UK Price
---
Dripex Bike Full Specs
Brand
Dripex
Model
932
Category
Indoor studio cycle
Flywheel
Heavy-duty steel
Resistance adjustment
Dial-controlled brake
Drive
Belt-driven
Flywheel weight
6kg
Add own pedals?
Yes
Max seat height
95cm
Online compatibility
No
Transport wheels
Yes
Display
LCD display
Stats tracked
Speed
Distance
Calories
Time
Pulse
Scan between
Handlebar adjustments
6
Seat adjustments
8
Heart rate
Hand pulse sensors
Dimensions
102cm x 52.5cm
Height
116cm
Cycle standing up?
Yes
Bike weight
28kg
Pedals
Anti-slip petals with toe clips
Max user weight
150kg
Resistance type
Friction
Bluetooth
No
---
References & Further Reading