Save money and time with our guide to the best vertical climbing machines on the market at the moment. If you've not heard, these home gym machines are a serious new way to get in shape, offering an all-over body workout that will tone up arms, legs, back and core muscles and also lose calories. Lets dig in and see what the best products in this category are.

#1 Maxi Climber Vertical Climbing Machine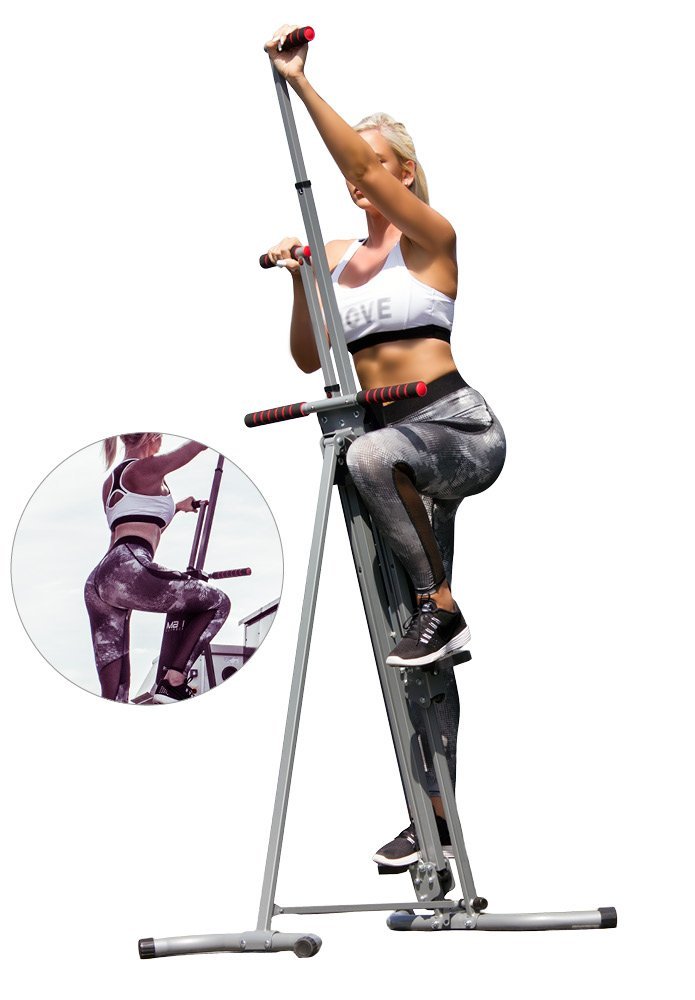 If you're in a hurry and looking to jump to the best vertical climber in the UK at the moment, you'll want to look at the MaxiClimber machine. It's hands down the top choice, offering great build quality, features and value for money. This climber currently has a very high rating on Amazon. Lets get into this and find out why it's so successful.
This is the climber you've probably seen on youtube or on the shopping channel. It's a solid bit of fitness equipment that's has a non-nonsense design and is built for serious workouts. It will give you both a cardio workout and strength training to get in shape and tone muscles. Basically it's a machine that will help you lose weight and get fit.
The built in display does a great job of keeping track of your progress –  in terms of calories, steps and time. Even if it's nothing flashy.
Free 3 year warranty
Another thing that we like about this climbing machine is that it comes with a free 3 year warranty. So that covers you against anything wearing out and breaking. Important for exercise equipment that you're planning on using regularly. Having said that the Maxi Climber is built from durable steel and can take up to 110kg (17st 4lb).
A tough workout for users of all levels
Even people who are used to lots of training find the MaxiClimber gives them a challenging workout in a lot less time than running or cycling. It's a tough workout designed to get your muscles, heart and lungs going! New users needn't worry though. You can take it at your own pace and try short bursts, start with 5 minutes and build up gradually.
Assembly of this climber is a straight forward affair. Literally a few bolts and you're ready to start training. New users – take it easy and pace yourself. Vertical climbing workouts can be tough! Everything is easy and quick to adjust so you can share with your other half and not spend ages messing around with height. Heights of up to around 6′ 5 are supported.
There's really no advantage to choosing a more expensive model than the Maxi Climber UK as it's got a fantastic build quality, it's a great price and it's the best vertical trainer around in 2020.
Perfect for beginners
… but strenuous enough for gym heads
Get a serious workout in ten minutes
Free 3 year warranty
Folds away and can fit behind a door, or in a cupboard
Nice and quiet when in use, just a sliding noise
Good value for money at under £150
Monitor could be higher so you can see when training
£129.99 at Amazon
Price last checked: Thursday 2nd April 2020 – 05:06 am
---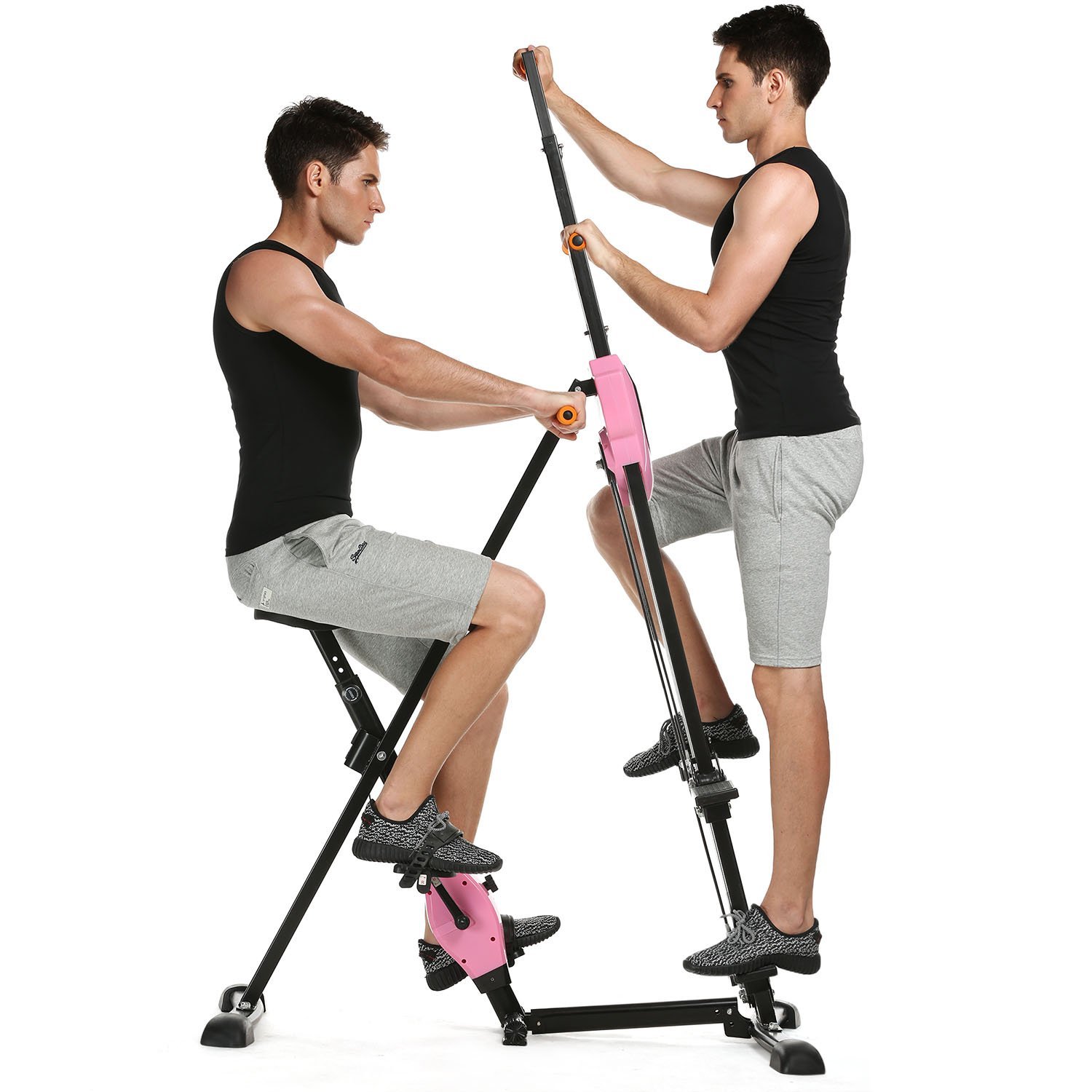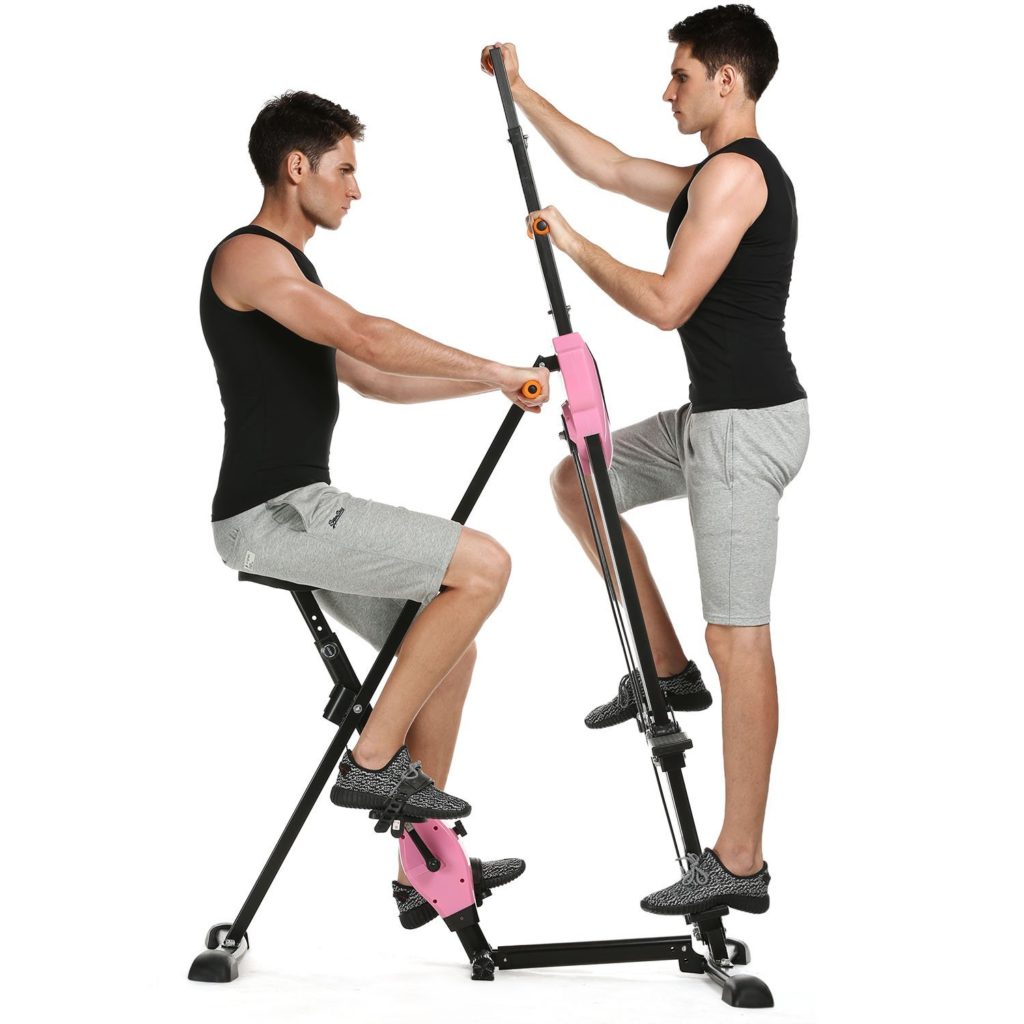 Here's an interesting idea: combine an exercise bike with a mountain climbing  machine. That's exactly what you get with Ancheer's 2-in-1 fitness trainer. If you need a break from scaling those peaks, sit back and burn some calories on your bike instead. But how's the quality and does it really work?
Lets talk about quality first. This is a good, solid design and although not the cheapest climbing machine, offers excellent quality. Assembly is quick and easy, and all tools are included.
This fitness climber saves some space as it folds away sort of neatly. Obviously there's more to fold here as there's an exercise bike side to it, but it does save some space and can be moved after your workout.
There's a very neat little LED display that shows everything from a basic step count to time, distance and calories shredded in your workout. It's not fancy but it's exactly what you need.
Another thing worth mentioning is that some care has been taken in the design of this climber to reduce noise while you're using it. Some machines can sound like you've got a steam train in your home gym but this one has a welcome smooth, quiet mechanism. You probably won't notice when you've got your tunes on, but it's worth mentioning if this is important for you.
Out of the two, the exercise bike is the easier option as climbing machines do make you sweat a lot faster! So it's nice to be able to vary workout intensity. This is basically a machine designed to get you in tone and burn some serious calories.
Easy to put together, no really!
Good looking bit of kit, and good quality
Easy to store
Combines two exercise machines for some serious calorie slaying
Erm, pink… if you're not OK with that
Bike doesn't have that much resistance
---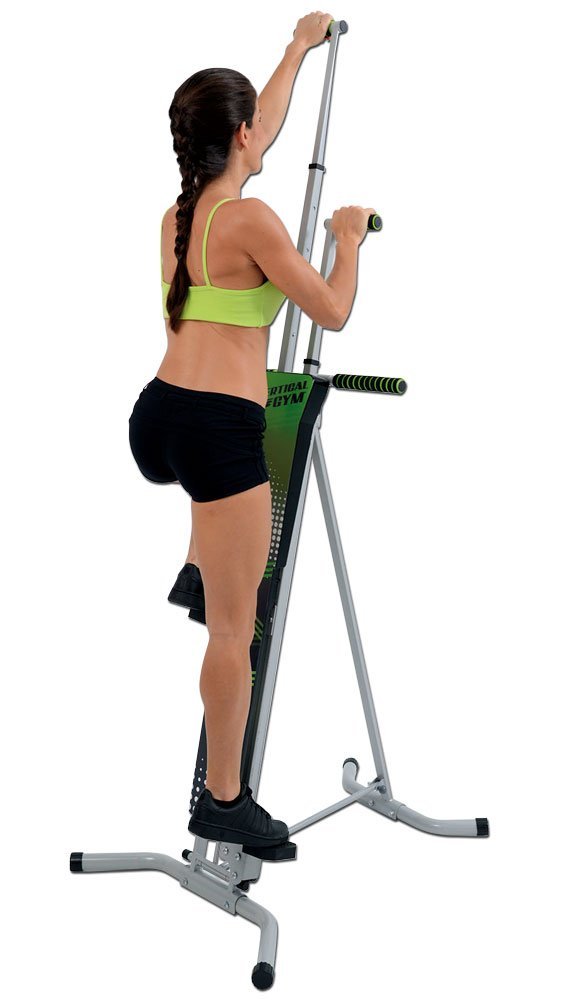 The number three spot in our vertical climber reviews goes to Vertical Gym's product. It gives you a good all-over-body workout with as little time commitment as 10 minutes a day. As with all vertical exercise machines there's no impact on your joints and you can do either fast arm and leg movements (for cardio), or longer strides for muscle toning.
Assembling this machine should take you around 10-15 minutes. There's nothing complicated about assembly but take care if there's children around as some parts are long and heavy.
It's slightly disappointing that there's no panel to count steps, time or calories burned but at under £120, it's to be expected.
You'll find that this climbing machine feels stable when you're using it and can take user weights up to 100kg. It also folds up and it's dimensions folded are 36 x 74 x 184cm. Unfolded you're looking at 99 x 74 x 220cm. You'll get a twelve month guarantee and it should take around 6 – 7 days to arrive.
Solid design with chain-driven mechanism
Fully adjustable for all sizes
More noisy than we'd like
No display panel to track calories and other stats
---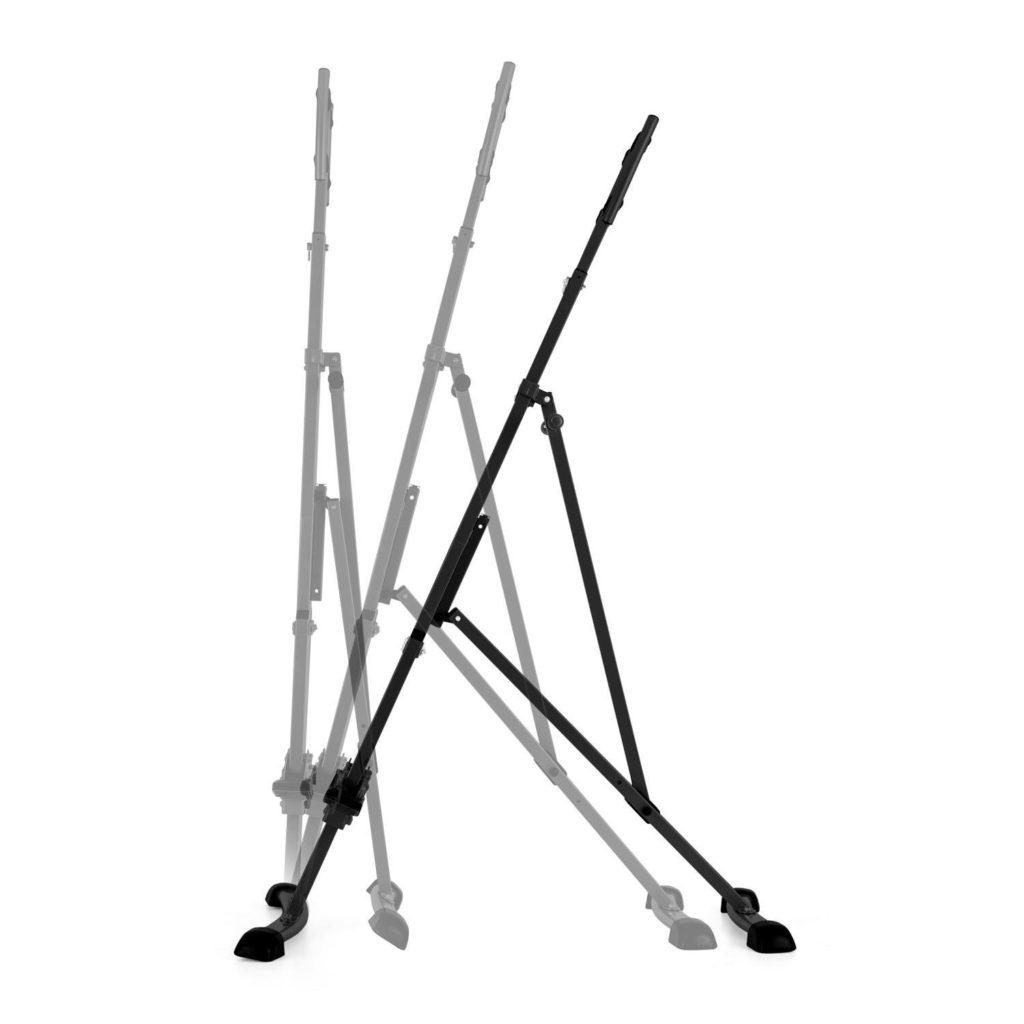 One of the climbers for sale that you might have seen is the Capital Sports Climbhigh product. So what's different about this from the others and what can it do for your fitness?
Like any good climbing machine, this model adjusts to different heights and body sizes. Once set up, you're good to go and won't have to mess around with it again.
Storage is quick and easy and it folds away if you need the space for something else. Or if you've got some space in your home gym, it makes for a sexy looking bit of kit you can leave standing in the corner. (It also comes in 2 colours, although they're standard looking gray or black only I'm afraid).
One major plus is that this vertical climber uses a chain in it's mechanism rather than a cable, for extra-fluid feeling movement and added strength.
This machine is suitable for a beginner and will tone legs, arms, back, buttocks as well as giving a good workout and burning some serious calories. Only thing missing is a display of any kind or calorie counter.
Easy to store
Fast setup
Fully adjustable for any shape or height
Comes in two colours (albeit plain ones)
No control panel to track calories or number of steps.
Some welding could have used more sanding to remove sharp edges.
---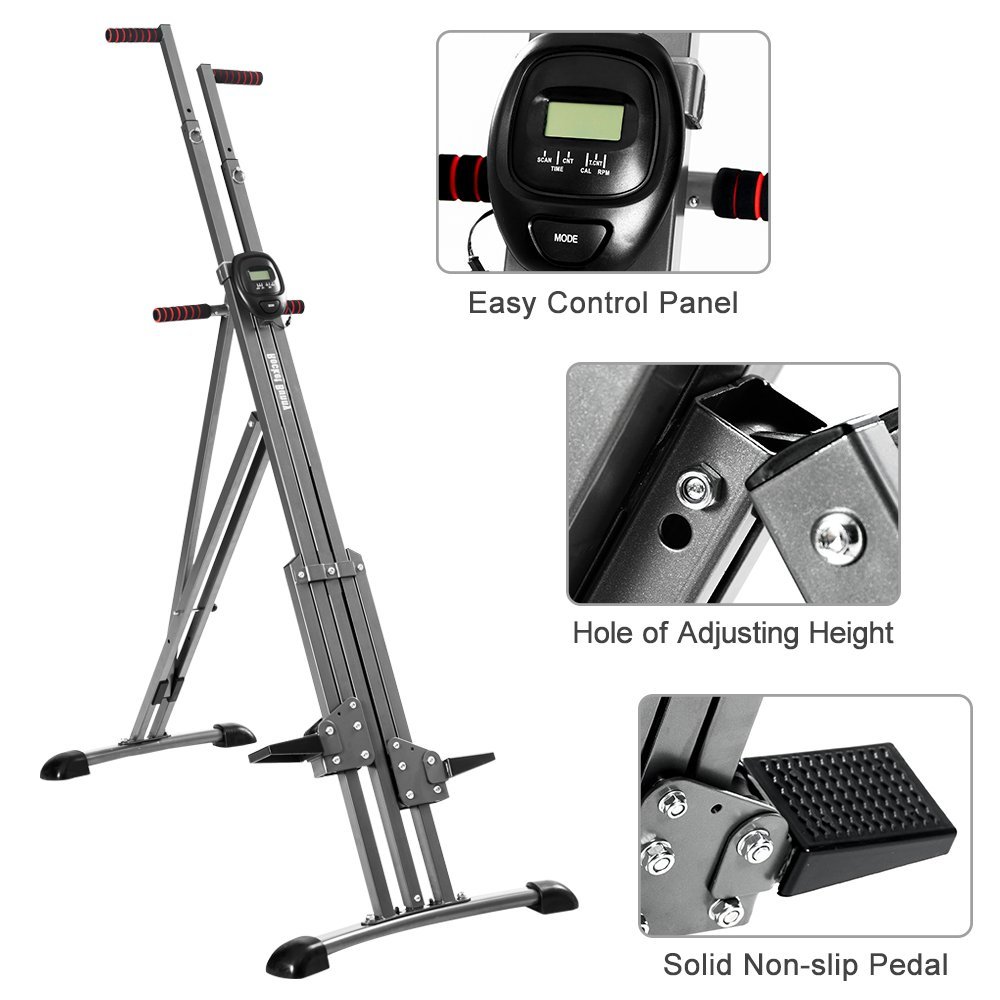 If you're looking for a decent cheap vertical climber then you might want to have a look into the Rocket Bunny model, sitting proud at the budget side of our guide. Lets delve into this vertical climber's details and see if it can compete with the more expensive models you can buy.
While this is a cheaper model than some of the other climbing machines on sale, you're still getting a solid workout and benefiting from the low impact training that you can only get from climbing exercises.
Speaking of the design, it looks modern and is made from a solid steel frame. This vertical climber can take a user weight of up to 150kg. The non-slip pedals make it safe to use and ensure you can focus on your workout. The height and arm rest can be adjusted to suit your height and body size.
While the control panel is basic, it offers the important data you need to monitor your workout. Obviously you have to make some compromises at this price range but there's nothing wrong with the LCD display, except it is a little on the small side.
This climber is a folding model that takes up minimal space once your workout is finished.
Excellent value for money at under £100
Small foot print
Easy to fold away and store
Control panel display is small and basic
Lacks some of the features of more expensive verti climbers
---