Plenty of power and features we'd expect on a more expensive machine
Diving in with our first sub-£300 bargain and it's the JLL T450. This is a motorized treadmill that's definitely punching above it's weight, to use a boxing expression. It combines a decent feature set with a sturdy design and durable quality.
Plenty of power and features we'd expect on a more expensive machine
This machine beats a lot of the more expensive treadmills we've seen and comes with a respectable 4.5 HP motor, powered incline and 20 programmes to get stuck in to.
JLL is also a well-known brand with a good reputation for customer support.
This cheaper running machine is a compact treadmill so it's a good choice if you've not got tons of space to spare. This comes at the cost of some width however and it's narrower than commercial treadmills.
Good display for the price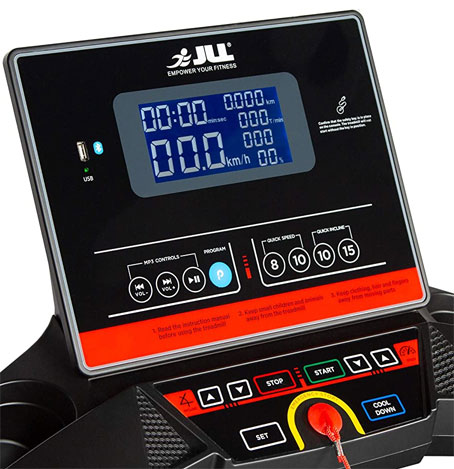 While the display or onboard computer might sound like a small thing, there are some really cheap and nasty ones on some budget treadmills out there, and you'll spend a good amount of time looking at them. This one is great though; you can see calories, time, distance and a lot more all on one screen.
Not only that, the touchscreen buttons work perfectly and feel a lot better than those cheap push-in ones we've seen.
Good level of incline, fully automatic
Another good reason for increasing your budget to £200 is that you get a powered incline which is controlled by the computer, rather than some manual affair where you have to set it manually. This machine does a brilliant job with it's powered incline and adds a lot to how tough your workout can be.
The machine itself is surprisingly sturdy for a budget treadmill, with a chunky tubular steel frame.
Some welcome little touches
This machine comes 99% assembled. No messing around for hours figuring out what goes where. Having said that, the instructions could use more depth and clarity. But you shouldn't have any problems putting this thing together.
Another thing we like about this machine is the two cup-holders (hey, they're handy!) And you currently get a free Bluetooth fitness tracker with it. Nice!
Fact: This machine has a top speed of 16 km/hour!
Verdict: This is a fab, compact treadmill that's easy to use and easy to store. There's blissfully little assembly required and the computer and display are good for the price. A powerful motor and 16km speed, combined with powered incline? Yeah, we're happy. Highly recommended at this price point.
Good brand
Really good motor at this price point
High top speed
Powered incline
Easy to use and maintain
Bargain price
More narrow than commercial gym running machines
Instructions could be clearer
£699.99 at Amazon
Price last checked: Saturday 16th October 2021 - 00:07 am
---