The Blade 2 is one of the cheapest rowing machines on the market, promising not only online app functionality but a home rower for under four hundred quid. But is there enough here to tempt anyone looking for a bargain machine? This is our deep-dive review of the Blade 2, where we'll cover everything you need to know about this bit of gym gear; The good, the bad and the ugly.
What is the Bluefin Fitness Blade Rowing Machine?
The Bluefin Blade rower is a home rowing machine that uses a combination of a belt-driven flywheel and magnets to generate resistance. Like any rower, you'll be sitting on a sliding seat, and pulling an oar (or, in this case, a foam coated handlebar…) back towards you.
There are 8 different levels of difficulty here that's set with the large round dial at the front of the machine. A simple LCD readout displays things like time, date and how many strokes you've completed.
That console can be connected to your phone or, better still, a tablet via bluetooth. Once connected, you can use a simple app to view a few more bits of info than you can on the LCD screen.
The Bluefin rower is designed to be comfortable, with ergonomic handlebar grips and secure foot pedals that adjust easily between users. The backlit LCD display keeps you abreast of your stats such as time, distance, calories, and strokes per minute.
---
Blade 2 Rower: Features at-a-glance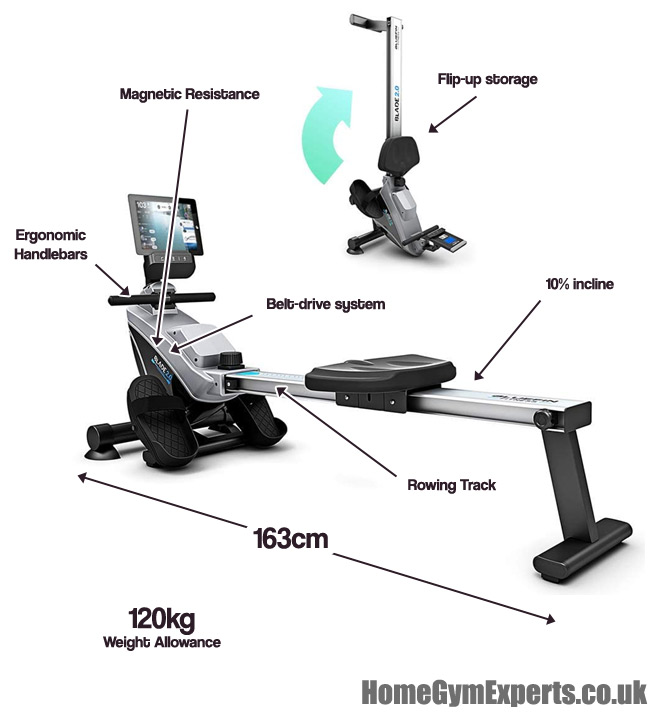 Has a downloadable smartphone app
Smooth belt-driven action mimics real rowing
It weighs 21kgs
The rowing track is at an angle of 10°
8 levels of magnetic resistance
Backlit LCD displays time, distance, calories burned, and strokes per minute
Secure Smartphone/tablet shelf
Ergonomic grip handlebars
Cushioned seat with smooth glide technology
Dimensions 166 x 74.5 x 51 cm
Smooth, foldable design for vertical storage
Secure anti-slip foot pedals
Max user weight 100kgs (220lbs.)
---
Where can you get the best price for this rower?
You can get the best price for the Blade 2 if you buy direct from the Bluefin Website. They often have sales, so keep an eye out for those.
---
What's the point in the Bluefin Blade 2 Machine?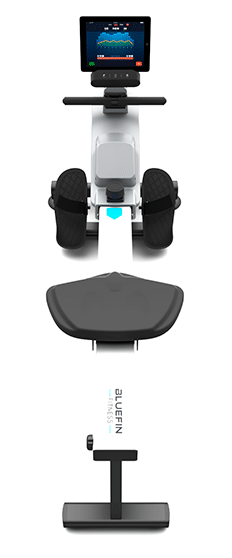 The Bluefin Provides a Great Calorie Burn
Harvard Health lists stationary rowing as one of the highest calorie burners on their exercise list. A 185lbs user may burn up to 754 calories an hour with rigorous stationary rowing, which is an impressive burn. Thus, the rower is a great home exercise option to burn calories and lose excess fat without costly gym memberships.
A Full-body Workout
Unlike running or treadmills, the action of rowing engages your upper body and core, giving you a total body workout. As well as your glutes and leg muscles, rowing strengthens your back, arms, pectorals, and core muscles all in one exercise routine. With so many home exercise machines that need supplementary exercises to balance upper and lower body growth, the Bluefin allows you to develop your full body shape.
Low Impact Exercise
Unlike the treadmill or outdoor running, the Bluefin rower provides low-impact cardio workouts with placing stress on your joints and knees. The security of the seated position also helps people balance and prevents injuries while training. The eight resistance levels also allow users to gradually improve their endurance and fitness levels at most fitness levels.
---
Related guides
---
Who Is the Bluefin Blade Rowing Machine Aimed at?
Anyone new to rowing
The Bluefin Blade suits users who seek low to medium-intensity training from their homes. The rowing action uses up to 86 percent of a user's muscles, making it an excellent full-body workout. This machine is a good option for those who want to lose weight and improve their fitness without costly gym memberships and time-consuming commutes.
If you're short on space
Bluefin has opted for the same storage mechanism that WaterRowers go for; flip it up and stand on its end. It's easy to do and takes around 75cm x 51cm when it's upended.
At a mere 21kg's it's one of the lightest rowers I can recall seeing too. This portability will definitely be of interest to anyone looking for a machine they can move between rooms. It's not exactly 'whisper-quiet' but the belt-driven rowing action does keep the noise low and ensures you won't disturb other household members.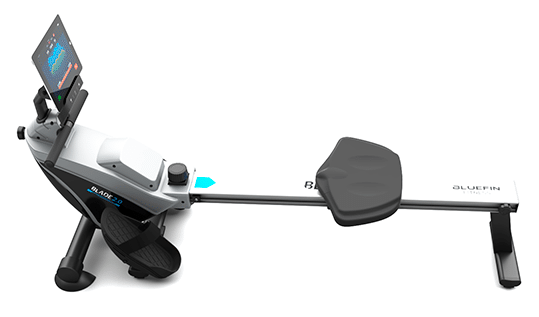 Who might want to avoid this machine?
The lightweight build of this rower comes at a cost in terms of max user weight. Here, it's only 100kg, meaning that it won't be suitable for anyone around that or over.
Anyone used to rowing
If you're used to smashing out some hard sessions on the Concept 2 at your gym, you'll likely find this machine won't have the power you need. This model is aimed at lighter use and the resistance here won't match up to more powerful machines.
---
Review: Things the Blade 2 does well
It's smooth and it's quiet
If you're in an apartment or shared household and you're up for some early am rowing, the Blade 2 won't have your roommates staggering into your room wondering WTF all that racket is. Even at the highest resistance levels, there's no whirs, whooshes or clicks that will cause any aural distress to those sleeping nearby.
Although the resistance is not super intensive, the smooth operation gives a peaceful and rattle-free workout. And, to be fair, everything works as it should. It feels smooth enough.
You won't put your back out moving it around
The tilt and lift system works like a breeze and allows you to store your Bluefin in a relatively small area of your home. The 21kg weight is impressive, making it the lightest one that we have reviewed in its class.
You won't swear once putting it together
Unless you knock your cuppa over, that is. The manual is dead-easy to follow and, more critically, there's not really much left for you to assemble. Slide in the track, attach the base and a few other quick fixes. The main bit is already made for you. Phew.
No need to fight over it
The Bluefin track is long enough to accommodate longer-legged users and it's easy to swap between users. The Blade 2 is good to share then, and as long as everyone fits the machine's limitations, you're good to go.
Good Low to Moderate Intensity Workout
You get a decent workout feel of the Bluefin blade, and it delivers good resistance for those seeking low-to-moderate exercise. The 10-degree incline is not noticeable besides a more true-to-life rowing action than other rowers' straight plane tracks. The resistance is high enough to ensure that you achieve a steady calorie burn and suit those with low to medium fitness levels.
---
The bad stuff: What could the Blade 2 do better?
The footrests feel like they're on the wrong machine
Most rowers, like the C2 and the WaterRower, have a certain type of foot rest where you adjust your heel height and then the foot strap. Here, there's a large over-sized pedal that's similar to what you'd get on a cross-trainer. If you've got smaller feet, as many of the target audience for this lighter machine will have, your tootsies might feel a bit lost in those large buckets.
The LCD Screen is Poor
As we suspected with a budget machine, the LCD screen up for grabs here is less than ideal. It's a tad on the small size and offers a basic display of your stats. The tablet shelf hints at users pulling out their tablets or phones and downloading the app. However, the display is old school and looks a bit cheap on an otherwise nicely designed rower.
Not a good pick if you're already in shape, or for heavier folks
It would be hard to recommend this machine for anyone who has already found their sea legs and knows their way around a rowing machine. Or, really, anyone with either a bit of training under their belt. To get down to the 21kg, the frame's tubing is thinner than we've seen on some rowers and that could be an issue.
Similarly, there's less push back on the resistance than we'd like to see. Even on full, this won't appease anyone already in shape.
Not pulse belt compatible
Disappointingly, although not unexpected at the sub-£400 range, there's nothing in the way of tracking your pulse. With rowers, you'd normally use a separate Bluetooth heart rate strap, but that's not possible here.
---
Verdict: Does the BLADE cut through its competition?
The Blade 2 is an ultra-lightweight rower that's greatest strength is it's portability and it's low budget price tag.
Should you buy this rower, or not?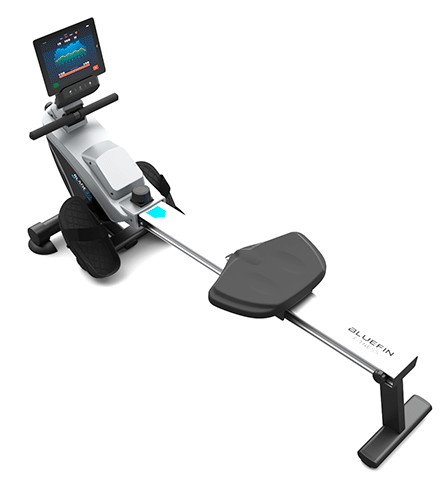 The Blade 2 certainly looks the part. It's fresh, modern design definitely punches above its budget price tag. The insanely-low weight makes it a good choice for anyone looking for some easy-going rowing at home without committing too much space to it.
The lightweight nature means it's less robust than some of the machines we've seen though, and the included LCD screen isn't going to win any awards. Rowing action though is good and as long as you're not looking for an intense workout and you're under the lowish 100kh limit, you're fine.
The Blade 2 is an ultra-lightweight rower that's the greatest strength is its portability and its low budget price tag. It's not awful by any means but anyone looking for more advanced app integration or heart rate might want to look elsewhere.
---
Blade 2 Tech Specs
Brand
Bluefin Fitness
Model

Blade 2.0
Drive type?
Belt
Colour
Black, gray and silver
Display
LCD
Stats tracked on panel
Time
Distance
Strokes
Calories burned
Strokes per minute
Rowing track incline
10%
Resistance type
Magnetic
# Levels
8
Handlebars
Ergonomic grip handlebars
Assembly
Some basic self-assembly
Compatible apps
Anti-slip pedals
Seat
Cushioned seat
Resistance adjustment
Standard tension knob
Space required around machine
60cm
Max user weight
100kg
App compatible
Yes
App
FitShow
Kinomap Compatible
No
Storage
Stands on end
Bluetooth
Yes
---
References & Further Reading