Welcome to our guide to one of the most popular and best balance boards out there in 2021: the Indo Board. In this guide, we'll cover what it is, what it does and whether or not the Indo is worth getting.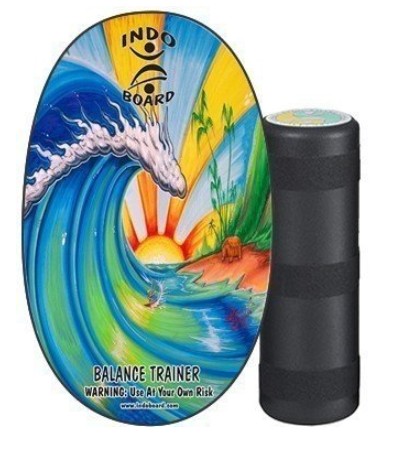 What's an 'Indo Board'?
Indo board is a balance trainer that's suitable for users of all levels and ages. You get an 30″ x 18″ board along with a separate roller which allows you to perform a wide range of exercises and have '360' degree movement.
This is the best selling board and currently boasts 185 reviews on Amazon US site equaling an a not-too-shabby 5 stars. The best kit comes with a roller and a cushion. The 'cushion' being an easier way to use the board and a good option for new users.
Beautiful design
The pictures don't really do the design of the Indo Board justice. There's a lot of pretty cool looking balance trainers out there but the minimalist wooden design, combined with the obvious attention to quality gives this board the edge. It looks and feels like a quality product. Some users actually hang them on the wall… no, we're not joking.
A wide range of uses… and users
One of the best things about this balance trainer is that it can be used in so many ways. This balancer is put to work everywhere from extreme workouts to recovery from injury and training for seniors. Of course if you're just looking to surf in your living room or goof around then it's good for that too. (Kids love it).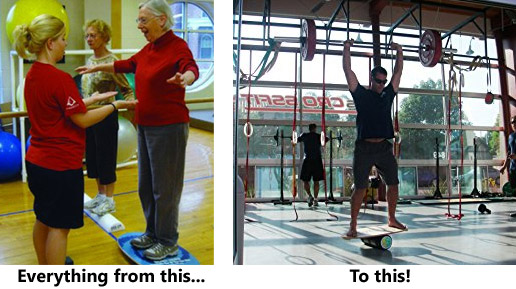 What kinds of things will the Indo Board improve?
Aside from the obvious applications in the surf, skate, wake and snow markets, the Indo board has other uses for your home gym and personal training.
Improving balance and stability
Getting a better posture
Improving core strength
Recovery from injury
Increase your athletic skills and control
You might live to rue the day you questioned what a simple board could to do improve your body
Does a 'bit of wood' really help training?
You might live to rue the day you questioned what a simple board could to do improve your body. The Indo board will leave parts of you feeling sore that you didn't know you had. Just about every exercise you can think of, even the humble push-up (see below), takes on a whole new perspective combined with balance training. Muscles you can train upright include legs, hips, waist, as well as your knee and ankle strength.
The Indo board is a great choice for anyone starting out with balance training and has a huge range of applications. The user feedback has been excellent and we rate this as the best balance board you can currently buy.
Suitable for just about everyone
Excellent design and quality product
Takes a bit of practice when starting out