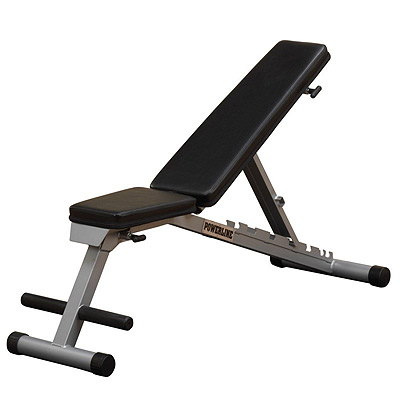 It's all well and good having your own home gym but not everyone has a garage, spare room or even an outdoor space to convert to a home fitness studio.
Things can also happen in life and your precious  gym space can quickly get swallowed up. I'm looking at you, new baby!
But fear not. You can still build a secret home gym that packs away neatly. In this guide we're looking at the new breed of fold-flat gym benches and whether or not they're up to the job! Can you really get a decent folding weights bench, that does everything a regular one does?
Lets find out…
Weight benches: one of the best bits of gym gear you'll ever buy
Know what I'll be doing this afternoon? Using my weights bench. Apart from being a good place to get a rest in between sets, there's just an insane number of exercises you can do with your bench. It's always at the center of my gym and used in most of the exercises I do there.
No space doesn't mean no gym bench
When you think about it, if you use your home gym for an hour a day, you're only using that space for around 4% of each day. So don't feel bad if you haven't got space to set out a full on weights bench. There's some brilliant space-saving benches up for grabs that you can fold away when not in use.
What are the best and easiest-to-store fitness benches?
While the market isn't exactly flooded with benches that fold up, there are some good choices in the UK, dotted around different manufacturers websites. Here we take a look at some of the more popular ones for home gyms.
| | | | |
| --- | --- | --- | --- |
| Sportstech Foldaway gym bench | | A 'proper' strong weight bench | |
| | | | |
| Sportstech BRT500 Foldable bench | | Works stomach, back, chest, bench press & more | |
What to look for in a good foldable weight bench
Don't end up with another crappy bit of gym gear you have to 're-buy'! Here's a quick 'n' dirty guide to what to look for when you're shopping for a bench you can train on and then store away.
Am I going to break this? Check the max weight a bench can take. While it's likely it could take a lot more than what's listed in the description, err on caution and figure out if it's enough for your weight and combined weights you're going to be lifting.
How portable is this bench? 
Carry handle – OK, not the most exciting feature but it's helpful to be able to carry the bench around! Benches like SportsTech's fold flat one take up a low foot print and can be slid out of the way easily.
What kind of bench is it? Flat bench, or adjustable bench? (See below!)
Is it going to put my back out? Folding away is great, but if it's an awkward weighty beast to carry around. We always check the actual weight of each bench.
How flat does it really fold? Our definition of 'fold flat' and some gym gear manufacturers definition of 'flat' is a bit dfifferent. Just because something folds, doesn't mean  it's easy to store. Check your bench really does go flat enough to store in the space you have. Some do a much better job at this than others.
---
Should you go for a for a flat bench, or an adjustable one?
As with regular gym benches, there's really two kinds of fold-away ones you can get:
Flat benches
Adjustable benches
Flat Benches offer a simple, sturdy bench that's great for doing weights and other forms of body weight exercises. There's no joint in the middle and it's all 'fixed'. They're great for jumping up onto and have a lot of stability.
Adjustable gym benches have at least one pivot in them and either the seat, back or both can be altered so you can lie back to a certain angle. They're more prone to moving around and you can't do some exercises with them.
---
Are fold up exercise benches sturdy enough?
When you think about gym gear that folds, it's easy to conjure up images of god-awful wobbly cheap gear. While they might make for some good fail videos on youtube, they're not what you wna to entrust physical safety to.
The good news is there are some proper benches (more on those in a sec) that do a good job of balancing robust design with compact fold-away size and portability.
Turn any room in your home into a weights room!
Taking your weight's bench on holiday?
While you might not want to take up your baggage allowance on your next trip to Tenerife, some weights benches are compact enough to throw in the back of the car (look out kids!) and take away with you. I mean if you really want to work on your upper body strength instead of relaxing in the hot tub.
Why aren't there' more folding weights benches?
Folding treadmills? Bikes that fold away? Elliptical that can be stored? Yup, there's a lot of those. Sadly, there aren't a HUGE number of gym benches that fold up.
SportsTech have a brilliant folding bench
I've written about SportsTech a fair bit in my time on HomeGymExperts. They're a German company making some very innovative and cool gym gear. Their folding bench can be easily stashed under a bed or in the corner somewhere and is seriously sturdy.
What are the best exercises to do on your folding bench?
Here's some tips on some bench press exercises you can try out on your new bench. And the best part is you don't even need weights. Look at some of the body weight exercises you can do on a good gym bench here.
Don't wreck your floors with your folding bench
As sturdy as any gym gear is, it's still going to move around once you start throwing your weight on it, and combining with dumbbells and other weights. Whether you're using your bench on carpet or hard wood floors, definitely take care the feet aren't going to either rub black rubber on the carpet, or scratch the floors.
Check the feet on the bench you go for or, better still, get even a thin set of gym mats to put under the bench. There's some pretty cheap ones around.
Tips for getting the most out of a small training space
A weight bench you can store under the bed?
If you're short on space, getting a decent foldaway weight bench is one of the tricks you can use to have a gym
Want to try a used bench?
eBay is a very popular place to pick up gym gear and you can often find some folding benches up for sale at decent prices. Here's some of the listings today that might be worth a look.