Today we're taking a look a popular compact home multi-gym: the Sportstech HGX250 (Available on Amazon UK). It's one of a family of four HGX multi-function gyms from the German based manufacturer. It offers all the main exercises you'd expect from a decent multi, with the addition of a punch bag stand.
Lets find out how this gym gear compares to the others in the now very competitive compact multi-gym market.
---
What is the Sportstech 50-in-1 HGX250 Multi Gym?
The Spotstech HGX250 is a versatile home multi gym that offers a large number of exercises from one bit of home gym gear. Using a stack of adjustable weights, a system of pulleys and a number of different ways to lift the weights, it aims to train every muscle group in your body.
There's around 50 different exercises to work into your routine. You have the option of working out your entire body, unlike other home gyms, which only offer limited muscle group strengthening.
Your biceps, chest, back, abdominals, shoulders, and triceps each have designated exercise varieties for a full-body workout.
The Sportstech gym offers rope pulls, biceps curls, bench press, and even leg extensions to help build and strengthen each muscle group. With this home gym, you have the integration of a stepper to add cardio into your home exercise for an all-round body sculpt.
The seat is made of quality EVA that is tear and wear-resistant and, most importantly, water repellent to prevent sweat from creating bad odours. The HGX range uses high quality steel cables to make your  avoid wear and tear so that your home gym will last.
Sportstech designed extra-large and low friction pulleys, so the action is smooth and makes less noise while you get fit.
The weight stack consists of twelve plates that make up a total of 55 kilograms. You adjust the weight by inserting a pin into the weight you want. This system means you can gradually increase the weight as you get stronger and is a really good way for beginners to get into strength training.
The seats, handles and leg extensions are adjustable to your body shape and ensure that you maintain the proper posture for each exercise.
---
Who are Sportstech and is their gym gear any good?

Berlin-based Sportstech have an impressive (and growing) range of fitness and strength training equipment and have won awards such as the Amazon Export Champion award and Deutschland Test Top Online Shop Award.
We've reviewed a number of their gyms on Home Gym Experts, including the HGX 100 and exercise bikes and treadmills and found they were both well made and had an eye for the future, with up-to-date tech and good quality components.
The brand is extremely popular on Amazon, with typical reviews normally in the 4.5 star range.
---
The Sportstech 50 in 1 HGX250 Features at a Glance
50+ different exercises
High-quality components
Durable EVA upholstery
Compact and space-saving
12-plugin weights totalling 55kgs
Water-repellent grips for safety
Includes foot sleeves pull rod, triceps pull strap, lat pull rod, and pull handle
Pull up tower with step feature for cardio
User manual and coaching video
Extra-wide rubberised feet for safety and stability
---
Benefits to training with the Sporstech HGX250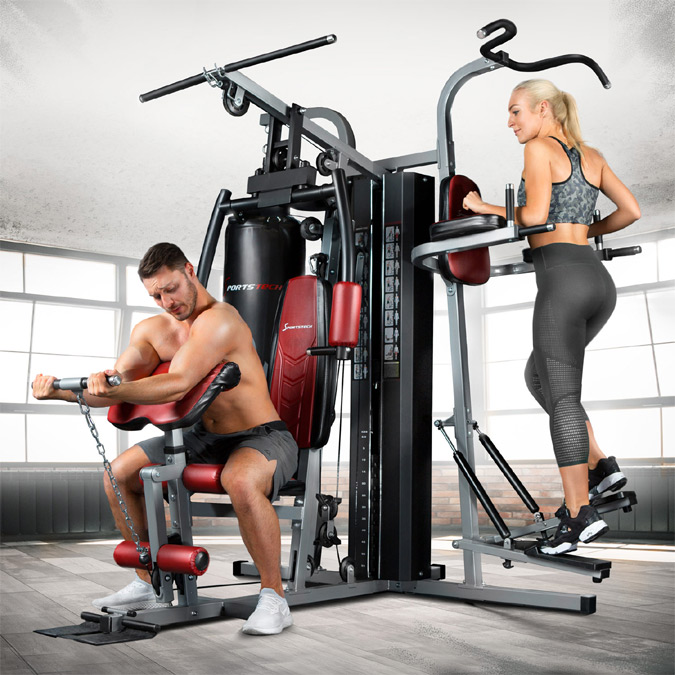 All-round body exercise
For the compact dimensions, the Sportstech HGX250 has a multitude of muscle-focused exercises on offer. Not only do the extensive array of features allow you to target particular muscle groups, but there is an integrated tower where you can catch up on your cardio.
The tower has a step system where you can increase your endurance and burn off calories. When you don't need the steps, they fold away neatly and allow access to a pull-up bar and hanging leg raises to really work your abs and core.
Build muscle and burn fat
The Sportstech multi-gym offers strength training in the form of weighted resistance via a pulley and weight stacks. Weight training burns more calories after a training session compared to a cardio session. Your metabolism also increases in the hours after training as well.
You can define and sculpt or maintain your muscles
Because the Sportstech HGX250 has a maximum 55-kilogram weight stack, it is ideal for defining, sculpting, and maintaining your muscles. Those who are seeking large muscle mass are better suited to home gyms with a higher weight stack mass.
The Sportstech home gym is compact
The Sportstech HGX250 offers a full workout without hogging too much valuable space in your home. It's basically everything you can get in a regular gym, without any of the drawbacks.
The Sportstech is many machines in one
The Sportstech is designed for your home and incorporates a variety of exercise equipment you find at the gym and fits them into one compact frame. So essentially, you have a gym in your home where you can choose from multiple features which exercise suits you best. With the 50 plus exercises, you can alternate and rotate your schedule to include all your muscle groups.
The Sportstech is durable and safe
Anyone familiar with the free-weight training section at the gym will know how easy it is to suffer injuries. Lack of proper posture and insufficient support can result in a variety of painful outcomes. The Sportstech is designed with safety in mind is adjustable to provide the necessary posture and support.
You can always feel at home
With a Sportstech home multi gym, you will never have to worry about what you have to wear. You will never have to wait for an exercise station to free up or contend with a stranger's sweat. Best of all, you can choose your own music or watch your TV.
You can save money
Gym memberships are costly, not to mention the added commute costs into the deal. Having a home gym saves you time and money in the long term.
Check Current Amazon UK Price
---
Who will benefit from the Sportstech Premium HGX250?
The Sportstech is great sculpting and medium-intensity muscle-building tool
Because the maximum weight load over the 12-plugin weight stacks is 55 kilograms, the Sportstech HGX250 is not ideal for high-intensity muscle building. The multi-gym lends itself to those who wish to form and sculpt muscle definition and maintain and enhance their shape.
Those who wish to increase their health and fitness
Weight training is a great way to lose fat and gain muscle mass. Weight resistance training burns calories even after your workout and increases your metabolism for longer stretches than just cardio. With regular exercise on your home gym you can expect:
Improved muscle strength and tone
Better flexibility and balance
Higher lean muscle to fat ratio
Prevention and control of diabetes, heart disease, arthritis, depression, and obesity
Increased bone density to prevent osteoporosis
Improved mental health and better sleeping patterns
People who like to set their own routines and exercise programs
People who like to proceed at their own pace and set their exercise routines would benefit from a Sportesch HGX250. With the multi-gym, you have everything you need to set your fitness schedule. For example, you may want to focus on the chest and shoulders one day, arm son the other day, and legs on the final day.
It is best to rotate your targeted muscles on a schedule to keep your muscles from adapting to one set of exercises. It also gives your muscles time to repair and rebuild before you work them again so that they can build more efficiently. Use the online training video for tips on how to get the most out of your HGX250.
---
Our Review: What we Liked About The Sportstech Premium HGX250 50-in-1
The step attachment for cardio
We liked the step alternative on the pull-up and hanging leg raise tower. Its a great way to add some focused cardio into your training schedule. The Hanging leg raise is a killer, and you can almost feel your love handles crying.
Stable and solid structure
The extra-wide rubberised feet aren't just a gimmick because our workouts were shake and wobble-free. The resistance pulley action is smooth and relatively noise-free. The steel construction feels stable and robust (you will need some help to carry the package it weighs a ton), so the heavy weight of the multi gym is expected and necessary.
Decent variety of attachment options
We like the variety of easy to attach extras to the gym station. These include the foot sleeve, the triceps pull strap, lat rod pull, and the hand pull. There are so many alternatives that you could explore your home gym over a length of time and adds variety to keep you interested and motivated.
The Sportstech adjusts to your size
We liked how the adjustments to fit your size are intuitive and easy. There were a few of us of differing sizes, and it was relatively easy to toggle between us when trying the multi-gym. Likewise, the changes between exercises were quick and easy once you get the hang of the different conformations. The Online training video was helpful as well.
The gym is surprisingly compact for its features
Despite the heavy weight of the whole kit once assembled, it took less space than we imagined it would. This type of multi gym isn't made to be moved around, so it's best to choose the best spot you can where it is out of your immediate way.
The Exercise chart is helpful if you're just getting started
While it's fairly obvious how to do the main exercises on this multi gym (like the bench-press and lat pull-downs, there's a wealth of other ways you can train with this machine, not all of which you can 'guess'!
Thankfully Sportstech have included a simple, full-colour exercise guide on the back of the gym. You'll have seen these before if you've been to any gym: an overview of how to do the exercise, along with the muscle groups it will strengthen.
Check Current Amazon UK Price
---
What could have been better about the Sportstech Premium HGX250?
It's a real pain to assemble
Once you have opened Pandora's box, the Sportstech seems to multiply into a million pieces. The variety of features and functions comes with a cost, and that cost is a head-scratching time trying to fit everything where it is meant to belong.
You might find this video helpful as it covers all the steps to get your HGX250 up and running. Sadly there's no English audio, but the steps are visual and easy to follow!
The weight stack is limited to low to medium-resistance training
There's no getting around the fact that the 55kg weight stack here won't be enough of a challenge for seasoned gym-goers. You'll have to think carefully about this one as for some people who are already reasonably strong, you might find you're creeping up the weight stack faster than you'd like.
The Sportestech is suited for people wanting to gain shape and define their muscles and not for bulk muscle gain. Having said that, there are a wealth of exercises here that aren't reliant on a huge weight stack and for many this home gym will provide them with exactly the challenge they need.
It is difficult to move
While this criticism is fairly obvious, and could be levelled at any home gym, the Sportstech HGX250 needs a real muscle man to move the beast. Clocking in at 128 kilograms, don't expect to move it alone, once you've assembled it. For most, it will be put together where it's going to live, so this won't be an issue.
---
Conclusion: Should you buy the HGX250 multigym?
The Sportstech Premium 50-in-1 HGX250 Multi Gym is a sturdy and well-designed piece of equipment with plenty of features to keep you interested and working out.
The sheer variety of options allows you to spend time and work through different exercises and target multiple muscle groups. The HGX250 is an excellent entry-level medium intensity home fitness alternative.
The quality on offer in this home gym is also to be commended. Everything from the chunky, wide pulleys, to the steel ropes, to the seating and frame are really well made. This is typical of what we've seen from Sportstech but the HGX250 shines in the quality department.
All the most important exercises are implemented well here, with a minimum of adjustment in between sets, thanks to some clever design decisions. The separate dip and chin up station are also brilliant, and the punch bag training opens up a lot of new training possibilities.
All in all, Sportstech have a fantastic multi-gym on their hands here. It deserves a proud place in any home or garage gym.
Highly recommended.
Check Current Amazon UK Price
---
Full HGX250 Specs
| Brand | Sportstech |
| --- | --- |
| Category | Compact home multi-gym |
| Weight stack | 55kg |
| Number of plates in stack | 12 |
| # Exercises | 30+ |
| Exercises | Lat pull, biceps curl bar, butterfly arms, leg curlers, leg extension, bench press station, weight bench, curl desk and much more |
| Frame | Solid steel |
| Padding | Water-resistant EVA |
| Muscles trained | biceps, back, legs, abdominal, shoulder or buttocks |
| Noise level | Low |
| Weight system | Pulleys, cables and weight plates |
| Max user weight | 120kg |
| Assembly | Self assembly |
| Dimensions | 1896 x 2116 x 2196 mm |
| Feet | Rubber |
| Accessories | Sleeve, drawbar, triceps drawbar, brass drawbar and drawhandle (hand) |
| Cables | Long-lasting steel ropes |
| Boxing bag included? | No |
| Colour | Black & Red |
---
References & Further reading