In this short guide, we're looking at where you can find good quality cross trainers during the UK Coronavirus situation. As with most gym gear at the moment, elliptical machines are in shorter supply due to supply lines not being able to keep up with an unprecedented demand for  home fitness equipment.
We'll keep you posted on the situation and which stores have products available without the wait.
Last stock check: 12/08/2020 at 9.50am
Here's today's best cross trainerrs that are in stock today
"This bike is good quality, cheap and connects to online racing apps easily"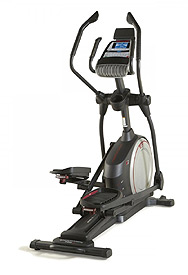 If you're looking for a really decent elliptical cross trainer, the ProForm 720E offers a sturdy commercial quality machine. The best things about this machine are how sturdy it feels, the quality feel and robust build and the brilliant display console.
It's packed with programs to keep you busy (24 in all) and also includes a  12 month membership to brilliant iFit. (Interactive personal training that will bring on your fitness way faster than training alone). The built in console measures you work rate and can replicate real life runs using Google Maps.
"This forward-thinking cross trainer is perfect for online races and more…"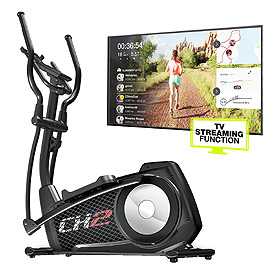 German based Sportstech are quickly becoming one of our favourite brands here on Home Gym Experts, and are also proving a hit with buyers too. The design and sheer quality of their gym gear is head and shoulders above much of the competition.
Tnd the Sportstech CX2 (Available Amazon UK) follows this impressive track record with a well-designed, sturdy cross trainer that's got everything you'd need for home training. The CS2 is designed with online connectivity in mind and you can easily jump into online races, coaching and many more engaging ways to get in the best shape of your life.
The whopping 27kg flywheel and belt drive make for a quiet, smooth ride and it will give you a seriously tough challenge if you're already in good shape. (But it's also kind to newcomers too).  There's a lot more to say about this cross trainer – definitely check this one out.
"An extremely popular budget priced cross trainer – back in stock"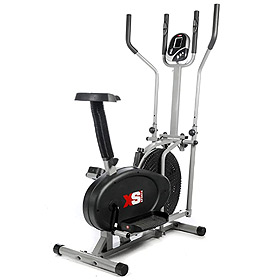 We've been recommending this cross trainer for anyone looking for a super-cheap elliptical for a long time indeed. While it's not got the sleek and sexy curves of some of the other machines out there, for under £200 quid, it's a sturdy workhorse of a cross trainer that's hard to beat in terms of value for money.
You can use it as a kind-of sit down exercise bike, or as a regular stand-up elliptical and there's a simple LCD panel that will track all the important stats like calories and distance. If you're looking for a cheap elliptical that's in stock, grab the XS Sports one. It's a bargain at this price.
Though they don't have any budget-priced cross trainers in stock, Fitness Superstore have a good selection of in stock machines, despite the pandemic and have some good offers on the site.
There's some excellent machines available like the Bowflex, Sole and ProForm machines. Prices start at around £700 and if you're looking for a quality machine, this is a good starting point.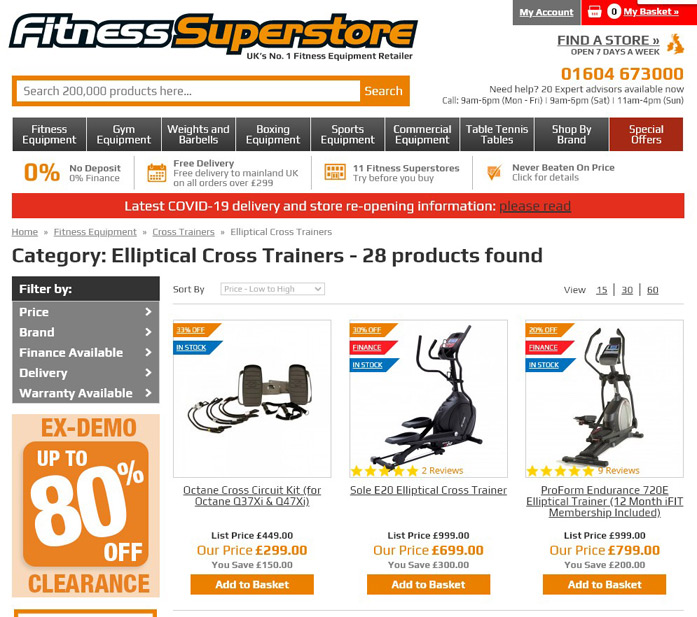 Click here to see the cross trainers that are in stock
---
If your budget is less than £500, there's a good selection of in stock exercise bikes on this page at Amazon.co.uk. There's some cheeky bargains to be had, like the XS Sports Cross trainer, and many others that will come in at way under the £400 mark.
While a lot of retailers are still struggling to get their stock levels back up, there's still plenty of good machines around on Amazon right now.
Click here to see which cross trainers in stock at Amazon UK
---
5 Reasons Cross Trainers Should Be In Everyone's Home Gym
Cross trainers, or Ellipticals are one of the best forms of exercise and a real favourite at Home Gym Experts. But what's so great about these machines?
They're ideal for everyone – It's often hard to pick out one machine that's a good fit for all ages, fitness levels and body types. But cross trainers are so easy to use, and adaptable to different groups that it's always something I recommend. One huge mistake people make is thinking it's an easy workout. Because…
They make you SWEAT! People are often surprised how difficult a workout you can get from a cross trainer. While you can take it easy on yourself and cheat (just like any machine!) Ellipticals are absolute wolves in sheep's clothing. Cranking up the resistance or tackling an interval program at a decent level can tax the hardiest of gym-goers.
Almost zero impact – I originally started training on a cross trainer as an impact-free alternative to running and was blown away by how clever the design of these machines is. Everything is so smooth, with no impact on your joints – even when you're really going for it. They're offer a really good workout, without the strain on your kneed and joints.
They're VERY easy to use – While most machines have at least some training form you have to adhere to in order to get the most out of them (or just avoid injury!) Cross trainers are literally a step-on-and-go machine. There's not much you can get wrong here and it's very hard to imagine a situation where you'd injure yourself on one of these machines. Speaking of injury…
They're ideal for recovery – That smooth, impact-free motion doesn't just feel good, it's also great if you're recovering from an injury, and have to minimize impact or movement. Despite the fact you're using your legs, I was able to train on an elliptical after a long-lasting knee injury when pretty much every other form of cardio was off the cards.
Resources and further reading