If you've read HomeGymExperts before, you'll know we're big fans of rowing machines around these parts. Smooth cardio that's great for your strength and fitness, without any impact to joints? Yes please. According to BritishRowing.org, around 1.3 million of us are rowing at home in 2021!
But, like any relationship, things can get stale and at bit boring if you don't spice your rowing life up a bit. With that in mind, in this guide, we're looking into an awesome way to get more mileage out of your favourite exercise: using a your rowing machine with a screen!
If you want to make your indoor rowing more fun, exciting and interactive, read on…
Adding a screen – more than just watching Netflix while you row
If you're bored of rowing and watching your calories and number of strokes you've rowed slowly ticking up, you can do a whole lot more with your tablet than watching Netflix videos. A few simple steps and you'll be able to do a whole range of cool things with your home rower like:
Get a sexier video display with loads of colourful stats
Get some professional coaching
Attend group rowing sessions
Track your progress with way more detail than the built in monitor can
See a video of your virtual self rowing along beautiful rivers
Compete (or just row for fun) against other rowers online
Beat your old rowing times
Play other games with your rowing machine
What's the best rowing machine to buy to use with a screen?
A huge range of modern rowing machines support using your tablet or phone screen. But, if you're on the market for a new rower, there's some obvious choices to look for. The Concept 2 is an obvious choice. This is the rower we use at HomeGymExperts with or without the screen it's just an absolute beast of a machine.
NordicTrack have some simply stunning rowing machines that come with screens, and work with the awesome iFit service. Check out the NordicTrack RW-850 and prepare to be amazed.
Sportstech RSX500 Rowing Machine
Sportstech are leading the way with rowers that are built to be used with screens. Their RSx500 is built from the ground up to be used with a tablet and put's a fantastic screen cradle center stage. It's compatible with Kinomap and can also also stream to a bigger screen.
We'll let your imagination run wild when you think about adding a HUGE curved screen into the mix. It's a damn fine rowing machine too – easily up there with the Concept 2's of the world.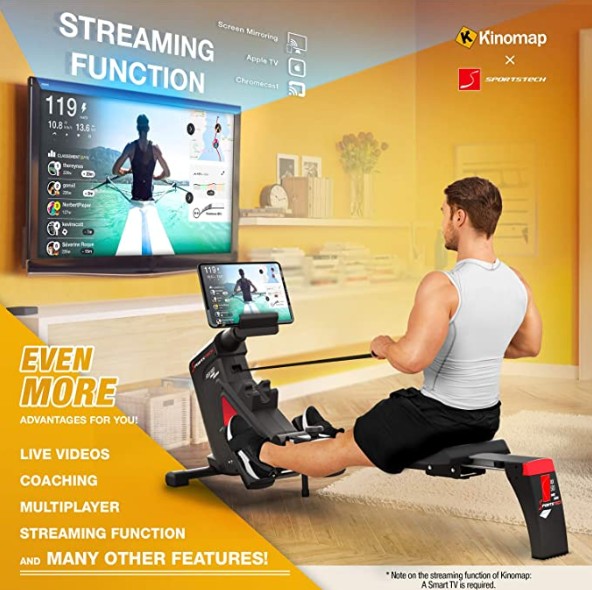 £599.00 at Amazon
Price last checked: Wednesday 4th August 2021 - 05:13 am
Hey, why can't you just buy a rowing machine with a video screen?
If you're in the market for a new rowing machine and thought it might be a good idea to get one with a built in display, you might be slightly perplexed by the lack of rowers that have screens. There aren't any!
While that sounds like a huge oversight, and a gap in the market, there's good reasons why they aren't available.
For one, adding a decent color monitor onto a rowing machine would push the price up a fair whack and, let's be honest, Concept 2 are good at making rowing machines. Apple, Samsung and Google are good at making touch screen devices.
So the answer is: no, there are no rowers that have screens. So what should you do? Buy a good rower and get yourself a good iPad (if you haven't got one). And don't worry – getting them working together is super-easy in 2021.
What you'll need to row on-screen
Before we get to anything technical, the first thing you're going to need to do is find a way to get your iPad, phone, Samsung or other screen actually attached to your Concept 2, or whichever rower you're using. You can use a huge range of rowers for this. Frustratingly, many rowers DO NOT have a cradle or place to put your screen safely while you're rowing.
If your machine lacks a tablet or phone holder, all is not lost. You can hunt around for a universal cradle that you can use to safely attach your phone to your rowing machine. Amazon has plenty of good solutions to this problem.
Rowers come in all kinds of shapes and sizes, so you'll have to use a bit of discretion picking a holder that will work with your machine. Here's a couple of ones to think about:
LonZoth Cell Phone Holder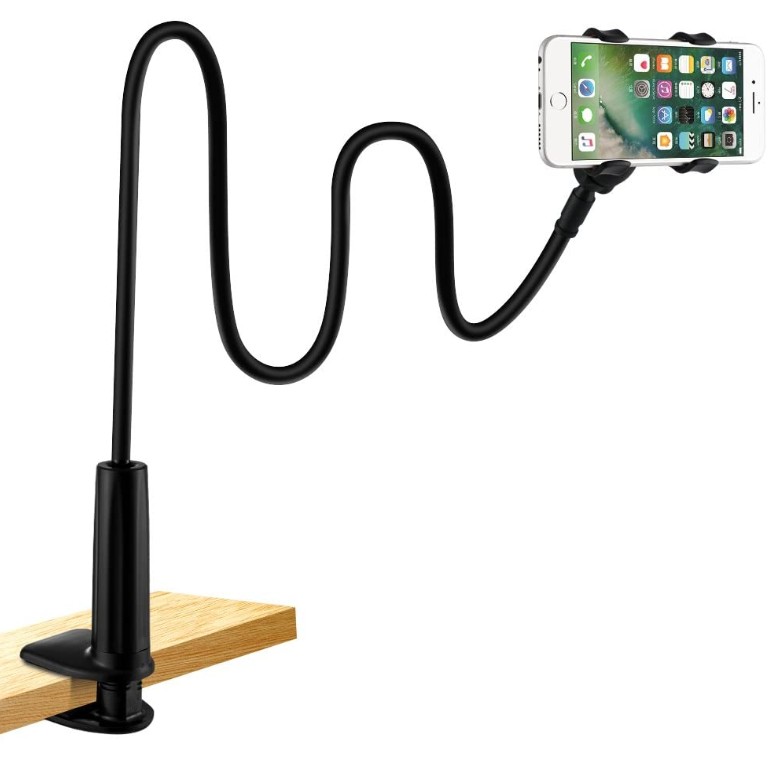 This is a super-cheap holder that clamps on and has a long neck that you can bend to any position you want to.
Heavy duty table mount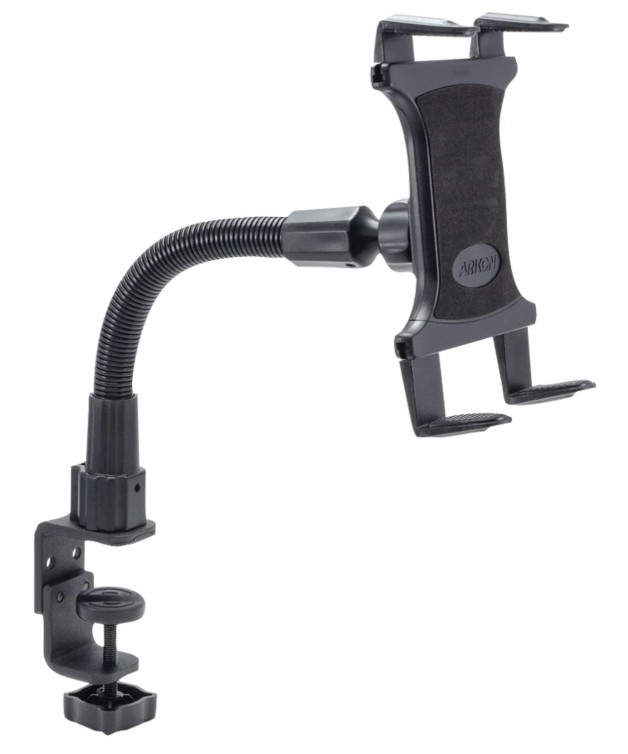 This heavy duty tablet mount gives a sturdy way to attach an iPad or other screen to a wide range of surfaces. It also clamps down on the screen to keep it safe when you're doing some intense rowing strokes.
How to connect a tablet to a phone
So how does this all work?
Once you've got a solid way to attach your phone or table screen to your rowing machine, you'll need to download an app which will connect your rowing machine to what's happening on screen. There are both free and paid apps available. One of the most popular apps that a lot of home rowers are using is KinoMap.
Here's an example of some of the cool on-screen stuff you can do with KinoMap:
Check out the App store for your device to see which other apps are out there.
How do I know if my rowing machine is supported?
For this to work properly, your rowing machine will need to be able to talk to the app and send data between them. Whichever app you like the look of, check out it's website to see which rowing machines are compatible. For example, the KinoMap website has a handy compatibility checker that lets you see which rowing equipment works with their app.
There's a whopping range of machines you can use to connect your table or iPad including:
BH Fitness
Concept 2 Machines
JNB Sports
Kettler
Peak Fitness Rowers
SportsTech
WaterRower
Competing with other home rowers on-screen
One of the most fun reasons you might want to connect your rowing machine to a video display is so you can compete with other people over the web. A lot of people do this every night with all kinds of fitness machines, with bikes being the most well-known one. But the system is equally well-suited to rowing machines, with opportunities for:
Solo events
Team-based competitions
Other games and events
Apps like KinoMap support this. Like any online gaming, the success of each app is determined by how many people actually use the service. So you might be better off trying one of the majkor apps for this, where there's a wide user base.
This sounds expensive…
If you like the sound of taking part in online rowing events on your tablet or TV screen, it does normally come at a cost. You can expect to pay around £10 for a monthly subscription to the service which, considering what you get, isn't a lot to pay. And it means you'll be able to compete in as many online rowing events as you like.
References and further reading