In this guide, we're taking a look at one of our favourite bits of gym gear and finding out exactly what is a recumbent bike, and what they are actually good for.
These reclining stationary exercise machines offer something a bit different to 'normal' exercise bikes and have their own pros and cons. In this guide, I'll be going over what they are, what to look for when you're buying one and whether or not they're right for your needs.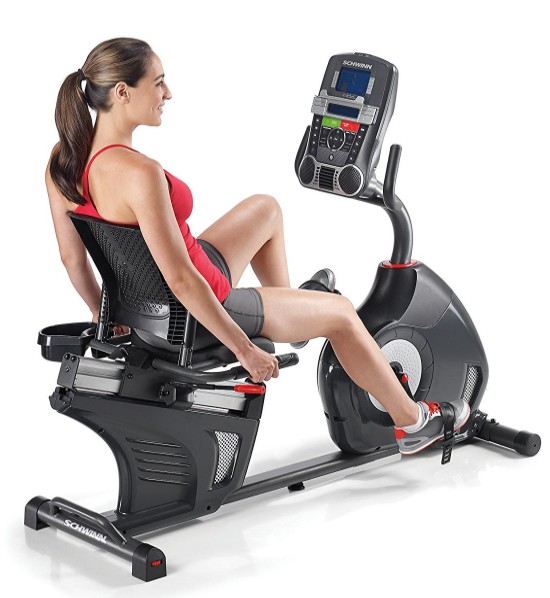 What is a recumbent exercise bike?
A recumbent bike alters the position you cycle in from an upright one to a much more reclined angle and adds a large back seat (a bit like a car seat in a reclined position). It's more of an easy-going experience than using a traditional exercise bike and, because your arms are freed up, you can do other activities at the same time.
Read a book, play with your phone or catch up on your box sets. Let's face it, training for longer periods can be a bit boring, so it's good to be able to do something while the calories are burned off.
There's two kinds of recumbent: the ones you'll see out on the road, and the stationary ones you'll find in commercial gyms and, more commonly these days, in people's homes too.
So that's it – a 'lazy bike'?
I'm being flippant because recumbent bikes have a lot of important uses as well as being able to watch that new series on Netflix while you train. They're especially useful if you're recovering from an injury, or for users with mobility problems. They're a very popular choice for anyone with back injuries. Recumbent bikes are also a good choice for senior trainers looking to stay in shape.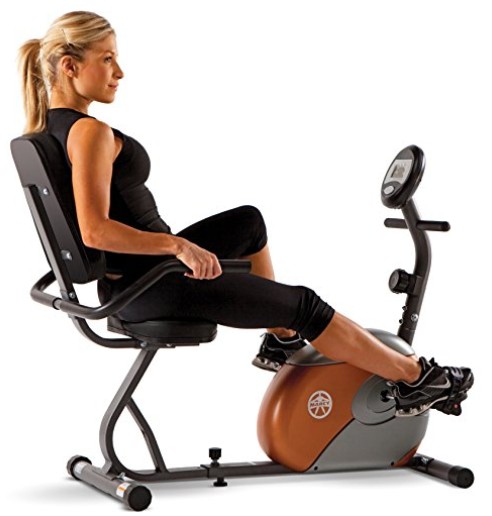 But anyone can use a recumbent. They have a different feel to an upright bike that's not going to be to everyone's taste. But don't think you can't get some serious training here. A recumbent bike offers a different sort of exercise, focusing more on the legs. There's far less strain on your joints and they're generally more comfortable than uprights.
The best things about recumbent bikes are
They're comfy
You can entertain yourself while exercising
They're supportive
A good choice for mobility issues
Perfect for more senior training
Far less joint stress than say running machine
Accessible and easy to use
Are recumbent bikes good for weight loss?
Despite being in a reclined position, recumbent bikes are just as effective as any other form of cardio at burning calories and losing weight. Increasing the resistance, putting in more effort, or pedalling for longer all increase the number of calories you are using, thus aiding in weight loss.
From personal experience, 10 minutes of hard work on a reclined stationary bike is enough to get really sweaty and out of breath. Make no mistakes, these bikes are incredibly good at getting into a calorie deficit and, subsequently, losing weight.
---
Related Guides
---
How many calories can you burn on a recumbent bike?
An average person, doing around 12 km / h on a recumbent bike can expect to burn around 600 calories per hour.  Of course, there are lots of factors that go into how much energy you'll use up such as weight, exertion and duration.
If you'd like a more accurate figure, this simple calculator will help figure it out.
What is a recumbent bike good for?
The lazy answer is that anyone can train on a recumbent cycle at home or in the gym. Far from being an easy option, these bikes can give you one hell of a hard work out, isolating your legs and really making you work. I added a recumbent into my training recently and it's one of the tougher exercises I do because I like to ramp the resistance up and really go for it.
But recumbent are also extremely well suited to the following groups:
Elderly
Those with back injury
Anyone with impaired mobility
Let's talk resistance!
Resistance, how the recumbent bike pushes back against you when you're peddling, is another thing you'll want to learn about. Generally speaking, these bikes use electro magnetic resistance, which involved a large (usually iron) flywheel which is slowed down with magnets. This has the advantage of feeling very smooth without feeling like you're fighting against friction. (It's also quiet).
The bigger the flywheel (measured in KG) the harder workout you'll generally be able to get. While this isn't as important if you're not looking to do the Tour de France next year, it will be a concern for some people. A good weight is around the 6kg mark.
What makes a good recumbent bike?
Choosing your perfect recumbent isn't any different from choosing any equipment for your home gym. As well as budget you'll need to look out for:
A good brand
A solid build that won't wobble
Warranty and after-sales service
Comfort – especially for longer sessions
Assembly – this is important to some people (like me) who aren't 'handy'
Type of display/computer

As well as manual operation, where you just set the resistance level and start peddling, many recumbent bikes offer some form of onboard computer. At the minimum, they should track the basics such as
Time
Virtual distance
Calories burned
More elaborate machines, and usually more expensive ones, can do clever stuff like have different programmes you can follow, or even track performance and preferences between different users. The display should be
How much does a recumbent bike cost?
You can pretty much pay as much as you want for a recumbent. For example, there's some on Amazon starting at around £50. Upwards to some on Fitness Superstore for the £5000 plus mark. For a sturdy home machine, if you're looking for a rough budget, look at the £200 – £500 mark.
Check out our guide on the best recumbent exercise bikes.
New to cycling at home? Before you hop on your new recumbent, the NHS has some great advice to keep you free from injury.