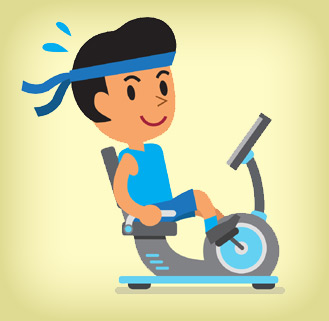 A recumbent exercise bike is a very popular piece of cardiovascular gym equipment. And that popularity is on the rise, due to the many benefits it offers to its users.
What are the benefits of a recumbent machine?
A recumbent exercise bike (a stationery exercise bike, with a back support) offers a great workout to a range of people with differing ability levels, making it an excellent piece of equipment for almost anyone looking to improve their fitness.
From a new gym member, to a keen athlete, stationery bikes are a great way to improve your cardiovascular fitness. In addition to cardio benefits, cycling also aids with burning fat, helping to lose or maintain body weight, improving strength and building muscle.
Recumbent cycles have a whole host of plus points over upright bikes too, making them suitable for a wider audience, whilst still reaping the fitness benefits. We've covered what is the best recumbent exercise bike on Home Gym Experts in the past.
Research from the American College of Sports Medicine (ACSM) has proven that stationery cycling, whether upright or recumbent, is an effective means of exercise, improving heart health and overall fitness.
Which muscles do you use on a reclined exercise bike?
Crank up the resistance and you can definitely get a sweat, even in just 10 minutes.
There's an excellent video here showing which muscles specifically you'll get to train using a recumbent exercise machine. And if you think it looks easy, don't be fooled; reclining bikes offer some of the toughest workouts, if that's what you're looking for. Crank up the resistance and you can definitely get a sweat, even in just 10 minutes.
Who will get the most out of a recumbent bike?
Exercise not only benefits our physical fitness, but it can also improve our mental health as it balances our hormones and stabilises our mood. It can also improve our confidence, willpower and concentration levels.
Recumbent bikes are a good choice for:
People who are new to exercise
Anyone suffering or recovering from injuries
Senior exercisers
Those with neurological conditions, due to the added support the bike offers
Sufferers of rheumatoid arthritis
That said, everyone can enjoy the benefits these bikes have to offer. They place much less pressure on the joints than other cardio equipment, as well as offering support to your muscles and joints.  With a recumbent machine, your weight is more evenly spread over the bike seat, making it easier on the hips and back.
(If you're looking to get your own, see our Recumbent Bike Buyer's Guide).
---
Main benefits to recumbent bikes vs. other kinds of indoor cycles:
#1 – Lower Back Support
Recumbent exercise bikes are more supportive on the lumbar spine (lower back), due to the bucket seat, meaning anyone struggling with back weakness or pain would be far better suited to a recumbent bike, as opposed to an upright.
Due to the position of your body in the seat, you have much more support throughout your whole body, preventing the hunched position, often adopted when cycling. This helps to keep your spine aligned, not only assisting those with injury, but also helping to prevent injury for those with lower back weakness.
#2 – Cycle in Comfort
Saddle soreness is a problem for many cyclists, with many people suffering with their sitting bones, or perineum after extended periods of cycling. Saddle soreness can be reduced with the use of a more cushioned saddle, however, the position of the seat on an upright bike means that discomfort, however slight, is very common.
Recumbent exercise bikes are much more comfortable in this area, because the seat is much larger, and therefore isn't digging into you. This can often mean that you are able to cycle further and for longer, increasing the overall fitness benefits.
#3 – Project Your Joints
Cycling, generally, is a great option for a lower impact exercise, helping to protect and strengthen the joints, as opposed to weaken them. However, recumbent exercise bikes are even kinder to your joints. Due to the seated position, your back is more supported, as discussed above, helping you to have a stronger core position, preventing slumping and back tension.
In addition to this, the bucket seat, also means that the pedals are higher in relation to your body, than on an upright bike. This helps to protect your knees and ankles from serious impact, and also assists your hip flexors, as you are limiting that upwards motion of cycling. Often the knees and the hips take the brunt of a workout with most cardiovascular exercises.
This wear and tear on the cartilage can result in pain and injury instantly, or in later life. Cycling can actually help to strengthen these joints, as opposed to weakening them, repairing damage, and keeping you mobile for longer. This also assists with future cardiovascular workouts, your joints are stronger, so increased impact sports will also be possible for longer.
In addition to this, shoulders are also more protected, as you are less likely to be leaning forwards over the bike seat. Comfort and less impact can make your ride much more enjoyable and can make increased duration much easier to achieve.
---
#4 – Strengthen your muscle groups
The fitness aspect of a recumbent exercise bike is something not to be overlooked, after all, it is one of the main reasons why we participate in exercise. People are often aware of the cardiovascular benefits of cycling, but often underestimate how much it can benefit strength training.
Most recumbent exercise bikes have resistance options, meaning you can increase the resistance to increase your strength.
This form of exercise focuses on some of our largest muscle groups, helping to build strength and muscle mass. Working large muscle groups is a great way to burn fat and lose weight. This assists to support a healthy body mass ratio. Hamstrings, quadriceps, glutes and calves are worked during cycling.
---
#5 – Live a longer, healthier life
This increased muscle mass helps to prevent the ageing process, and also helps to make many everyday tasks much easier. When strengthening these body parts, we also help to protect our knees, hips and ankles, reducing the risk of injury as we age, or when partaking in other sports.
In addition to this, we also strengthen our core muscles and our abdominals. Both upper and lower abs are engaged, naturally, as we work to pedal, with the resistance increasing in the same way as it does on our legs. Our core works to hold us still, toning our stomach muscles, strengthening our back, toning our waist and hip flexors.
TRAINING TIP: To increase the core workout more, do not hold on to the handles at the side of your seat, the harder your core has to work to keep you still, the more you will build strength.
---
#6 – Improve your Balance
If you struggle with balance, the recumbent exercise bike is a great choice, as you are more stable in a recumbent position, than an upright position. This added stability, not only helps to build your confidence throughout your workout, but also means that your more even posture, will encourage a more balanced workout, targeting your muscles more evenly, giving you a well-rounded workout.
This added stability on your bike, also means that you are safer and less likely to fall, either during your workout, or getting on and off the bike; yet another reduced risk of injury.
Get more work (and fun stuff) done!
Last, but not least, on our list of benefits to recumbent cycles: doing things while you're exercising. We all know cycling for hours and hours, week after week can get a bit, well, repetetive, to say the least.
With a recumbent, they're practically impossible to fall off. So why not use all that valuable extra hands-free time and catch up on some work?
Even if you're not planning on getting a recumbent desk bike, most machines have a tablet holder and you'll be able to sit back and pedal away to the sweet glow of Netflix. It might take your mind of those burning leg muscles!
---
Dimensions of Recumbent Exercise Bikes
One of the minor downsides to recumbent bikes is that they do take up ever-so-slightly more floor space than traditional upright bikes. You'll need around:
140 – 150cm in length
60cm – 80cm in width
The height can be anything up to around 140cm too
It's also worth noting that most reclined exercise bikes come with transport wheels and are fairly easy to move around your home in between sessions.
---
Targeted Workouts
Most exercise bikes have a range of exercise programs available, which means your bike can work as your own personal trainer, to a degree. This means your workout can be specific to your needs, from weight loss, to speed training, cardiovascular to muscle building.
A training program can really help you to remain focused too, as you have measurable goals and targets, and you are more aware of your journey and achievements. This can help with motivation and success; knowing where you are heading is a great way to remain committed and focused.
---
Takeaway
Ultimately, when we work out, we want to be comfortable.
We want to enjoy our workout, without limiting the effectiveness of our exercise. Recumbent bikes are an excellent choice for… well, pretty much anyone, of any age level of fitness level. They're a safe and effective method to get in shape, tone up and lose weight.
References & Further Reading