Training tips and exercise gear you can take on holiday
Summer's here and it's time to pack your suitcase and head away from it all for a week or two. But with a lower level of activity (unless you're planning something adrenaline-fueled or some serious hikes) training goals can slip, and waistlines can expand.
Fret not, fellow gym buff. Today, we're covering 10 quick, easy and cheap or free ways to maintain your muscles and fitness when you go away.
Stuffing your suitcase with a dumbbell or two might not go down too well with the check-in staff so we'll keep things light and see what we can pack that won't add too much weight to your already cramped suitcase. Here are our top 10 tips to keep you in shape this holiday season.
1) Pack your skips
Workout type: good old sweaty cardio!
Recommended rope: Te-Rich Skipping Rope Adult Fitness (Amazon)
Skipping is one of the best, most versatile workouts you can do on vacation and is equally as effective as running. You can get a hell of a good workout in 30 minutes, while everyone else is taking a Siesta, especially if you use one of the fab Youtube workouts and work in a bit of HIIT.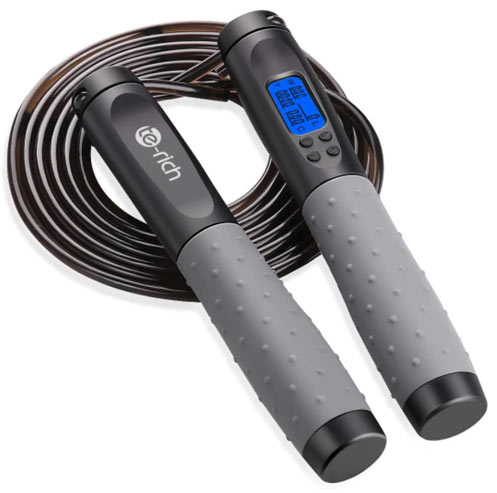 Tips:
Turn up the air con
If you're in a small hotel room, use the ropeless attachment if yours have one.
You can do it bare feet, but a pair of light trainers will save your toes.
2) Travel in your running shoes
Cost: £10
Recommended shoes: Asics Novablast
A pair of running shoes can add a fair bit of weight to your baggage allowance on a plane. One thing I like to do is just wear my running shoes on the plane. Being able to go out for a run on holiday is a great way to train in different climates and torch some of those additional calories that would otherwise stay on your hips.
Tips
Make like the locals and go running in the evening. It's way comfier!
Get some running shoes designed for hot climates, like Asics Novablast, which have a brilliant mesh design that lets in plenty of air.
Take your running clothes in the shower and then stick them on the towel rail for the next run. Nice.
3) Resistance bands: the magic portable home gym
Cost: About £20
Workout type: Resistance training
Recommended set: Takemirth Resistance Band Set (Amazon UK)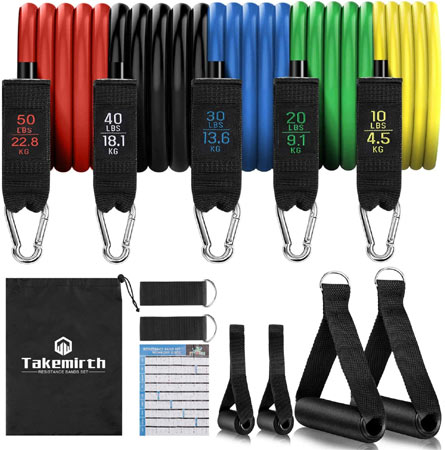 We've written about the benefits of these lightweight stretchy training equipment but one huge benefit with these things is that they hardly weigh anything.
They're also not much bigger than a few socks and you can stick them in your suitcase or hand luggage no sweat. Having a set of these will open up hundreds of potential exercises you can do on holiday.
Tips
Have a look round for a sturdy anchor point, which will allow for even more exercises
Don't use a radiator, unless you want maintenance turning up and asking awkward questions.
So long as the hotel Wifi is up to scratch, follow along with a Youtube workout.
4) Water weights are a thing
Cost: Around £40
Recommended weights: CB Sports Adjustable Water Travel Dumbbells (Amazon)
Workout type: Weight training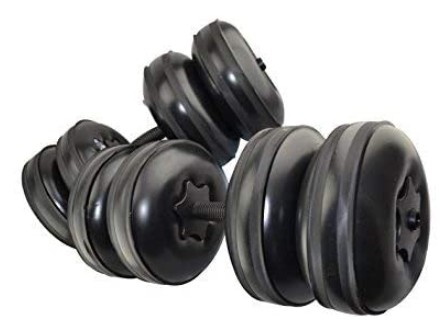 I once had the best idea anyone ever had; dumbbells you could fill with water! You'd take them on holiday in your suitcase and simply fill them up with water once you got there. I was going to be rich! Imagine my disappointment when I discovered they'd already been invented – and up for sale on Amazon.
While my dreams of buying an LA penthouse based on my new invention might be up in smoke, the good news for you is that this is a way to get some serious training done while you're away. Although they're a bit more 'jiggly' than metal plates, don't write these off. They're surprisingly good!
Get a set with different 'weights' so you can do squats, biceps and so on
Mix things up with a bit of HITT under the air con
If your villa has a pool, use them in it for some interesting workouts!
---
Related guides
---
5) Pack a tidal tank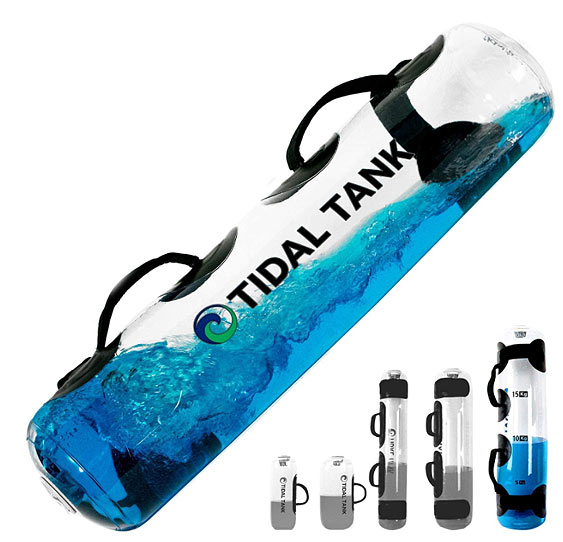 Cost: About £70
Workout type: Endurance, cardio, strength training
Where to buy one: They're available on Amazon
In the same vein as the more awesome-than-you'd-expect water dumbbells mentioned above, there's also another really good training tool you can take on holiday with you. It takes up the space of a couple of T-shirts but the Tidal Tank is a bit like a sandbag you chuck around at the gym. You partially fill with water, the rest with air.
Once you've got it set up, this is a seriously good (and heavy) training tool you can do a wide range of strength training with. And the beauty is you can set the water level to whatever you can manage so it's suitable for everyone. It's tough too, and the max weight is an impressive 20kg.
Use it for deadlifts and squats as well as upper body
Use the different handles and try out the different moves available.
You don't have to only use it on holiday – it's great for your home gym too
6) Get out and about
Cost: Free
Workout type: Cardio, circuit and resistance
Depending on where you're going, hotter countries often have workout stations dotted around parks and even city areas where you can do some training. While they're not always "hard enough' for experienced gym-goers, it's worth seeing what the local council have to keep the population in shape.
If you can find a chin-up station, and maybe a decent ab bench, it's worth doing. Plus you can work on your tan too.
Take plenty of water with you
Train once the Sun goes down
Don't leave your bag lying around!
7) Use what you've got
Cost: Free
Workout type: Resistance training for muscles
We've all done the trick of taking a couple of chairs and doing dips on them. While that's a one-way ticket to a fail video on Youtube, there are likely many things you can use in your hotel room, apartment or villa to do some training. With a bit of creativity, anything heavy (and not too valuable) can make for a good training tool.
Look for heavy dining table chairs – hold them up while doing squats
Find a sturdy lower bench and use if for dips
Get your feet up on the bed and do some inclined pushups
8) Make a quick water bottle dumbbell
Cost: Free
Workout type: Resistance training
So you're on holiday and you've not got your running shoes, or packed any of the above fitness gadgets or gizmos we've mentioned. A few too paellas and you're starting to worry that by the end of the two weeks, you'll not fit through the aeroplane door. What can you do?
Ever go to a supermarket on holiday that was MILES away and have to carry some water back to your villa? Those bottles get heavy after even a short distance. That makes them perfect for training. Look for a nice big bottle, with an equally large handle that you can do some training with.
It's a bit awkward but with some practice, you should be able to train most muscle groups without too much fuss.
Tips
Get some tape and make the handle a bit more comfy (your hands will thank you)
For legs, a variation of the goblet squat with a heavy water bottle is brilliant
Beach nearby? Try filling it with sand for even more weight and a medicine ball-style training tool.
9) Just keep swimming…
Cost: Free
Workout type: Core strength, overall fitness
Don't forget the number one training tool that might be under your nose if you're travelling abroad, somewhere hot; the swimming pool. While you might be a gym buff, or love your treadmill, getting out of your comfort zone and making friends with the local pool can be a fantastic way to do some training you don't normally take part in as well as staying in serious shape on holiday.
Swimming for 30 minutes will burn off an impressive 200 calories and also work out pretty much all of your muscles. Don't worry if you can't do 30 minutes, just be in the pool and keep swimming and moving as much as possible for that time.
Tips
Go early morning when the pool is cleanest and you can do some proper lengths
It doesn't have to be an Olympic pool – even ornate ones will do
Sick of swimming? Do some running, punching or kicking – it all works
10) Bodyweight exercises
Cost: Free
Workout type: Core strength, overall fitness and endurance, cardio
While it won't give you massive muscles, it will help keep the weight off by burning excess calories and will help keep your core and general strength in tip-top condition. Simple bodyweight exercises don't require more than a few feet of space so they're ideal for even the most cramped of hotel rooms.
Tips
Find a set time each day so you're not tempted to skimp
Outside terraces make for a cooler place to workout
Get a decent HIIT app or follow along with one of the Youtube videos out there like this hotel workout one
That's all – enjoy your holiday, wherever you end up this Summer and happy training!