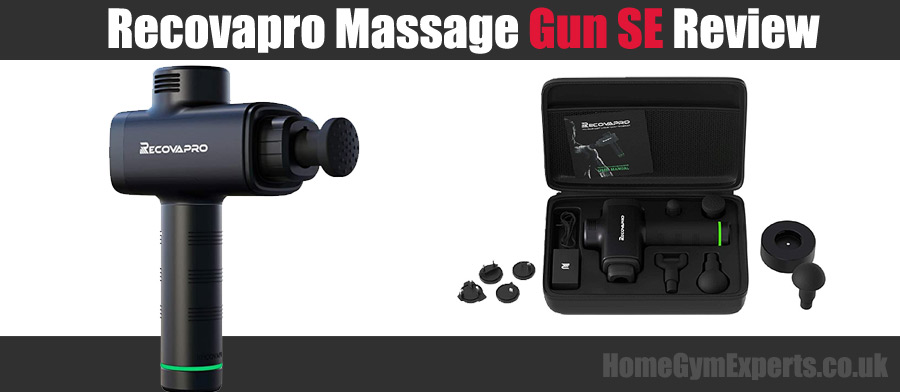 Welcome to our Recovapro massage gun review – a home use gun that's designed to help with those aches and pains we all get from training, as well as some more serious strains and injuries. We'll cover what this thing does and whether or not it's worth buying one for yourself.
What is the Recovapro Massage Gun SE
The flagship product in Recovapro's massage gun range, the SE is a powerful, effective massage gun that's designed to be that last word in sports recovery.
With exceptional construction, all of the options, and a great warranty, no matter what you want out of your sports massages, it can deliver.
What are the benefits of massage guns?
Massage guns are proven to have a huge range of benefits when it comes to sports recovery and fitness, including; helping muscles to recover and lowering soreness, improving range of motion, helping to promote healthy circulation, and cutting down on inflammation.
For more information, check out our full guide to massage guns, which goes far deeper into massage guns' science and what they can do for you.
How to choose a good massage gun
There are several things that go into making a good massage gun, including:
Amplitude: How far the massage gun's head can move from its axis, i.e. how deep it can push into muscles
RPM and speeds: The maximum speed the gun can go, in revolutions per minute, and how many speed settings it has. (Useful for different muscle groups and pains.)
Noise, and sound level: More powerful motors are louder and uncomfortable, especially as you massage the upper back.
Battery life: Good massage guns use lithium-ion (LiOn batteries), which charge fast and last long.
Attachments: Different heads are useful for different jobs, and different parts of the body.
Weight and design: A heavy, imbalanced massage gun puts a lot of strain on your body as you use it, and can quickly lead to aching arms and wrists.
Warranty: If you use your massage gun a lot, a long warranty with good coverage is very important, in case something goes wrong.
---
Other Guides Related To Muscle Recovery & Healing
---
What makes the Recovapro SE so good
As we go down the list of features to look for, the Recovapro ticks every single box:
Amplitude, RPM and Speed
The Recovapro is a hefty piece of kit, with an incredibly powerful motor. Accordingly, it's got an impressive maximum amplitude of 14mm (allowing it to get around 10% deeper than average. )
It's also got a great range of speed and RPM settings. Often, massage guns boast about having dozens of speeds. This really doesn't matter, as much as having the right speeds.
With that in mind, the Recovapro SE has five-speed settings, from a relatively low 1500RPM, 25 beats per second, perfect for softer recovery and gentle muscle aches, up to a truly impressive 3300 RPM, or 55 beats per second, significantly higher than the 2500 average you'll see on cheaper models.
Battery life
The Recovapro is built around a 3200mA Panasonic lithium-ion battery, equivalent to what's put into luxury electric razors.
This gives it an impressive 4 hours of battery life at full charge. That's great for sports or professional use, as you'll get almost an entire day of working time out of it. But it's equally good for home use, as that long battery life means you'll only have to charge it once a month or so, under normal circumstances.
Design, Motor and sound level
Everything about the Recovapro SE is fantastically made. It's built out of high-quality components, an aluminium frame with a composite exterior, a premium grade battery and a powerful motor that has up to 60lbs of stall force, meaning most people would have to quit in pain before this thing did.
Despite having such a powerful motor, it's also very quiet in operation, because a lot of the noise comes from poor quality components and internal movement. As these guns are built so well, there's almost no noise.
A suite of smart controls makes operation simple. It comes on at the touch of a button and has an auto power-off that disables the gun after 10 minutes of operation. Turning it off manually is as simple a holding down the speed button for two seconds.
Finally, it's balanced very well, so the 1.1kg (2.2lb) maximum weight feels light and flexible in the hand, and won't lead to long term strain after long days.
Attachment heads
Inside the box is a selection of 5 different heads:
A flathead for general use
A powerhead that works like a thumb, digging in deep
A forkhead for neck and spine
A round head for a big muscle group
A bullet head for small individual muscles and groups
The warranty
The gun is fully covered with a 2-year warranty, that's better than basically everything out there, and is supposedly very simple to claim. Ideal if you're looking to protect your next investment.
---
Are there any downsides to the Recovapro SE
A few minor problems. The included user manual sucks, but there are countless guides online and on YouTube that you can easily find with a quick search.
There's also no denying that the Recovapro SE is a big piece of kit that's aimed at the professional market, and might be a little too powerful, not to mention expensive, for some people's needs.
Are there other options?
Absolutely. Recovapro already makes a smaller option, the Recovapro Lite, which is great if you're looking for something a little smaller that's only going to see occasional use.
At almost half the price, the Recovapro Lite is friendlier on the wallet, but still packs enough power in its 0.7kg frame to work out the toughest knots, and still has 5-speed settings, 4 attachments and 3 hours of charge from one battery. The differences are mostly in motor power, resulting in a slower top speed and stall force.
---
Put simply, this is much better than almost any other system out there.
Final thoughts
The Recovapro SE is a reasonably big investment for a massage gun, but if you already regularly use one, or you see yourself having a lot more use in the future, it's worth it.
Put simply, this is much better than almost any other system out there.
A higher level of build quality, a powerful motor and a great warranty all combine in a massage gun that's powerful enough to blow your socks off. Or just provide a really good, deep and effective massage. Whatever you need.