If there's been one good thing that's come out of the events of the last couple of years, it's that we've all realised that we can stay fit and healthy from the comfort of our own homes.
Fitness companies have leapt on board. We already predicted that home fitness was going to become big business over the next few years, with home fitness apps sweeping up subscribers left and right, but now it's a certainty.
With that in mind, the big players like NordicTrack, Echelon, VAHA and others are pushing hard on the fitness front, creating products that bring the gym class experience straight into your home, and fitness mirrors look like they're going to be the next big thing.
So what is a fitness mirror?
A fitness mirror combines three things:
The mirror
First is a large, glossy, gorgeous mirror that's designed to sit in pride of place inside your home gym, or anywhere else, really.
This is something all fitness mirrors share. They look really good. Like, catch the attention of anyone who walks in the room and instantly demands questions well.
That large flat panel lets you see exactly how you're performing when you work out, acting like the big mirrors that you usually see lined around the edges of the rooms you take gym classes in. So you can track your movements, make sure that you're performing every rep correctly, and give yourself motivation by imagining how good you're going to look when you're done.
The tech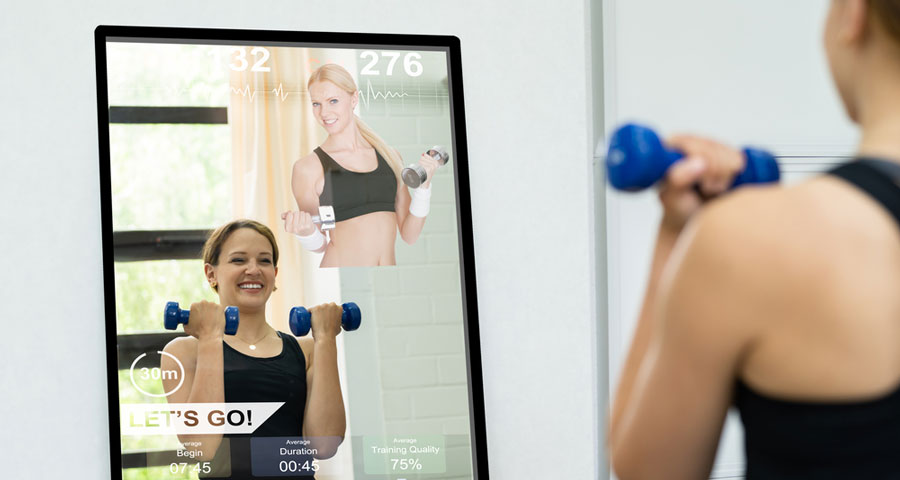 Second, fitness mirrors all have a big touchscreen and a whole suite of assorted accessories that go alongside them, like mics for voice commands and cameras to record your workouts
All of these combine to give you that 'studio inside your home' experience. You can select a workout plan by talking to most fitness mirrors, and if not, then a simple handful of pokes and swipes get you started.
In the middle of your workouts, you're going to be watching a world-class trainer run you through the class while delivering motivation and inspiration, just like in a gym. (A lot of mirrors even have let the trainers see you if you want them to, so they can deliver personal, targeted advice.)
And all of that tech sometimes even lets you see yourself, or other users, making it seem like you're working out together, giving you all the social benefits of exercise, and letting you see who you're competing against on the scoreboards.
Y'know, if you're into that sort of thing.
The app
The last piece of the puzzle is the fitness app, that's the key to the use of every fitness mirror.
At this point, there is no getting around it. Fitness apps are the future.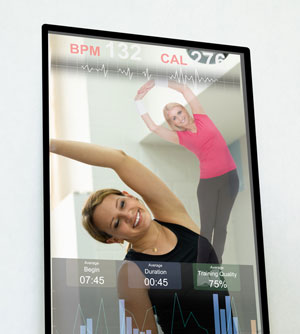 Our prediction is that in around 5 to 10 years, more people will exercise through app-based fitness classes and gear than through traditional gyms. The home gym will be more common. Everyone will be fit, healthy, and stunningly beautiful. (Well, maybe not that last one.)
This is a big thing.
The players in the fitness sphere, companies like NordicTrack, already integrate their apps with all of their fitness equipment.
We've already written a complete review of the most common fitness apps here, but in short, the main function of a fitness app is to give you options when it comes to working out from home.
Whether that's selecting a live class that starts in a few minutes and experiencing a fresh, bespoke fitness event. Choosing from the thousands of classes that most apps have in their back catalogue, or simply mapping out a route on Google and letting your chosen fitness system (most fitness apps work with treadmills, bikes, rowers, all under one subscription) create you a route and a class based on that. A fitness app gives you choice.
How does this work with a fitness mirror?
Simple.
You log in, choose from the list of classes, and the class pops up on the mirror.
Then you follow along with your trainer on screen. But unlike standard classes, you can intimately match form by following along perfectly with your trainer's movements, letting you see exactly what you should be doing and how.
This is backed up by a lot of fitness mirrors also analysing your movements through the built-in camera, then correcting you on the fly, as well as also having the option to send reports to your trainer who will be notified of any inconsistencies and things that you should be changing.
Put together, it's obvious to see that fitness mirrors are going to be the future when it comes to personal health and fitness.
Fitness mirrors to look out for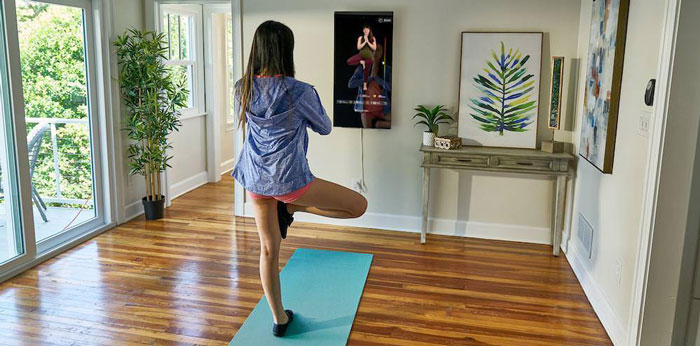 If we had to take a vote on the most complete fitness mirror on the market right now, the Echelon Reflect would almost certainly be number one.
This is because it combines a whole bunch of factors in one solid package. It includes a huge screen that comes in two size options, up to a mighty 50 inches. The camera is ultra high quality, which works well alongside the crystal clear HD screen fidelity.
It's a joy to use, too. The touch screen interface is simple to understand and incredibly responsive, and the set-up is simple, guiding you through the whole process, start to finish, which is a big plus if you've never used anything like this.
But none of this means anything if the exercises on offer aren't useful. Echelon Fit, their proprietary app, is utterly comprehensive and expanding every month, and the Reflect builds on this with an utterly unique points-based system that links in with Bluetooth heart monitoring and gives you a score based on how hard you worked out.
This is backed up by the fact that your subscription to the Reflect fitness classes doesn't just cover the mirror. One subscription covers the full Echelon United service, which can be used with your fitness mirror as well as with any other Echelon equipment you purchase, the full range includes bikes, treadmills, rowers, and more.
Pricing options are available, including monthly payment plans, and it's covered by a 1-year warranty. All of this together makes the Reflect the best fitness mirror on the market right now, and we don't expect that to change.
Tempo Studio
The Tempo Studio is not technically a mirror, as it comes with its own natty stand, looking a little like something you'd find in a Victorian dressing room and a little like a tiny pommel horse.
But what it is, is an incredibly powerful fitness tool that's looking set to push boundaries and challenge what a fitness mirror can be.
This is because it's absolutely packed with smart tech that monitors your body and your workouts in ways that other smart mirrors simply can't.
How? It's actually surprisingly simple, at least to describe.
As you move, the front-mounted camera creates a full 3D model of your body, tracking all of your movements. This lets it do two things. One, it can give you real-time corrections as you exercise, telling you if you need to push deeper into a squat, for example, or to align your body for better exercise.
But it also allows the Tempo to create a 3D representation of your entire workout, and send it to a personal trainer. This lets the trainer observe your workout and give targeted advice, without infringing on your privacy or letting them know who they're even talking about.
Another bonus is that the Studio comes with all of the workout equipment you need, to follow every single workout provided. A lot of it is also stored on the unit itself, but the rest is enough that you can easily deck out a moderate home gym without any issues.
Negatives include the price because the Tempo Studio is pretty pricey; around a quarter more than the rest of our list, and the fact that nice as it is, the sheer amount of stuff that comes with this takes up a lot of room, which almost defeats the object of buying a fitness mirror.
So, in summary, buy the Tempo Studio if you want a complete workout solution, but if you want a fitness mirror, might be worth giving it a miss.
NordicTrack VAULT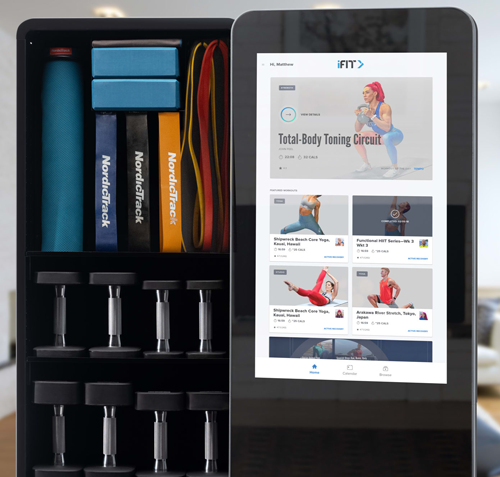 It's unusual to see NordicTrack in the middle of a best-of-the list. We've reviewed dozens of their products, and in general, every single thing they produce is incredibly good.
But for possibly the first time, we think that NordicTrack might have actually missed. The VAULT is still good, but there are a couple of issues that we'd like to see fixed if and when the VAULT V2 comes out.
First, the good things. The mirror itself, and everything around it, is absolutely top quality. It's an absolutely enormous 60 inches, which is basically the biggest thing on the list. The screen is crystal clear, and the touch controls that link you into iFit are simple to use, as you would expect.
Another benefit is the fact that the VAULT is, well, a vault. The screen slides to one side, revealing a whole bunch of vertical shelving which is designed to be stacked with the fitness gear you're going to need in the workouts.
But here's where we start to run into issues. One, because of the space behind the mirror, you can't put the vault on a wall, meaning you need actual, real dedicated storage space for it. This sort of eliminates one of the biggest benefits of a fitness mirror, and it's a big issue, in our opinion.
Two, unlike every other fitness mirror on this list, the VAULT has no forward-facing camera. That locks off a lot of the things that makes a fitness mirror unique, like the ability to critique your posture and workouts on the go, as well as being able to participate in classes or have one to one calls with your trainers.
It's unfortunate because the VAULT is still an incredibly impressive piece of kit. It's well made, and the iFit classes that are available through it with the free one-year subscription are absolutely fantastic.
But right now, save your money or look elsewhere until they give it a front camera.
The Mirror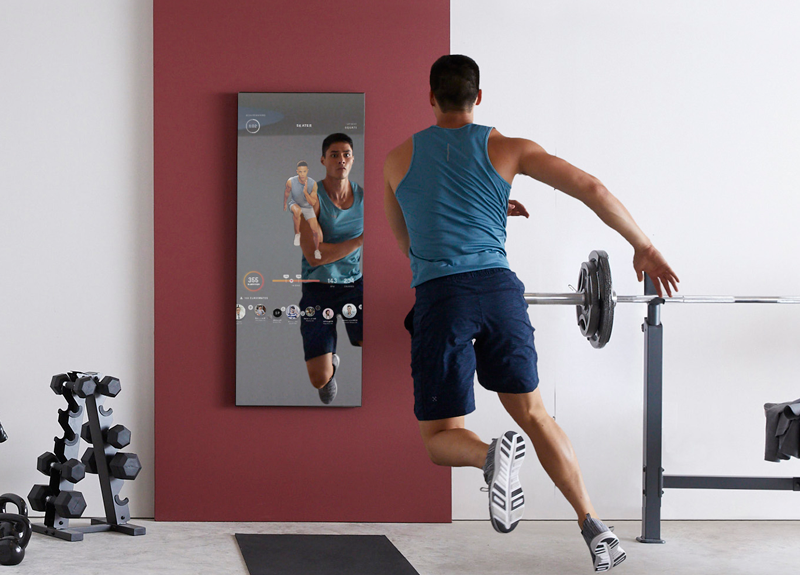 Inventively just named the Mirror, this fitness mirror was the first on the market, designed by an ex-ballet dancer and actress, and sold to Lululemon for millions of dollars.
In terms of looks, the Mirror is gorgeous. It sits on a sleek stand as part of its design, and the 2ft wide panel is stunning and reflective. One small downside is the controls. The Mirror's design shows its age a little here, with no touchscreen. Instead, everything is controlled through the app on your phone. On the one hand, this does mean you can set up workouts from somewhere else in your home, and have everything ready for when you get there. On the other, it adds another device you have to work with, which just feels like another layer of added complexity.
On the upside, the workout options are absolutely fantastic, with over 20 different genres that encompass everything from boxing to yoga. The camera is equally good, and you can also link the Mirror to any Bluetooth heart rate monitor, or your Apple watch.
Overall, there's a lot to love about the Mirror, and it's still a worthy addition to the fitness mirror sphere, but it needs a couple of small updates to claw its way back to the top spot.
Final thoughts
We know that home-based fitness is going to be big business in the coming years, and fitness mirror usage is going to explode as people move away from fitness classes and into exercising in the comfort of their own homes.
Fitness mirrors are one way to move towards this. We're already past the testing stage, so you can be sure that whatever you buy is solid and dependable. But if in doubt, we'd always recommend the Echelon Reflect, for its good balance of pricing, features and usage.
Have we missed anything in our guide? Have you used a fitness mirror, and do you have recommendations? Make sure you let us know in the comments!