Setting up a home gym for the first time is expensive. There always seems to be so much that you need, and making the right choices, especially if this is your first home gym, is difficult.
Thankfully, with a few smart choices, you can have a fully equipped gym for just a couple hundred quid. This guide will look at some nifty affordable home gym equipment that you can pick up for a lot less than £100 each and start working on your body today.
We'll cover a range of budget fitness options for both cardio, muscles tone and getting a sweat on for less.
Warming up and stretching on the cheap: affordable gym gear for under £20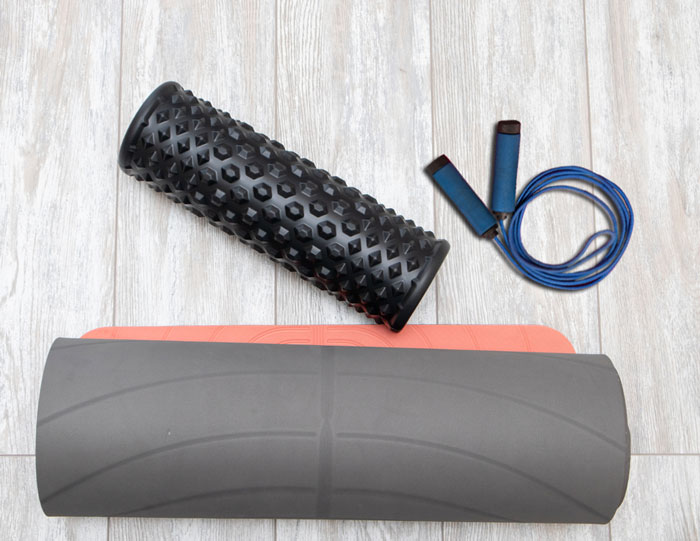 #1 – A good skipping rope
A great bit of budget-priced cardio equipment for under a tenner
There's a reason skipping has been a cardio staple for boxers and other fighters for years. A few minutes of skipping with this bit of gym gear and you'll feel just how much it burns.
Skipping is basically the perfect workout.
It can be done anywhere, and your skipping rope will fit into any bag or the boot of your car. It takes no equipment except the rope, needs no specialist clothing or other gear, and you can go as hard or as easy as you want.
A good skipping rope, like this one from Amazon, will cost you less than £10 and last for months, if not years.
It's one of the cheapest bits of gym gear you'll ever buy - and they last for years too.
Professionally made fitness ropes like this are also a far cry from what you used to see in the playground, with memory foam hand grips and ball bearing mounted rotation systems.
#2 – A foam roller
Most affordable equipment to soothe tired muscles
Warming down is one of the most important parts of a workout. If you don't recover correctly, then you could be out of commission for several days, or worse.
A foam roller is a bit of workout equipment every home gym should have knocking around. It's a cheap and easy way to massage out all of the tension and trigger points from your aching muscles.
We prefer flatter foam rollers, as the ones with larger, more defined nodules and bumps can cause more problems than they solve if used wrongly. Either way, they're inexpensive and a good buy for anyone on a budget.
Made from dense foam, this roller by Maximo Fitness is cheap and cheerful but perfectly suited for legs, arms, backs and abs. It's even available in multiple colours!
#3 – A yoga mat
An affordable exercise mat that should last for years
Whether you do yoga or not, a yoga mat is a fantastic addition to any home gym.
Mats like these are cheap, available in dozens of colours, can be taken anywhere, and fold up when you're done so they can be tucked safely away again.
But the main advantage of a yoga mat is that it can be unrolled anywhere and provides a stable base and gentle cushioning for any kind of bodyweight exercise you can think of.
The perfect place for Pilates, stretching, bodyweight circuits and more, a yoga mat is one of the things you'll never regret buying for your home gym. You can pick these up very cheaply and a good one should set you back less than £20.
---
Sweat for less: affordable home cardio equipment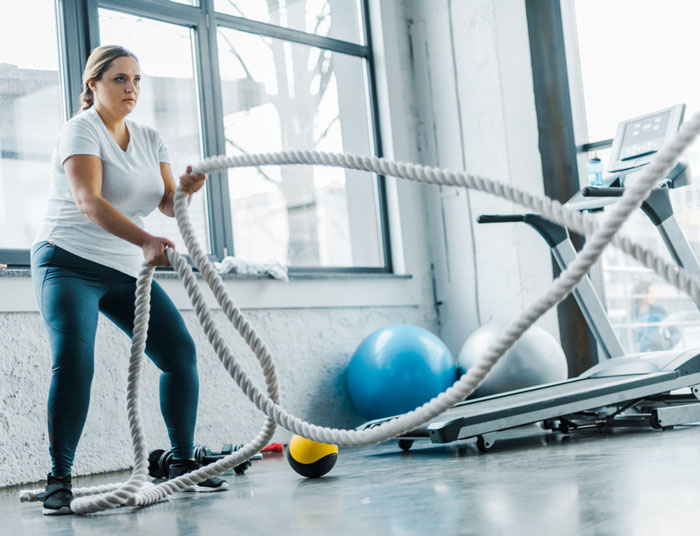 #4 – Battle ropes
Best budget exercise equipment if you want a challenge
Expect to pay: From around £30 up
If you've not got onboard the battle rope phenomenon, they're a brutally effective cardio workout, and can even help to build muscle and work on conditioning.
A set of battle ropes is reasonably cheap and can be set up anywhere that you have a decent chunk of horizontal space. If you're looking to do some serious strength conditioning and really work yourself on a budget, this is such a good but of gear to invest in.
For more information, check out our full guide on battle ropes here.
#5 – Cardio machines
Just because you're on a budget doesn't mean you can't deck your gym out with some serious gear. A smart investment early on into a cardio system like a treadmill or bike can pay dividends to your health and fitness for years to come.
We've already written guides on the best budget rowing machines, and the best cheap treadmills, but a little smart shopping goes a long way. If you're looking for some the cheap cardio equipment, go for either a rowing machine, a spin bike or a treadmill.
Basic tips include making sure to spend on the best motor possible, and making sure that the frame is made from high-quality materials, as it's going to be bearing all of the load, including you.
---
Related Guides
---
Weights and fitness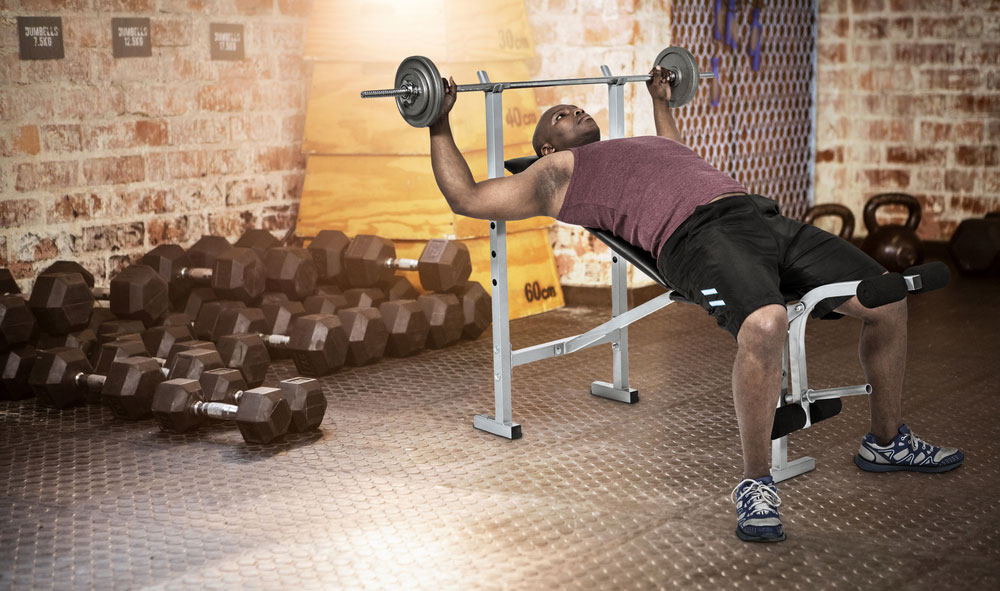 #6 – A basic dumbbell set
Best cheap home fitness equipment to build muscles and strength
Free weights are the king of the gym, but an Olympic bar is an expensive way to start out. If you look around, you can find some extremely cheap gym dumbbells and these things should last a lifetime. There's not much that can go wrong with this bit of fitness gear.
Instead of splashing out on a full bar and weight set, most of the exercises you'd be doing with the bar, like squats, the bench press, the overhead press, can be done with a set of dumbbells.
A set like this, from fitness brand York, is the ideal starting point. A 20kg set, has enough weight for beginner to intermediate exercises, has room for expansion, and it's cheap enough that you're still going to have cash leftover in your budget.
A decent 20kg set of rubber hex dumbbells should set you back a budget-friendly £50 or less. This price will go down and the pair will be cheaper if you get a lower weight.
#7 – A weight bench
If you're lifting weights with any seriousness, you're going to need a bench for a good chunk of the exercises.
A decent weight bench doesn't have to be expensive. A bench like this one, from Flybird, is made from strong alloy steel, with a 600lb weight limit and a soft foam covering.
It comes with easy adjustment, the ability to fold when it's not in use, and leg supports, which can also be used for crunches and sit-ups.
#8 – A kettlebell
If there's anything in the gym that could be considered an entire workout in a single item, it's the kettlebell.
This humble cannonball on a handle can be used for hundreds of exercises, and you can basically get a full-body workout, build muscle and increase cardiovascular endurance, all out of the right one.
For beginner and intermediate users, a 4 weight set like this is ideal, as it lets you shift between weights for different exercises, and build up as you get stronger.
For more help choosing the perfect kettlebell for you, refer to our guide.
#9 – A pull-up bar
Pull-ups are one of the single best markers of functional strength there is, and for that reason, a pull-up bar is a perfect addition to any home gym.
The best resource we have is our full guide on pull up bars, which will guide you through all of the types of pull up bars available, how they should be fitted, and our recommendation on which to choose.
If you're in a hurry, a simple over-door pull-up bar is the best option for most people, as they are simple to set up, fit on almost every door, and are generally very budget-friendly.
---
Tracking it all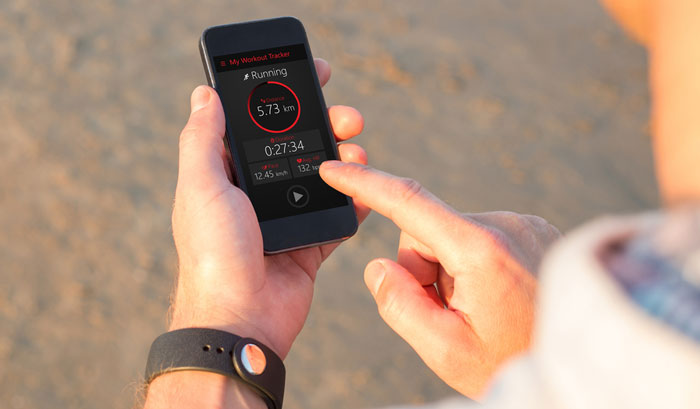 #10 – A fitness tracker
One of the most important things anyone new to exercise quickly learns is that you should track as much as you can.
Once something is being tracked, it's much easier to monitor your progress and see how any changes you're making are affecting your weight, health and fitness.
The easiest way to track everything is a fitness tracker, and among fitness trackers, the Fitbit is king for a reason. Simple to set up, links to everything, reliable, and well priced.
The Fitbit Inspire 2 basically offers it all. It comes with a fantastic suite of sensors, including full heart rate sensors, sleep tracking, as well as a year's membership to the Fitbit Premium app.
All this for significantly less than £100.
---
Final thoughts
The most important thing when setting up your home gym is this:
Buy what you're going to use.
There's no point in splashing out on the latest tech if it just sits there acting like an expensive clothes hanger.
Instead, look at your workouts, and start by buying the core pieces of equipment that you need to complete your workouts, and slowly add more over time.