Not everyone has a huge home gym or the space for a permanent rowing machine. Thankfully, there's an excellent range of fold-up rowing machines on the market today in the UK. Today we're looking at some of the better folding machines that won't hog too much space in your home. (Or set you back a fortune!)
Why row?
I've been a keen rower for many years now.  These machines offer a fantastic way to get in shape, toning your both your upper and lower body, and working your cardio-vascular muscles. It's a form of exercise that's perfect for people of all ages, as there's little to no impact. And it's something you can do at any level. Whether you want to just get in shape or are looking for an intense sweaty workout.
Adding a rowing machine to your home or home gym is one of the best things you can do for you and your family's health. And with the rowers we'll be looking at today, there's no need to have lotgs of spare room to install it.

#1 Choice: JTX Freedom Air 2 Rower: Foldable
So let's talk about the Freedom Air 2 rowing machine. Although not the cheapest fold-up rower on the market, this is by a fair margin the best of the bunch. Let's get stuck into why we think this is the best and why you should absolutely get this one if your budget allows.
Great for new or experienced users looking for a challenge
One of the things budget rowers in general don't do very well is provide a serious workout for anyone with experience. If you're already in good shape and you're looking to improve or maintain that then this rower has sufficient stability and resistance for you. That's not to say it's not ideal for beginners too – because it is. Just that, unlike some cheaper foldables, this rower has the clout some more experienced rowers will need.
Top notch build quality
Build quality in general is superb, especially when you consider this is a folding rower. The Freedom Air uses a combination of magnetic (flywheel) resistance and air resistance to give you a solid workout at any level. Everything feels sturdy and of the best quality. There's 16 levels of resistance which can be adjusted with the built in computer to give you some interesting workouts.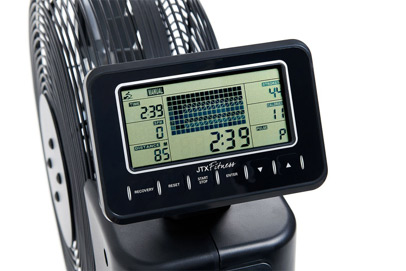 Superb after sales support and warranty
If you haven't heard of JTX before, one of the things they're known for is after sales support. Can't figure something out? Something missing? They'll sort it out fast and for free. There's even a 2 year in-home service warranty. Again, this is something you won't get on the cheaper products in this range.
The on-board display is fantastic
One of the most commonly cut corners in cheap folding rowers is made with the LCD display. That's not the case in the JTX Freedom. The bright display here accurately shows any information you could think of, from calories to distance. More impressive is the built in programmes which can dynamically adjust resistance to make you get more out of each workout than just rowing at the same pace.
Verdict: There's just too many things that this rower does that other cheaper folding rowers can't do. It's of course around twice the price but you get what you pay for. If you have the cash, you'll find everything you need with the JTX Freedom Air 2.
Superb built quality
2 year in-home warranty
Wide range of useful programmes
Gym quality machine
Huge 150kg user weight capacity
Easy fold system makes folding away a doddle
Great on-board computer & display
Not the cheapest rower on the market
Special Offer – Was
£699.00
£579.00 at JTX Fitness
---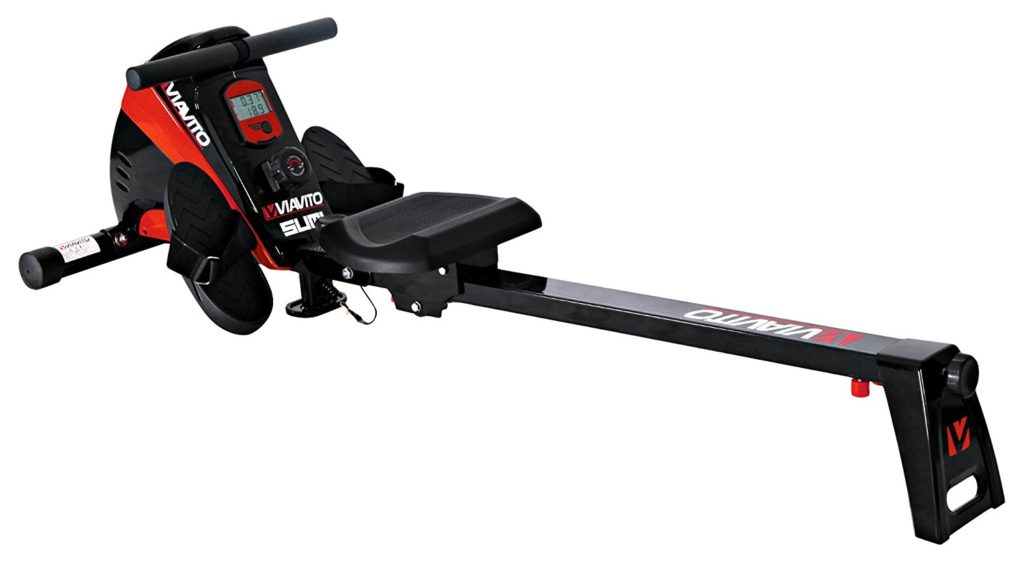 Next up we've got a folding rowing machine that's ideal for beginner up to medium levels and comes in at a decent sub £200 price. The Viavito Sumi is a stylish looking machine with a solid build quality that offers a smooth, quiet rowing experience. There's nothing about it's action that gives away it's budget-friendly price tag.
Folding and storing the rower is quick and easy work. It's also one of the more portable ones we've seen, thanks to  how light and easy it is to move about. Small transport wheels make moving it between rooms a painless task.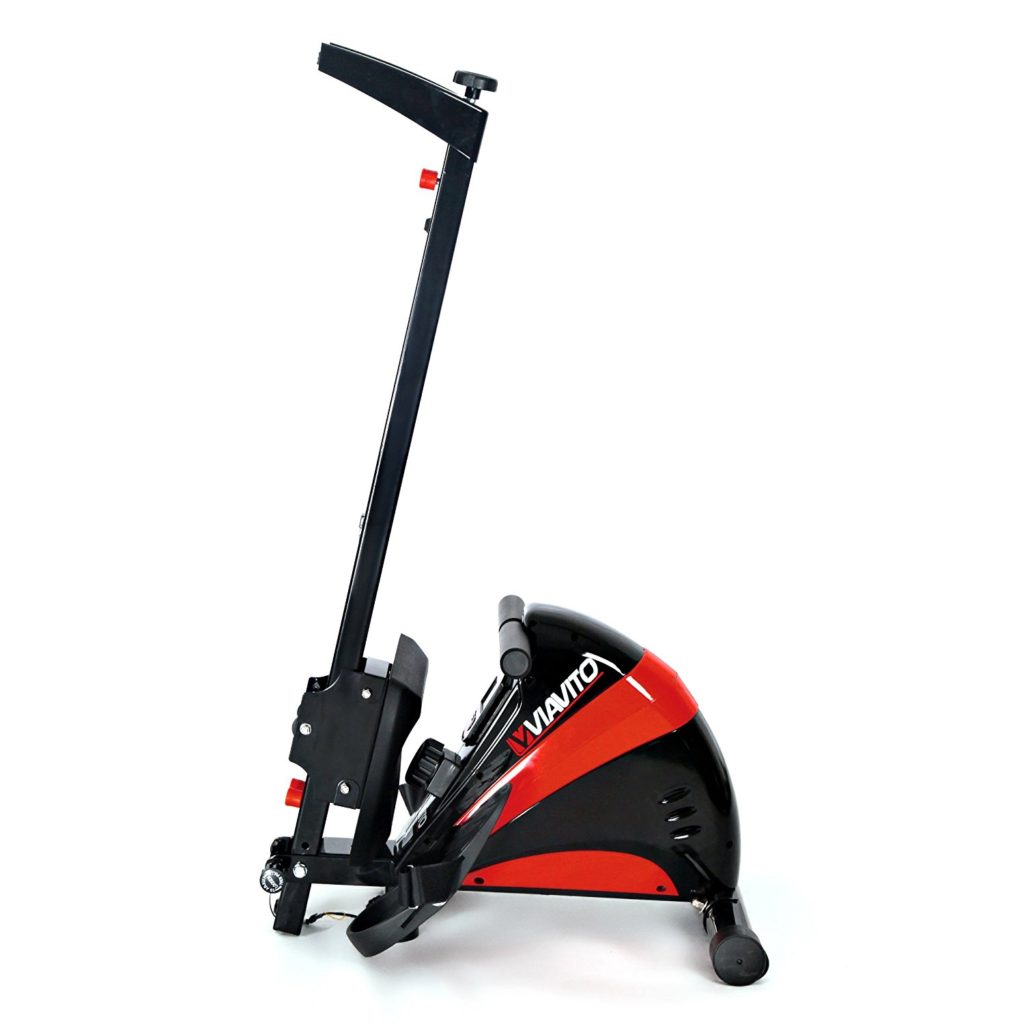 It's easy to assemble and easy to use. A handy tips is to layout all the parts before you start. As with any home gym equipment, this will take a lot of the hard work out of putting your new rowing machine together.
Highly recommended for anyone on a budget
It's a great choice if you're looking to get back into shape from the comfort of your own home, without spending loads of cash. It's got a solid build and folds away easily. Most importantly the Sumi gives a brilliant workout.
Build quality gives a positive impression. Firm, tubular steel means there's nothing wobbly or cheap feeling about it.
Be careful with this rowing machine's paintwork
One caveat being the paint on the front of the unit (where the fly wheel is). As some other users have reported, the paint can easily be chipped here and comes off without much ado.
Minor niggles aside, the LCD display does what you need. Like most displays in this price range, the information is basic and the data is largely calculated based on the number of stokes. The resistance is provided by a meaty 7kg flywheel and there's 10 levels of magnetic resistance to keep you busy.
Pedals are wide and the ergonomic seat is about as comfy as any rowing machine seat is. That is to say it's hard. Some users prefer to add a small cushion while they're getting used to it.
Verdict: For the price this is another good fold-up rowing machine. Some small issues aside, there's a lot to like about the Viavito Sumi.
Solid build
Very fast to assemble
Good weight on the flywheel
Smooth and quiet
Light and easy to move and store
Limited LCD display typical of the price range
Not suitable for power rowers
Paint easy to scratch off casing
---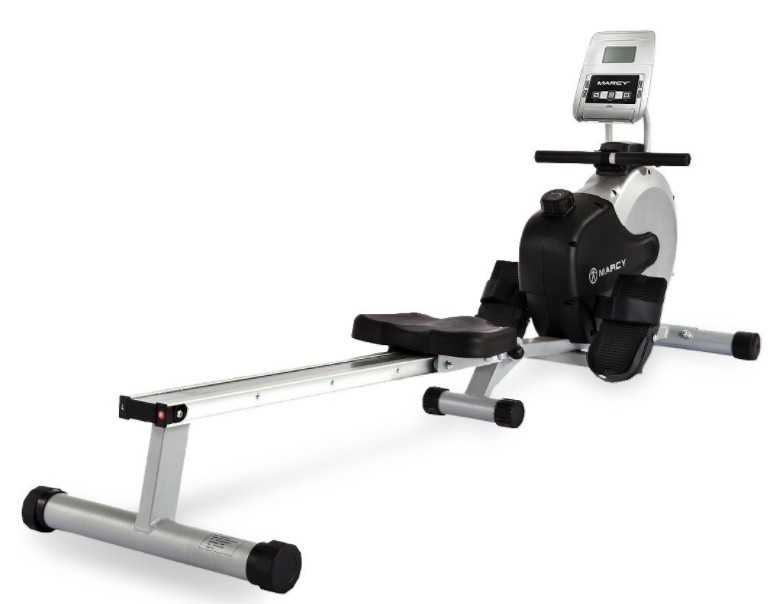 There's a fair few foldable rowers at around the £200 mark on sale in the UK and Marcy's RM413 is one that's well worth a look. If you're in the market for an inexpensive rower for your home, and want one that folds up, there's a lot of things to like here.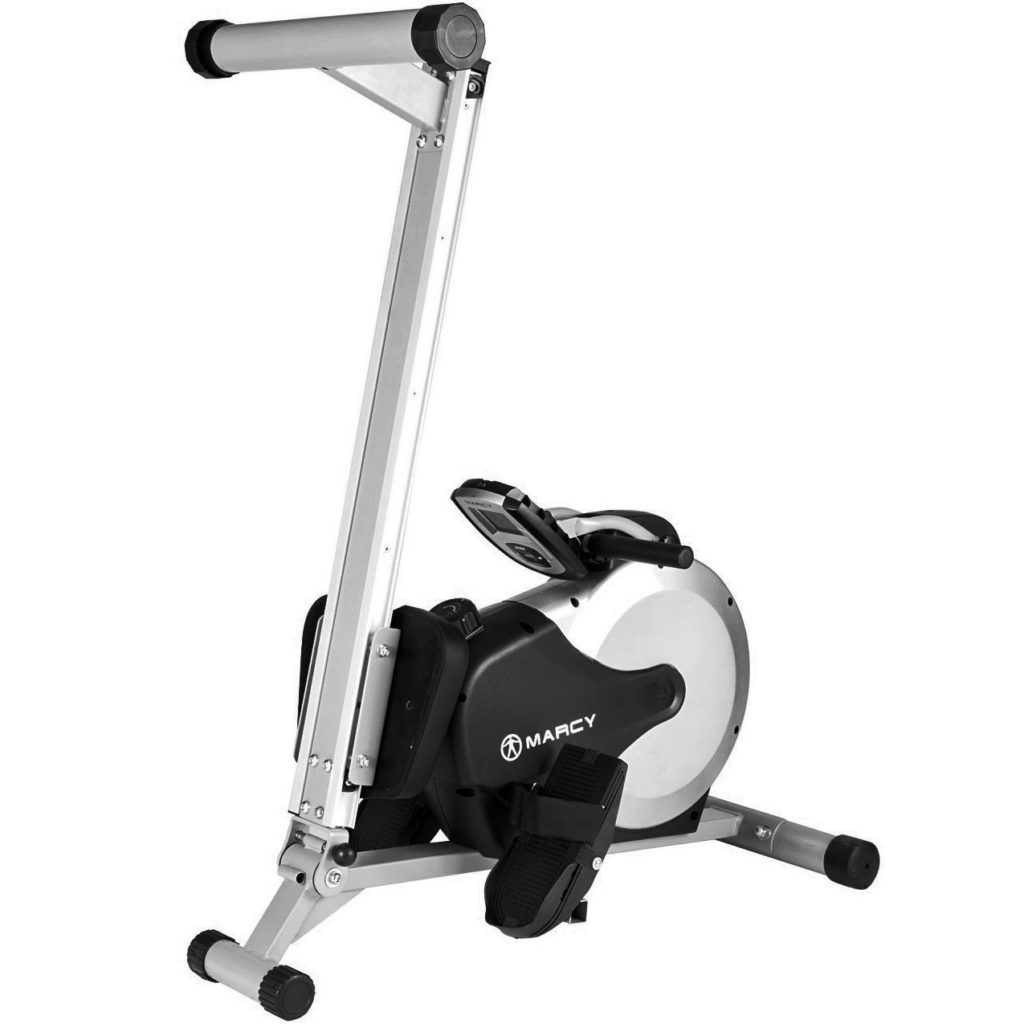 This rowing machine is comfortable and easy to use. There's 8 levels of resistance here that can be adjusted quickly with a chunky dial. The resistance is provided by a 4kg fly wheel. This isn't going to be one for anyone into serious keep fit, but for most regular level users, this will be enough.
Assembly shouldn't give you too much of a hard time and once put together has a nice sturdy feel to it. The rowing action is also a surprise for this price point – it's got a smooth, quiet motion thanks partly to the greased bearings. Oh and watch out for those when you assemble – they're sticky!
The display is what you'd expect at this price range – a pretty basic affair that counts strokes and some other basics. But it's easy to use and clear enough to see when you're rowing. It shouldn't disturb anyone and would be perfect for anyone in a flat.
As for folding, it's a simple enough affair, with a pull-out pin that lets the back part fold neatly up. It's worth noting that this is however one of the more heavy rowing machines. So even when folded it's a bit hefty to go hoisting about.
Verdict: A budget price rower that's got a fantastic smooth motion and folds down to a compact size. Ideal for anyone getting in to rowing.

Sturdy, solid frame
Silky smooth motion
Quiet neighbor-friendly operation
Everything is easy to use
Fairly modest level of resistance
Hefty and heavy to move about
---
One folding rowing machine that doesn't cost the earth is the Marcy Regatta, a budget machine made from solid steel. Stepping up from the super-cheap machines, this one has a 4kg flywheel to give you resistance as you row. You get 8 different levels of resistance here which will be suitable for beginners and home users, but perhaps won't put up enough of a fight for seasoned rowers out there.
The display panel actually looks and works very well. It's large enough to see the computer display without squinting. And, while it's nothing fancy, it still shows the essentials like calories, strokes and your time.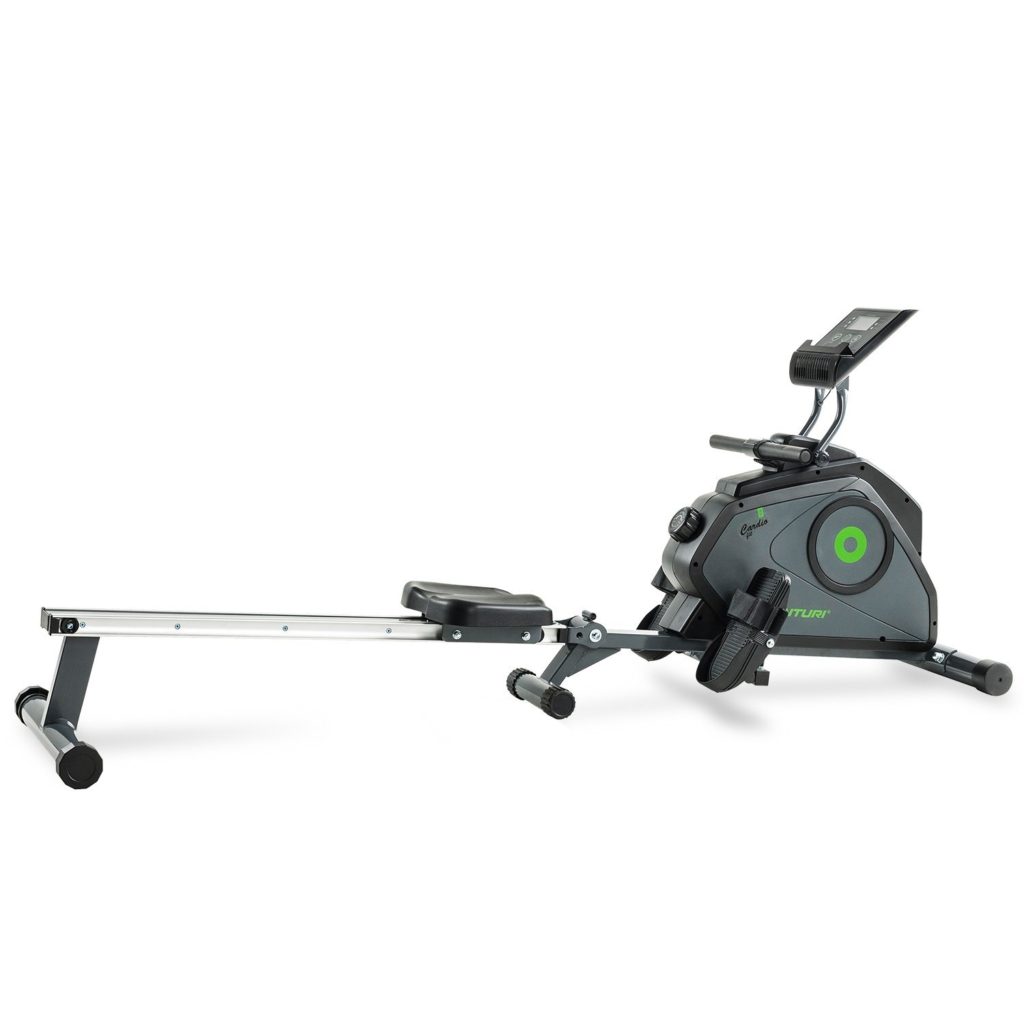 One thing that's really good about this is the folding mechanism. It's simple and very fast to use but incredibly sturdy. There's just one chunky pin that pulls out and then you can fold the machine up to a fairly compact size. Moving it around is also very easy.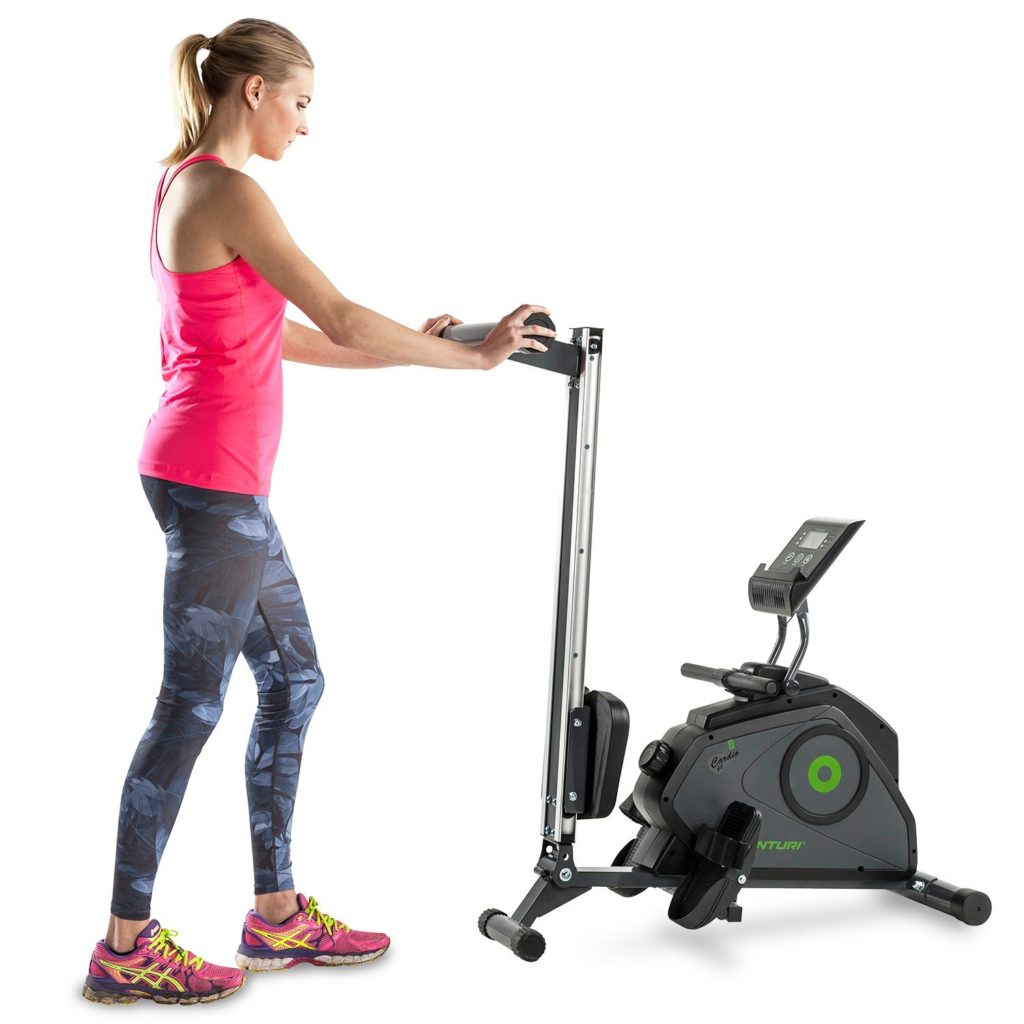 As a rower, it's one of the more comfortable ones, with a nice wide ergonomic seat and solid foot rests. One downside was that the straps on the foot pedals do feel slightly flimsy and cheap. We can see them needing to be replaced at some point.
Max user weight here is a decent 110kg which isn't bad for a folding rower. Once you're using the machine, it feels solid and you can get a good all-over-body workout without the wobble. It's not especially noise and the motion feels smooth and inviting.
Basically, this is a solid folding rowing machine from a decent brand. It's easy to fold and store and is suitable for new to intermediate rowers. Those looking for a serious challenge might be disappointed, but anyone else should love the Marcy Regatta.
Solid budget rowing machine
Smooth, quiet operation
Superb folding mechanism
Easy assembly
Sturdy design
Comfy seat!
Flimsy foot straps
Not enough resistance for experienced users
Couldn't find distance on display
---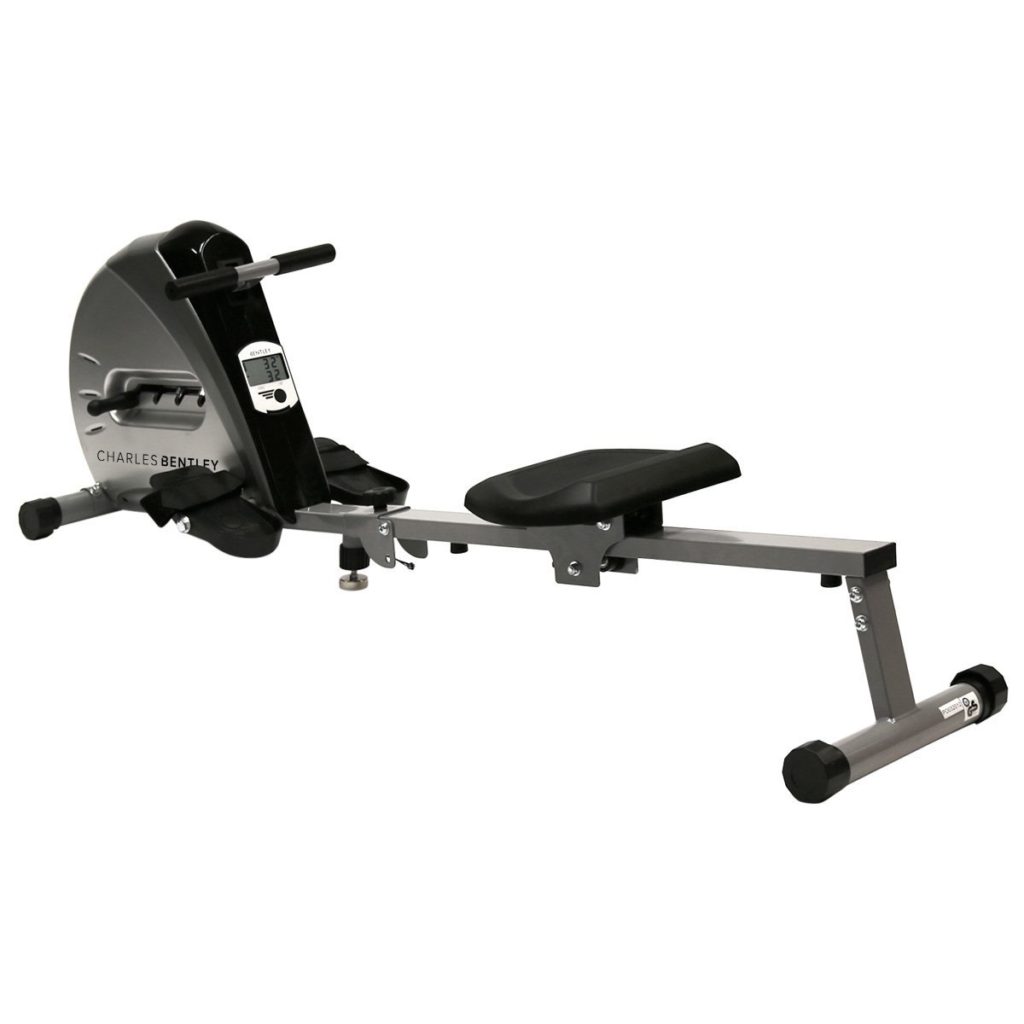 Another budget rowing machine here, this time from the good folks at Charles Bentley. Sitting at just over the £100 mark, this is a worthy fold-up rowing machine that is ideal for beginners.
The Charles Bentley folds up easily and is about as compact as any of these machines are. Once collapsed, it can be easily moved around and stored.
Resistance is an elastic rope mechanism which offers 4 levels of resistance. It actually has some pull on it and while it might not be powerful enough for advanced rowers, most beginner or home users should find plenty here to improve their fitness.
There's a pretty standard LCD display here that keeps track of the essentials. It's nothing fancy but will track your strokes, distance and calories – which is a really important one. The max user weight is slightly on the lower side at 100kg. However it's worth nothing that this machine feels very sturdy to sit on and use. There's no wobbling you might expect at this price point.
Speaking of the price, another pleasant surprise was that this folding rower is nice and quiet too.
Good budget price
Robust design
Quiet, smooth operation
Easy assembly
Great value for money
Seat might be uncomfortable for some users
Not ideal for experienced users
---
Looking to get into some home rowing, but don't want to spend a fortune? You might just want to take a look at the Body Sculpture Folding Rowing machine. At just shy of £100, it's not going to break the bank and for the price, offers a cheap alternative that's pretty good.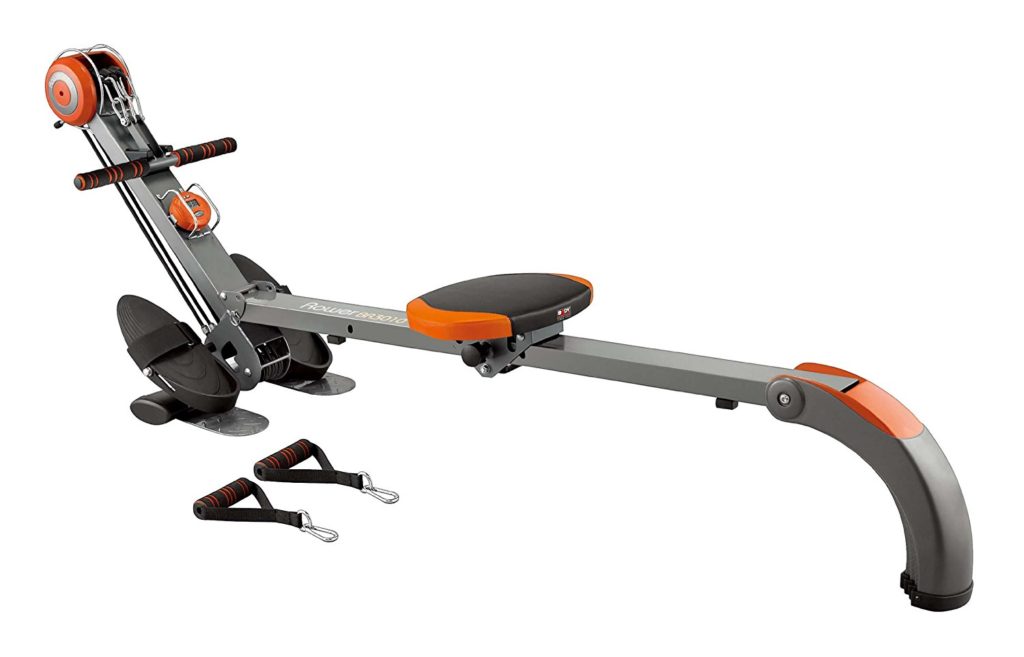 Assembly has to be one of the fastest and easiest builds of pretty much any fitness product we've seen. Not the most important factor but it's nice not to have to faff around putting stuff together. 10 minutes and you should be ready to rock and row.
You might be pleasantly surprised at how sturdy this machine is, and you don't have to be on the small side to use it either. You can get a good workout with any awkward wobbling you might expect from a budget folding rower.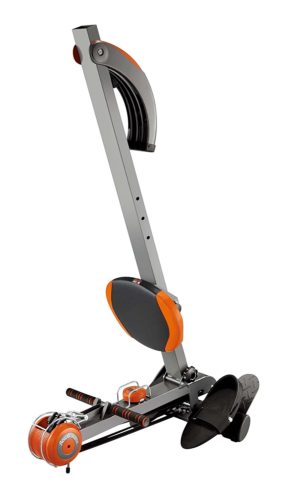 There's only 3 resistance levels here and the highest one isn't exactly difficult. If you're an experienced rower looking for a serious challenge, this might not be the machine for you. Anyone looking to get started rowing, not needing a high level of resistance should be fine with this one.
The machine folds down to a small size and is really easy to move around. If space is an issue, then this is a good choice. It can be wheeled into a cupboard or another room and doesn't hog too much space.
One downside is that it can be slightly noisy and definitely isn't the quietest rowing machine we've seen.
The pedals are nice and wide, with straps that fasten your feet in very securely so there's not slipping out when you're exercising. For anyone new to rowing, there's also a free DVD included with plenty of exercises to get you in shape.
Budget price under £100
Does a number of other exercises
Sturdy design
Easy going rower for new users
Only 3 levels of resistance
Can be a bit noisy
Power users may need something more substantial
Read our full Body Sculpture BR3010 review here
---